Thursdays this season just aren't good days for florists and normal relationships.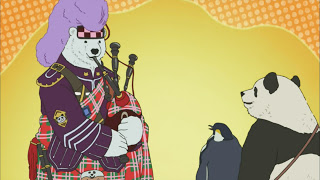 While it didn't pack the hilarity of last week's two skits, the camping chapter was interesting to me for a couple of reasons. One, it pointed out the very real dichotomy of mind that exists for me when I contemplate it. Yes, it's sleeping out in the open on cold, hard ground when you could be sleeping in a nice warm bed. And yes, it's also getting out into the wonders of nature and relaxing in the natural beauty of the universe. I'm not always happy when I'm camping (although I usually am) but I'm always glad I've done it, and I usually end up wishing I was back in that tent for the fist few days I'm back in civilization.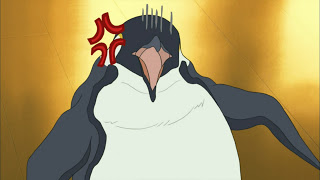 Even better – normally – is when you're out camping with friends. But when those friends are Shirokuma and Panda-kun… I was struck by how natural the alliances that formed were – on the one side you had Polar Bear and Panda, the troll and the lazy bastard, determined to do as little work as possible and creating extra work in the process. And then you had Grizzly-san and Penguin-san, who after a rough start (Grizzly calling Penguin a chicken) discovered they were natural allies against the two baka rangers. They ended up creating quite a feast (that naan bread looked fantastic) and the ending was quite realistic – I can rarely recall a night of camping when some idiots in the campground didn't get drunk and make a nuisance of themselves.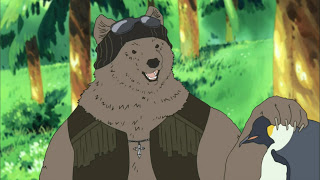 As for out second chapter, it brought us the return of Rin-Rin the florist – who's seriously one of the most messed-up characters in anime this year. I think the most disturbing part may be that he's not a panda-phile for any old panda – no, it's specifically Panda-kun who warms his form. There wasn't even time to worry about his age-inappropriate date with Twintails the plain high-school girl, as he made it clear from the beginning that it was only her panda strap that turned him on. This is the second week in a row we've had a hilariously neurotic human guest character, and I couldn't help but feel for Pigtails as she slowly saw her illusions about Rin-Rin shattered under a barrage of deviant behavior. I can hardly blame Panda-kun for being creeped out by that dude.