I hope the seiyuu in this series are being paid by the decibel.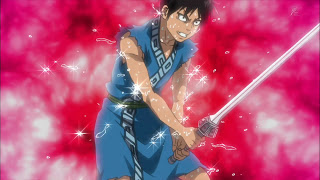 I don't know my Chinese history well enough to speak to the historical accuracy of Kingdom, but I can speak to the entertainment value – and thus far, it's pretty consistent. Now that the excessive use of CGI seems to be behind us (it's still there for some of the action bits, but I can live with that) the elements of the series that always worked are easier to appreciate. It's quite unlike any other anime currently airing – a straight-ahead GAR extravaganza with severed heads in boxes, duels to the death with assassins and both tactics and strategy. The political and military side of the story is actually somewhat complex, but the personal side is pretty straightforward.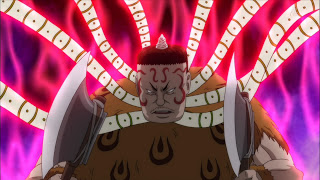 I hadn't realized from his brief appearance last week, but it's actually Koyama Rikiya playing Wang Qi, the ever-grinning General who's gone over to the side of Seikyou. This is quite a change from Kiritsugu and Masaru-san-chan, that's for sure, and this is about as over-the-top as I've every heard Koyama. But when in China, I guess – in this series, subtlety is not exactly the order of the day for the cast. Wang Qi seems to have taken up against the true King largely because he's bored with how peaceful things have become, and he sees a better chance for chaos and a rain of blood under the younger brother.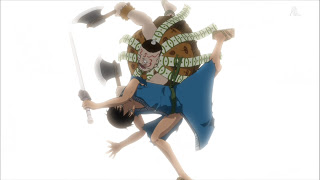 Wang Qi is also an old colleague of Changwenjun from the civil servant's military days, and seems to have some respect for him. Interestingly, Wang Qi has obviously presented a bogus head to Seikyou's men, claiming it belongs to Changwenjun – but the question is, why? Did he merely fail to slay his for during the battle he recounted, and doesn't want to admit it? Or did Changwenjun somehow win him over to the King's side? In any case we certainly know Changwenjun isn't dead, as he turns up at the mountain pavilion just as Xin is finishing up his battle with Muta, the assassin of the Southern Bessa Tribe.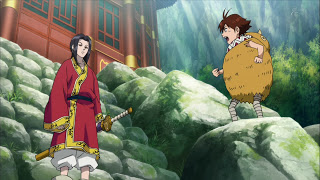 Now why do assassins always get so cocky? All Muta had to do is use his poisoned darts right from the beginning but no, he needs to prove his worth by using only his axes. If Muta was as fearsome an assassin as he claimed to be, then I guess than means Xin is pretty darn strong because once Zheng snapped him out of his paralytic fear, Xin pretty much had the upper hand the rest of the way. Like so much else in this series this was a test of strength for Xin, and now that he's passed the series looks to be taking a new turn, with Chengwenjun and the King reunited. If the series is fundamentally about Zheng's journey to being a great King and Xin's to being a great General, this was the week they seem to have taken the first big step.