At long last Hunter X Hunter arrives in York Shin, and I suspect we're going to be here for a while.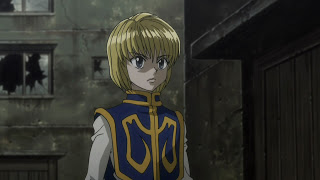 I don't know if this episode marks the "official" beginning of the York Shin Arc, but it certainly seems to be a beginning and an ending. Especially coming on the heels of the two-episode interlude on Whale Island, It's as if Gon happily waving goodbye to Mito from the ship departing the Island was also saying farewell to the more boyish and adventurous side of the series, at leas for a while. Things have always had a life and death quality in H x H, but the tone of this episode was much, much more somber than what we've seen through most of the series this far.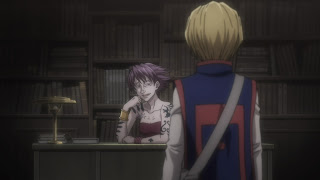 "Enhancers are simple and earnest, and Transmuters are fickle and dishonest". So says Hisoka – but what of conjurers, I wonder? Slugs and snails and puppy dog's tails? One thing we can say of Kurapika is that he's a guy – according to the characters in the series who specifically refer to him as one this week (I gather there's some sort of dispute about this, though it seems plain enough to me) but once you get past that, Kurapika is more of a mystery than Gon and Killua. We know what he is, and what drives him forward in life – and even a little of what he's capable of – but while we've spent much of the series watching Gon and Killua pushed to their limits and pushing back, Kurapika has been out of the spotlight for a long time. And he was always the most inscrutable of the Fab Four anyway.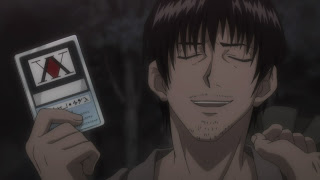 I always enjoy the richly detailed background in Nen that H x H provides us, and we got a good chunk of it from Kurpika's teacher Mizuken (Aizawa Masaki) this week. As a Conjurer Kurapika is theoretically at a disadvantage against Enhancers, whose skills lend themselves to powerful offensive techniques – because Conjurers skills tend to be inclined towards the offensive or defensive side of the spectrum. But in the right type of fight, Conjurers are apparently at an advantage – and they have a better chance than some of picking up a Specialist ability down the road. We met Mizuken briefly in episode 30, but this was our first real time spend with him, and Kurapika's Nen training is a blink compared to Gon and Killua's. It does seem as if Kurpika took a little bit longer than the two boys to gain a working grasp of Nen – and that he left Mizuken's side before the latter had taught him everything he intended to.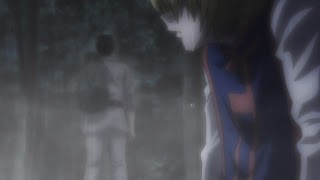 But then, Kurapika is a man on a mission – and that mission has a date certain, September 1, and the auction in York Shin. To that end he seeks out a job working for someone wealthy and connected to the auction – and in the end chooses to apply to work as a bodyguard for an employer with the nasty habit of collecting rare human body parts. I'm sure he had in mind exactly where this road was headed when he took the job, and sure enough it does – when he assembles at the mysterious employer's mansion with a motley crew of other wannabe bodyguards (and presumably some at least are Hunters) they're given a task of finding any one of seven items – among which is a pair of eyes from a Kurta.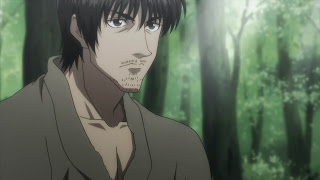 It's quite striking how different Kurapika comes off as a character when he's on his own as opposed to paired off with the youngsters and Leorio. In that dynamic he's the gentle soul, the peacemaker – even with his true background in mind. On his own, his darkness is much more apparent – there's an aura of gloom and rage that surrounds him at all times, as if he'd consciously suppressed it in the company of friends. His choice of what to make his first act of conjuring – a set of chains to "bind evil down to Hell" – says a lot of Kurapika as a man. He's seeking justice for his people, but he's propelled on his path by hatred – something that seems to belie the kind nature he displayed with the rest of the group.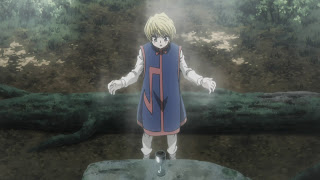 I see Kurapika as an essentially kind young man who's heart is tainted by darkness – and while his journey could be seen as a just one, in this universe I can't see him pursuing this path without it bringing a great deal of heartache down on himself and possibly his friends, too. It makes me sad to see him this way, and I'll be happy to see him reunited with the others – perhaps they might be able to keep him from succumbing completely to the hatred and rage that seems to consume him. As much as Gon and Killua need each other, I think Kurapika needs the both of them – and Leorio too.
Gon & Killua's Hunterpedia: "Mizuken"