NoitaminA's opening day is always an important one on any anime calendar.

OP: "Mune Kyun-kei no Ballad (胸キュン系のバラード)" by Yuya Matsushita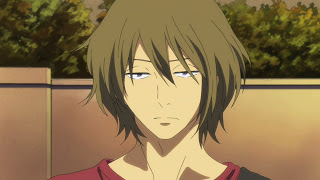 Without question, Natsuyuki Rendezvous – along with Jinrui was Suitai Shimashita – was the show I most anticipated this season. At the very least, it seemed one of very few series that had a chance to be great, and one that had almost no chance not to be at least good. And with my interest in Moyashimon Returns being somewhat modest, this was the show that had to carry the NoitaminA banner for me this Summer. There's almost no chance this NoitaminA block is going to be the equal of Spring's spectacular one, but with Natsuyuki it's off to a very good start.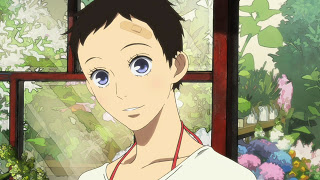 This show is very, very familiar and safe territory for the block, right in its Josei sweet spot. The much-acclaimed original manga by Kawachi Haruka began in 2009 and ended this year, and unlike Sakamichi no Apollon is seemingly short enough to get a proper adaptation in one cour. There's a top notch-staff in charge for Dogakobo: Director Matsuo Kuo helmed Kurenai and Rozen Maiden. Muramatsu Ken did the music for Kurenai and Sketchbook, and the OP was put together by the stylish and distinctive director/animator Sawa Ryouchimo ("Ryo-timo"). Throw in a top-notch cast and there really didn't seem to be much chance this could all go wrong.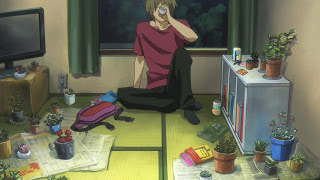 And so far, it doesn't. Natsuyuki Rendezvous doesn't do any one thing in the premiere that will likely blow you away – rather, in classic Josei style, it sort of creeps into your head and builds a nest. By the end of the episode I was struck by just how much the plot had advanced, considering that the whole venture felt fairly low-key and breezy for the most part. The story centers around 20-something slacker Hazuki Ryousuke (Nakamura Yuiichi), who passes by the flower shop owned by the slightly-older Shimao Rokka (Ohara Sayaka) every day. Silently pining for her he buys another potted plant every day, until his tiny apartment is crowded with tiny pots. One day Rokka-san posts a help wanted notice for a part-timer, and Hazuki decided the take the job so he can be closer to the woman he loves every day.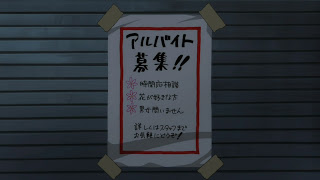 Now that could skate by as a passable Josei premise, right there. But there's a hook, and the story enters magical realism territory when Hazuki goes to Rokka's apartment above the store to help her prepare for the going-away party for the other part-timer. He's greeted by a shirtless young man in boxers (Fukuyama Jun – yes, Grizzly-san and Panda-kun reunited on Thursdays) and assumes it's Rokka's subtle way of telling him to forget any thoughts of romance, and leaves in a huff. But in reality, the man is – or rather was – Shimao Atsushi, the ghost of Rokka's husband, as Hazuki finds out when Atsushi introduces himself to him at the party. And for some reason, Hazuki is the only one who can see him…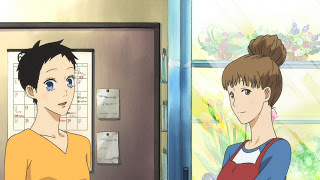 Again, nothing is flashy or spectacular here – it's just well-written dialogue delivered by a strong cast (including underrated Touma Yumi as Rokka's sister-in-law Miho) paired with an intriguing premise and tasteful, colorful and lovely visuals. I love the character designs here, both classically Josei and quite distinctive, especially that of Rokka-san (beautiful in an unconventional way). You really get the feeling that you know the characters by the end of the episode. Hazuki's deadpan reaction to Atsushi's appearance might seem strange, but it's somehow perfectly in character. He seems to be a very classic case of a young man in love with an older woman (not too much, just a few years) that he idealizes – someone who seems much more grown-up and settled than he is. It's clear that Hazuki feels lost in his life, but what he doesn't realize is that Rokka feels lost too – she just has a more artful way of covering her insecurities than he does.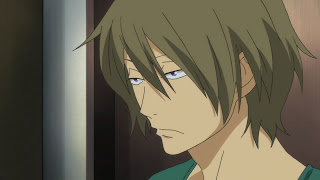 I love the fact that the series gets right to the point. Hazuki – with some pushing from Atsushi, intentional or not – confesses to Rokka right in the first episode. It's artless but heartfelt – "We could have an affair right now" – and spares us the played-out dance of an unrequited crush for the next xxxxx weeks. Atsushi also seems like a fascinating character – there are plenty of clues that he was a strange man, even in life, and just what's keeping him around on Earth and what he wants for Rokka isn't fully clear. The way his character is used both visually and narratively hints at a story with a lot of emotional depth and a mix of humor and darkness that could work very well. If there were any series where I felt I knew what I was going to get this season, Natsuyuki Rendezvous would be the one – and it delivered exactly what I expected.
ED: "Anata ni Deawanakereba ~Natsuyuki Fuyuhana~ (あなたに出会わなければ~夏雪冬花~)" by Aimer