What's the worst thing about falling in love with an anime like Tsuritama?

It ends.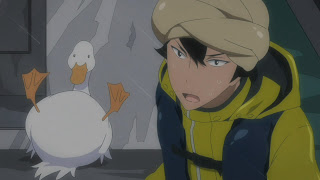 Leave it to the show that got pretty much everything right to triumph over the top boss that menaces every anime with aspirations – the ending. Needless to say, endings are really, really, hard – but Tsuritama stuck the landing and it should get a 10 even from the Russian judge. That makes a day like this easier to take, and thank goodness – because these days when multiple great shows come to a close are always emotionally brutal for me. As for Tsuritama's final episode, I wouldn't change a thing.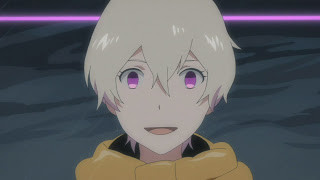 There was a plan for everything right from the beginning with Tsuritama, that much was obvious. So we ended up with a final episode that I have no doubt was exactly what Oono-sensei and Nakamura-sensei intended – exciting, fast-paced, bittersweet and ultimately joyous. Tsuritama was suffused so thoroughly with positive emotion that any ending that wasn't life-affirming would have felt like a betrayal of the spirit of the show. I often worry going into these final episodes, but I was wholly confident this time – these two have just never given me a moment's reason to doubt them.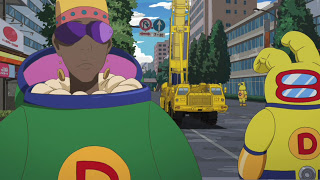 The funny thing is, there's really not all that much to talk about with the final episode for much the same reason that Tsuritama is somewhat difficult to blog despite being the best series of a great Spring season. That is, the execution is too flawless – there certainly isn't much need for me to try to explain or theorize, because both the plot and the message behind the series are laid out so clearly and in such a straightforward way. I compared this show to Crater Lake last week, and I'll stick with it – incredibly deep but also incredibly clear. The visibility is seemingly endless because there's nothing clouding our vision. There's nothing wasted or unnecessary or false to get in the way.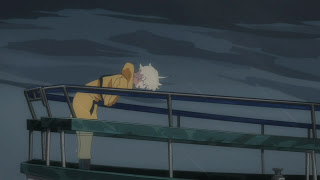 That's not to say there weren't a few interesting stylistic touches from Nakamura-san here. An eyecatch four minutes into an episode was certainly an indication that something unusual was happening here. We got a much more revealing look at DUCK, as we finally saw George Ace (that's Akira's boss) without his sunglasses, and we saw DUCK HQ back in Dubai. I'd thought it might be George stepping up to save the day, as Akira and the boys were pretty much at his mercy with missiles on the way. I can't say enough about the voice work Sugita-san did here (he also voices Tapioca, it turns out) – his "Oh my God!" when Haru squirted him was probably the biggest straight-out laugh of the ep for me. Tapioca breaking into the Enoshima Dance was a close second.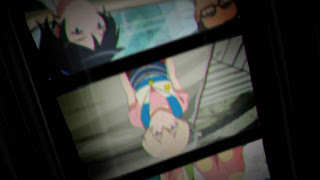 Of course Tsuritama ultimately has to come down to a question of Yuki's journey as a character and his relationship with Haru. The myth was tied in nicely to the resolution, with Haru actually ending up as the lure quite a fitting development. But it was all on Yuki to come up with the answer in the end, and to have the strength to fight as he fought with JFX on the other end of the line. JFX himself turned out to be Urara (Sakurai Takahiro – I never would have guessed) who looked very much like a Siamese Fighting Fish in his original form – and about the same size, too. I didn't think we'd end up with an ending built around him being destroyed, because that wouldn't have felt right at all. We don't get the full backstory but Urara seems more embarrassed by developments than anything else. Nothing that friendship can't cure.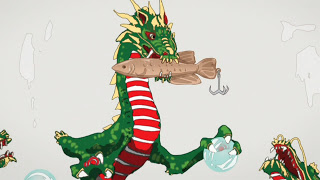 I hope you stuck around for the sequence after the credits. We'd already learned that Natsuki was off to America to pursue a professional bass fishing career – with another sibling on the way. Akira was fishing somewhere, and Tapioca has taken a lover. Misaki and Ayumi have wed. As for Keito, she seems fine – though there's still a mystery surrounding her, as Haru has managed to say goodbye to her from hundreds of miles away. As for Yuki he's now working at Hemingway and musing about whether he's changed or not – he's still shy, but all those smiles point to "yes" – when two transfer students show up at school six months after the events of the typhoon day. The first is Urara – still a bit shy himself – and second is Haru, proudly carrying his fishing rod. I don't need an explanation – it's enough to know that he's back, and he and Yuki can go fishing together as much as they want. Sometimes The Little Prince has his happy ending, after all…
ED Sequence: