Yes, in the case of Sankarea I'm an abject hypocrite. If hypocrisy bothers you, you might want to just stop here…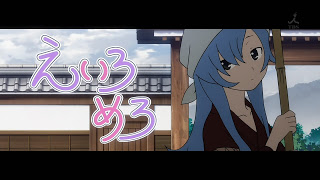 So all the stuff I said about the Ranko episode two weeks ago – about it being an odd choice to do an entire episode about a side character in a one-cour adaptation of a long manga that still had so much story left? I still believe it. To quote myself: "I'm not a huge fan of episodes-long diversions that break up running storylines unless they fundamentally change the dynamic in some way, and this one doesn't appear to have done that. " Of course in my own defense, I also said, "And to be honest, if we were going to take such a detour for such a purpose I'd rather it have been for Mero – who seems more interesting to me and has less fleshing out already. About the only stealth attack I can see here is a possible connection to Chihiro's mother."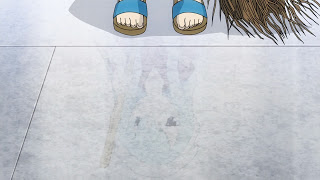 Well, two weeks later, we have our Mero episode. And diversion or not, I was pleased as punch with the episode – it had me grinning from start to finish. Maybe it's because Mero-chan reminds me a bit of Chiaki from Minami-ke, but I just can't get enough of her. I'm no pushover for this sort of character, which is hardly a rarity in anime these days – but Mero is a standout, a winner. She's deadpan and mature, but also quirky and quite vulnerable in a believable way. There a certain presence to her character, a product of design, seiyuu and script, that stands out in every scene she's in. Even if this were just a Mero detour, I wouldn't be complaining, even though I know I should on principle.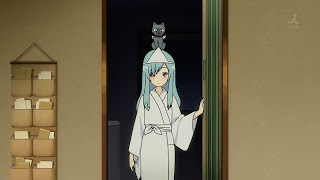 The funny thing is, though, that this may in fact have been a "game-changer" in the sense that it fundamentally alters the dynamic, and it may very well have had a connection to Chihiro and Mero's mother. Just exactly why the events of last week's episode seem not to have happened I can't say, but Chihiro definitely wasn't kidnapped here – either the manga was adapted out of sequence or the anime did a very poor job of explaining that the timeline had shifted. All I can say for sure is that it took place after Rea came to live with the Furuyas and before Danichiro kidnapped Chihiro.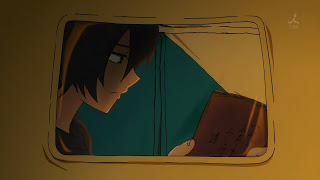 The first half of the ep really did seem like largely a stand-alone diversion, though an entertaining one. Turns out Mero and her friends Kazue (Matayoshi Ai) and Miko (Kuraguchi Momo) have a sort of "Truth is out there" club at school (which explains Mero's occult interest), and that Kazue is almost as much a zombie otaku as Chihiro is (which is odd, as she called him a "weirdo"). There's a brief vignette surrounding an art teacher who Kazue believes is a zombie because she's carrying raw meat to school and feeding it to something in her bag (and herself) – which turns out to be a pet crocodile. OK, that's weird enough for starters, but carrying it to school in a gym bag? That's followed by a short tale from Miko (who looks remarkably like the 16 year-old version of the librarian in Hyouka), where she follows her nose to trace a scent that smells like a "boiling corpse" (kudos to Kazue for asking what I want to – how does Miko know what a boiling corpse smells like?) only to discover a man working on his secret recipe for tonkotsu ramen. And we can safely say, it's more delicious than a zombie.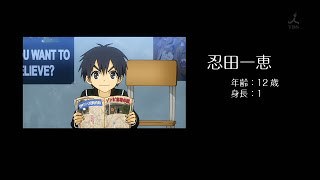 Just when I was ready to write the episode off in terms of anything meaningful, though, things got rather interesting – starting with Kazue's thoughtless comment about Mero's mother doing a better job teaching Chihiro. Courtesy of the memory that triggers we get out first real look (sort of) at the Furuya's mother, which can't be a coincidence. And when Mero arrives home she hesitates upon hearing Chihiro and Ranko arguing, and goes to the cemetery to visit her mother's grave – where Chihiro has left his usual oddball offering. Rea follows and the two of them have a very heartfelt conversation, Mero's memories are triggered even further, and the cold touch of Rea's hand on her brow elicits a heartbreaking gasp of "Mama!". Mero's embarrassment at this is funny and authentically adolescent, but the moment is also pretty powerful irrespective of what it might say about the plot – never has Mero seeme more vulnerable and sad.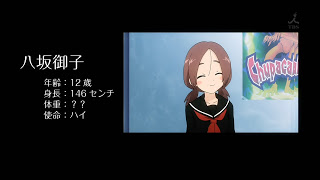 So is there a clever tie-in after all? I wonder – Mom had cold, bandaged hands – Rea has cold hands, too. Jogorou is well-versed in zombie lore when cogent, and keeps calling Rea by another name – "Sada". Surely there's a connection here somehow – and the least convoluted one that occurs to me is that Chihiro and Mero's mother was a zombie too, at least for a time – before Jogorou's mojo wore off and she had to say goodbye for good. I know there was a message of import in the Mero episode even if the meaning isn't clear yet – but I would have loved it anyway, just because. Director Omata-sensei continues to inject unexpected moments of style and wit, like the wholly unexpected sight of Mero sliding down the railing at the shrine. Mero's odd mix of quirks is a perfect fit for the odd mix of elements that make up Sankarea, and I'm glad we got to see her in a somewhat different light this week.