There's an ugly side to love that's never far from the surface, especially in the full splendor of youth.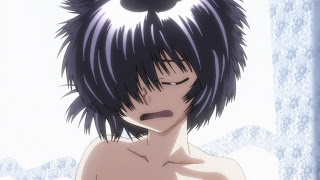 What a dramatic change of pace this was from last week's blockbuster, game-changer of an episode. Possessiveness is a theme that's been touched on before in MGX, but not with the laser-like focus it received this time. It's one of those relationship elements that cuts both ways – Urabe was pleased to know that Tsubaki felt so strongly about not sharing her that he was bothered that she was on the track team, but both of them knew that on an intellectual level it was a somewhat irrational outlook.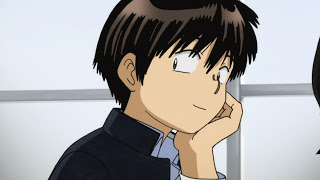 The thing is, you can't have passion without possessiveness – and anyone who says otherwise is kidding themselves as far as I'm concerned. We're wired that way, men and women both, though it has different ways of expressing itself from person to person. It's the classic conflict of the heart and mind, the rational and emotional, and being in love is to submit yourself to irrational behavior. We saw something of this in dramatic fashion last week, as pure physical desire came to the forefront at last (rest assured it's always lurking in the background, especially where teenagers are concerned). Just as he did with the track team, Tsubaki eventually pulled back his irrational side and listened to what the voice of reason was telling him – and in both cases, Urabe told him that this passionate side of him wasn't entirely a bad thing. She liked the idea that he wanted her to himself, and she was just as aroused by their growing physical intimacy as he was.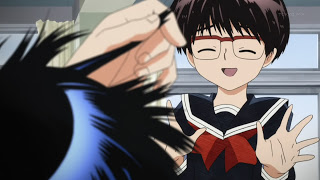 That brings us to this week's exploration (directed by Yamauchi Shigeyasu of Casshern Sins fame) of the relationship, and it's prompted by Oka (always the irritant and provocateur, that one) deciding to style Urabe's hair after she shows us at school with a tragic case of bed head. I actually find it quite endearing that Urabe is so detached from societal norms that she doesn't even notice – it makes her a stark contrast to most high school girls – but Oka's rather clumsy twintails construction makes Urabe a huge hit amongst her classmates. So much so that once of the boys begins selling pictures of her new look for 300 yen apiece after Urabe goes back to her original rumpled, face-hiding bangs look. And this prompts someone to make not of the fact that with her face exposed, Urabe looks just like the idol Momoka Imai.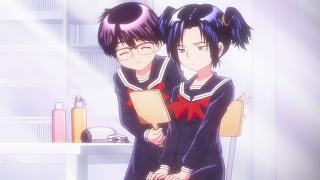 The feelings here are quite complicated. Tsuabki doesn't like Urabe's new look – but is it the look, or is it simply that he doesn't like all the attention she's getting? Urabe really doesn't care, and happily changes back to the natural look at Tsubaki's request. But while Tsubaki (and Ueno, for that matter) don't buy one of the 300 yen pictures, Tsubaki does by Momoka's 3000 yen photo book – full of pictures of the idol (who really does look like Urabe) smiling, laughing, and lounging in her bikini on the beach. And when Ueno spots Tsubaki buying the book, it's easy to see where things are headed from there.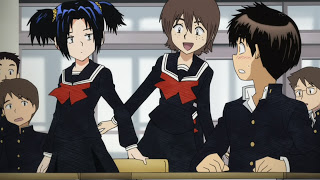 I actually thought it was sort of mean – though quite in character – for Oka to immediately go to Urabe and spill the beans as soon as she heard the news from Ueno. But I confess I was genuinely curious to see how Urabe would take the news. In a sense it's sort of flattering, Tsubaki liking Momoka because she looks like she does – but my gut was telling me problems would follow. I don't know if Urabe was more displeased because Tsubaki had asked her to change her hair back to its original style than she would have been otherwise, but looking at pictures in a book of a girl who looked just like her must have felt a little like cheating – as if Tsubaki wanted another girl who looked like Urabe, but did all the things Urabe wouldn't do (like smile freely for the camera, in his favorite book). So in that context, what she eventually did to poor Momoka Imai came as no surprise.
In the end, I guess, Tsubaki and Urabe are like most couples in love – they don't really know what they want. Tsubaki wants more of the "normal" things boys get from their girlfriends in relationships and he wants to proclaim to the world that she's his – but he also wants to keep her for himself, and be the only one who truly knows how special she is. She wants to be wanted but not objectified. Again I see a theme I picked up on earlier, that Urabe is actually more normal than she lets on, and Tsuabki more odd – though his possessiveness is hardly unusual. The quirks in their relationship are certainly played up for dramatic effect, but what makes MGX particularly interesting is how universal they are.