Why do I get the feeling that every Hyou-ka planning meeting starts with "You know what would look really cool?"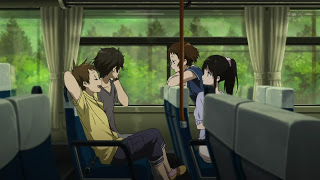 So help me, I've really come to like this show a lot, but it's devilishly hard to blog about. It's hard to even say why I like it, apart from the astonishing visuals. Nothing much ever really happens, but it's kind of fun. Wait a minute – did I just describe teenage existence outside the classroom? On a good day, anyway – and maybe that's the secret here. Maybe Hyou-ka has captured the idyll of a pleasantly misspent youth in a way that's appealing, and that's what keeps me involved. It's certainly not the mysteries, which – while they have the grace not to be head-on-desk stupid or illogical – are hardly riveting. The enemy of youth is boredom, I suppose, and these are the sorts of things my friends and I used to fill the idle hours with.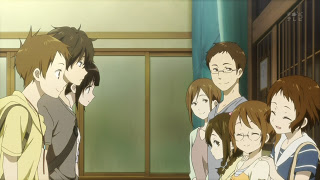 You can't ignore the visuals when talking about this show, because they're a huge part of the appeal. Any studio with enough money can throw it at an anime, giving it fluid animation and detailed backgrounds. What KyoAni is doing here is art – it just happens to be lavishly expensive art. The ladybug on the lock of Satoshi's hair, the heartbreakingly intricate pine boughs, the steam, the dappled sunlight on Chitanda, the clever and very funny trickery to preserve Hotarou's modesty – it's a vital part of this series even more than it would be with most, because Hyou-ka is all about creating an atmosphere more than it is about plot or characters. There's a little Shinkai in this, in that what KyoAni is giving us here isn't photo-realism – it's "more real than real", which is how I think of Shinkai. I won't put it at Shinkai's level, but the artists here have an artist's eye – they somehow see the Platonic essence of a ladybug or a tree, or a girl's eyes, and show us that rather than a super-detailed painted photograph.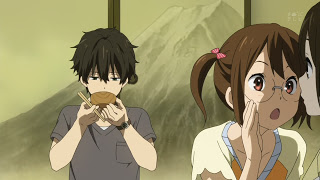 I can't really tell you why I loved this episode – only that by the end of it I was smiling helplessly, completely wrapped up in it despite not really caring all that much about the dandelion fluff of a mystery (I was actually hoping the gang would go after the "Japanese Nessie"). You knew KyoAni would do justice to the art in an onsen ep, and they certainly did. We met some of Ibara's cousins, including sisters Rie (Toyosaki Aki) and Kayo (Ogura Yui) who help out at the onsen ryokan Ibara's family runs. The mystery involves the possessive older sister, the bashful younger, and a wet yukata – but really, it's just an excuse to get everyone wandering around the grounds, dipping into the baths and devouring yet more delicious-looking food. I'm with Satoshi on this one – what's the use in going to a hot springs if you don't use the hot springs? That's how you spend your time if you're smart.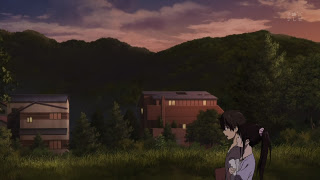 Character-wise, it appears as if Hotarou is pretty much fallen for Chitanda now, to the point where his visions of her overheat him in the baths and he nearly passes out. Hotarou's slacker ideal has left seemingly little time for sexual desire – too much work – but he's certainly thinking about it now. There's almost as much shipping going on with he and Satoshi, though – he may mean more than it appears when he says he doesn't know what to do with a roomful of girls. This is one of those buddy comedies where the contrast between the lead and his sidekick works pretty well, and the chemistry between Hotarou and Chitanda is proceeding acceptably. To be honest, though, I don't watch this show for the characters any more than I do for the mysteries – they just have to be (and are) pleasant enough not to detract from the overall experience. Because it's the overall experience that Hyou-ka is selling, no doubt about it – and so far, I'm buying.