There must have been a seiyuu convention in Kyoto the week this episode was filmed.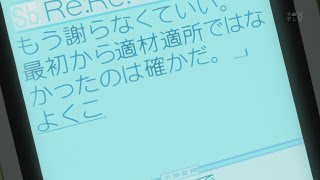 Leave it to Hyouka to have a change of pace episode and still have nothing really happen.  This series certainly isn't getting any easier to write about, but my enjoyment level is pretty consistent – I suppose once you buy into the premise (in my case, effectively watching myself and a few friends as we wasted time after school) it works pretty well.  If you weren't the sort of kid who sat around empty classrooms endlessly debating nonsense and enjoying it (we even messed about with Tarot cards), I could see where this show might not be your cup of tea.  Fortunately or not, I was – and it is.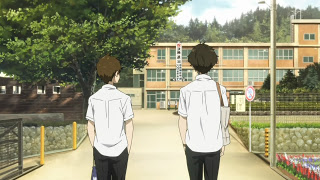 Here's what I enjoyed this week.  I liked seeing that Chitanda was every bit as…Chitanda while chatting as she is live ("You don't have to fix every typo, you know.  We'll understand what you're saying."  "Relaly?"   Houtarou's "not happening" when he opened the door and found the weather too hot.   I found the film "Mystery" by Class 2-5 to be pretty hilarious.  It was interesting seeing first-class animators try to tackle representing wobbly, cheap, hand-held live-action filming à la "The Blair Witch Project" (which I suspect was huge around the time this was in the novel).  The effect ended up being something like an 8-bit game, but it was certainly interesting.  The acting was hilariously bad – the eventual victim, Kaitou (Konishi Katsuyuki) shouting all his lines and staring straight ahead.  Senoue's (Hirohashi Ryou) "Gyaaa!" when they discovered Kaitou's body.  The severed hand.  It was all deliciously awful, like basically every student film I had to sit through in high school.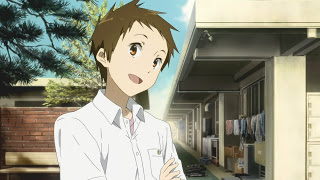 There was a pretty impressive group of seiyuu on-hand for the festivities, too.  In addition to the names above you also had Miyu Irino as one of the actors, Yukana as Irisu "The Empress" Fuyumi, the girl who recruits Chitanda to get the Classics Club to watch the film, and Yuuki Aoi  (who sadly isn't in much at the moment) as Eba Kurako, the girl who guides the main foursome at the end.  It's always interesting to see good actors playing bad actors – some are better than others at it, but it comes off in pretty entertaining fashion here.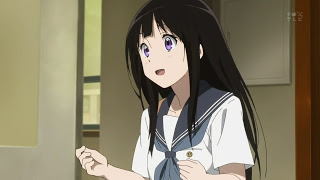 Of course, as usual, the "plot" is pretty thin – I was actually hoping there'd be a twist where a real crime did occur during the shooting of the movie, but I suppose that would be out of character for Hyouka.  There are some major holes in the story Irisu tells the group, as Houtarou picks up on immediately.  The most obvious is the so-called author of the script, Hongou-san – if she was simply ill, why wouldn't she simply tell the class what the ending was, even if she was too sick to write it herself?  There would be no need to get the Classic Club involved then of course, and that's likely the real mystery in this arc – just what's really happening with this author?  There are clues in the chat sequence that starts the episode, where Irisu (presumably) appeared to be texting to Hongou while she was chatting with Chitanda.