After 22 episodes of buildup, it looks like it's finally time for Urobuchi-san to start dishing out the despair for real.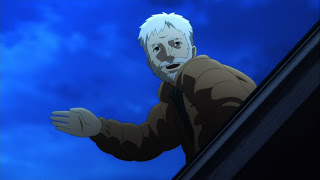 This was really the first episode since before the Kiritsugu side-story that I really felt Fate/Zero was firing on all cylinders. As a whole I think it's lost a step this season – still fascinating and unassailable from a technical standpoint, but lacking the same urgency and emotional accuracy that it had in the first season. This episode seemed to focus on what the show does best – which ironically is buildup, when you get right down to it. There's actually nothing unusual or even unfortunate about a series that tends to do buildup better than the actual fruition of events, and there are few that can portray the sinister feeling of impending doom like F/Z can.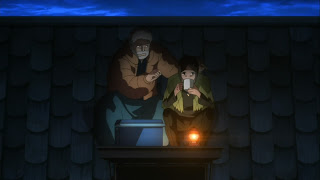 Of course along with that is the notion that the experience of watching this show now always carries with it a giant lump in the pit of the stomach, waiting for the next atrocity to drop. As he so often does Urobuchi goes a little too big when trying for the emotional payoff, tugging at the emotional heartstrings just a bit too hard with Waver and Rider. But because of the goodwill those two have earned in 22 eps, it mostly works – for me, anyway, there are no other characters in the show (now that Lancer is gone) for whom that scene wouldn't have rung false. But Rider and Waver have actually experienced positive character development, and have actually showed genuine human feelings towards each other. So if Waver's gesture, Rider's speech and Waver's reaction were a bit over the top (not to mention the scene with "Grandpa") these are the guys for whom it sort of fit.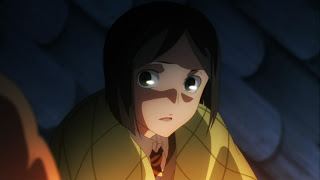 This is Urobuchi Gen though, so for all that they must surely be punished. I expect terrible things to rain down on them, defeat and despair and existential agony – though Alexander will certainly weather it with gruff defiance like always. We all know where nice guys finish in the nihilistic Hell on Earth of the Urobuchiverse. It looks as if Rider is going to be doing battle with Archer in the next episode, which means he'll finally be pulling out his "A" game with no reason to hold it back. It's hard to imagine a scenario where Rider wins that makes sense with the dramatic structure of F/Z, but I also expect some sort of final confrontation for Rider and Saber, so we'll have to see how than pans out.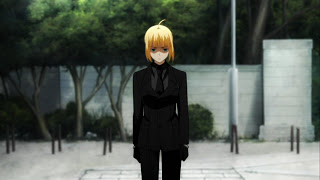 As Rider and Archer do battle, it looks as if Berserker will be entertaining Saber. She seems to be operating pretty much as a free agent at this point, with Irisviel gone – she certainly shows no inclination to volunteer any service to Kiritsugu, and anything he gets from her will require the use of a command seal. Kiritsugu is playing the lone wolf card to the end now, feeling a bit sorry for himself maybe, but seemingly too proud or stubborn to try and reach some sort of détente with the heroic spirit who's supposed to be serving him. Kiritsugu has always worn his contempt for Saber on his sleeve – no doubt prompted at least in part by just how anathema her ideals are to his own – but with things having progressed to these dire straits, you'd think he would try and utilize such a valuable resource more effectively than he has so far. Perhaps there's a master plan for Saber than we haven't been made privy to yet.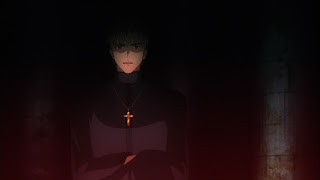 To be blunt, I still find Kirei's mindset one of the weaker elements of the whole F/Z scenario – especially given that he appears poised to be one of the key figures left standing when all the others have been cast aside by fate. He is, as he states himself, an "empty man" – that's obviously crucial to the very essence of his character – but it makes him less compelling as a dramatic figure. He's certainly gone fully Sith at this point, as witness his grim encounter with Iris, but it feels just a bit arbitrary – as does his hatred for Kiritsugu. His very emptiness is obviously crucial to the resolution to the story – Gilgamesh's comments about the Grail "revealing what hides in his heart" make that clear enough. But at the least, he can point to Kiritsugu having a purpose as something to give him purpose, such as it is – to destroy Kiritsugu's purpose. It has a certain symmetry to it, but it still feels like a bit of a plot device.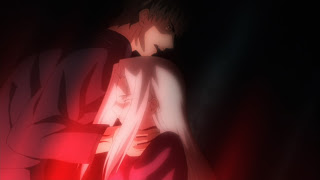 Irisviel's fate is one of those elements of the anime that comes off as if it was written for viewers who already knew the details, so I'm pretty much in the dark. After being "killed" by Kirei, she appears to be inside the Grail – and whether her meeting with Ilya was also "real" and inside the grail or just a dream I can't say. The essence of it seems to be that her fate is to be the same as many others like her through history, as witness the pile of abandoned Irisviels she encounters – and she is a homunculus after all, a kind of puppet created for a specific purpose which once fulfilled, seemingly makes her as expendable to fate as she was to Kirei. There are too many possible explanations for the corpses, the dream, the darkness closing on her, the hands pulling her under, the grisly smile – any guess would be just that, a guess, so I'll wait and see what next week brings before formulating a real theory.