Damn, it really sucks to be Irisviel's neck lately.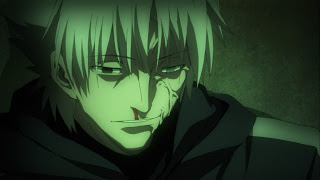 In a sense, the pressure is really off for me when it comes to blogging Fate/Zero. I have no emotional attachment to any of the surviving characters, so I'm free to enjoy the last two episodes on a purely intellectual level – which is probably the best way to watch an Urobuchi anime in the final analysis – and see how he tries to tie all these myriad threads together. The second season has been a gradual emotional tune-out for me anyway, and in a sense the series ended last week. But the main dish here is the philosophical dilemma that's at the heart of every Urobuchi work.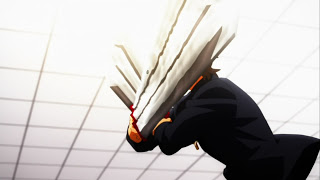 But I also think this is kind of a minefield for me, given the heated passions of many viewers when it comes to Kiritsugu and his own philosophy. There's not a lot to be gained in getting too deeply into that, because Urobuchi has pretty much settled the question beyond any reasonable doubt. It isn't so much that Kiritsugu's philosophy is fatally flawed and has been from the beginning – though it certainly is, merely stating that in itself would be far too sunny a view for Urobuchi. Rather, I think he's saying "Sure, Kiritsugu has been following the garden path from the beginning – but as wrong as he is, I'm not going to offer another idea as a substitute – because there is no answer. Life is suffering, and in the end what we do doesn't really matter. Kanpai!"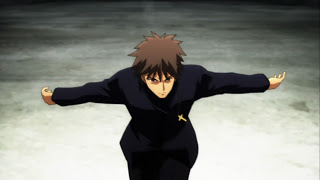 It certainly can't come as a surprise to even someone who never managed to finish F/SN and hasn't read F/Z that the Holy Grail would turn out to be a poisoned chalice. After all – the world is hardly free of conflict and pain now, is it? With Urobuchi it isn't so much a matter of an ending filled with misery, but the shape it takes and how it arrives. The final battle (seemingly) between Kirei and Kiritsugu was certainly impressive, a chance for ufotable to once again show their mastery of CGI, and it seems to me that Kirei would certainly have won if it hadn't been for Avalon (which I'm assuming he didn't know Kiritsugu had). As misguided as Kiritsugu's ideals are, though, it can't be denied that they drove him forward with impressive tenacity. As a battle of mages Kirei probably came out on top, and Avalon ultimately was the instrument of Kiritsugu's "triumph" – but it could reasonably be argued that it was the fact that he possessed a dream to pursue while Kirei possessed only doubt and emptiness that carried the day for Kiritsugu.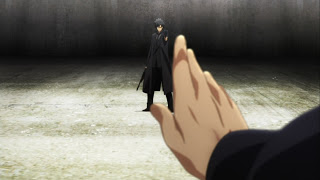 The scene inside the grail is the sort that Urobuchi excels in writing. It was a great intellectual discourse on the nature of conseuqentialism and a complete disassembly of Kiritsugu's psyche. If there's anything Gen-san loves it's esoteric ideas and torturing characters, and he was like a kid in a candy shop here. The intellectual arguments are elegant in their simplicity, and categorically show Kiritsugu how wrong he's been and where his line of thinking ends. The "501 survivors in a lifeboat" riddle is a nice variation on the classic philosophical condundrum, but the pièce de résistance was showing the grim reality of all this to Kiritsugu – forcing him to systematically choose to kill everyone he's ever loved, building up to Iris and Ilya, who he must murder with his own hands, and to be cursed by the Grail to suffer at every moment until he dies.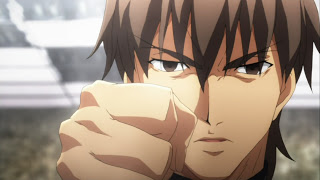 Of course there's nothing but tragedy in all this – Kiritsugu has been putting himself through this misery, pretending to be emotionless to shut himself off from the horrors he commits, effectively for nothing. No, there's no better answer forthcoming from the Grail – or anywhere else – but that doesn't negate the sins Kiritsugu committed chasing his mirage or the suffering he endured doing so. Ultimately his decision to destroy the Grail was probably the least misguided one he made in the series, though I'm not convinced it's going to accomplish what he thinks it will.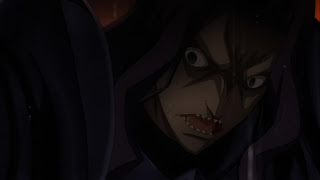 In order to to do that of course he uses his command seal to order Saber to do so, which is certainly the only way she would have cooperated. Of Saber's battle with Lancelot I confess I didn't feel a whole lot. It wasn't especially stunning visually, and we've been given so little background into Lancelot and his past with Saber that the whole encounter had a curiously detached feel. Saber as a character has been something of an anti-climax this season – her apex probably came during the epic "Conference of Kings" in S1, where her worldview was really highlighted and put on trial. This season she's been largely an accessory, rarely at either the emotional or intellectual center of the series. Gilgamesh's marriage "proposal" was highly entertaining in that it perfectly suited his arrogant nature, but it sort of come out of left field.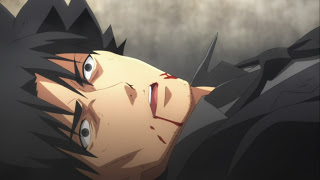 Overall the pacing of the ep felt a bit rushed (I think Saber and Lancelot's arc should have gotten its own episode, probably) and there are a couple of things that are puzzling or awkward as an anime-only F/Z viewer. How Kirei manages to survive the events of this episode is a question I suppose will be answered next week, and I don't recall getting much (any?) background on Angra Mainyu before now – I had to look the term up in fact (needless to say, the Grail wasn't paying Kiritsugu a compliment with that comparison). But on balance we got a payoff that was solidly entertaining and about what I expected – the two Masters I expected to fight fought, the one I expected to win won, and the whole thing pretty much blew up in his face. It was all done in grand ufotable fashion, and a celebration of despair as only Urobuchi Gen can deliver.