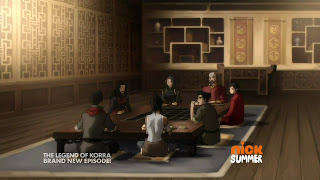 I'm finding my reaction to "Korra" remarkably consistent. I find the plot fascinating, and the character stuff tedious. That's usually a recipe for disaster for me, but in this case it's working out OK because the plot has been the main focus about 80% of the time. But really, it's surprising to me that I like the series as much as I do when I find Korra, Mako and Asami as uninteresting as I do. I think in hindsight Korra made a mistake in jumping right into the full-on shipping stuff before we ever really got to know the characters. The main romance triangle has no spark whatsoever, and I don't especially like any of them as characters either. That's a pretty major problem any way you slice it, but it's not a deal-breaker in this case.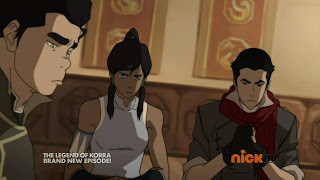 It's definitely the supporting cast and the premise that make this a consistently entertaining show. Hell, Bolin stealing food off Korra's plate was more entertaining than anything the main trio did during the entire episode. But the supporting players were busy doing a lot more than filching bao – even Tenzin's kids got into the act. And then there was that little blockbuster at the end, but we'll get to that.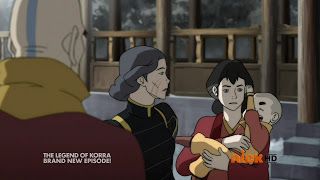 I was a little surprised – but only a little – to have Amon make his big move quite so soon. It suggests the possibility that he might be just the S1 antagonist, and not the top boss of the entire series. Really, nobody in Republic City has been a match for Amon – not the Avatar, not Tenzin or Tarrlok, not Lin Beifong or her successor, not even the White Lotus. Tenzin is a helluva airbender, no doubt about it, but not much of an administrator. The city has never seem prepared for Amon's next move. It doesn't help that he has Sato-san's money behind him and an army of moles inside the city government, but his abduction of the Council was just the latest example of his major initiatives coming off swimmingly.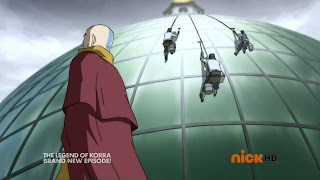 Tenzin's issues go a lot deeper than that, though – his wife is hanging out with his ex-sweetheart and about to have a baby, too. There were some real signs of jealousy from Pema this week, and this triangle is generally much more interesting than the next gen one going on with Korra. It can't have been easy for Tenzin to beg Lin to watch over his family, or for her to say yes, but whether it was due to residual feelings for him or the fact that they're the last Airbenders she fulfills the role as best she can. She's also no match for Amon's forces despite her wicked bending skills, and it takes an intervention by Tenzin's chibis to save the day.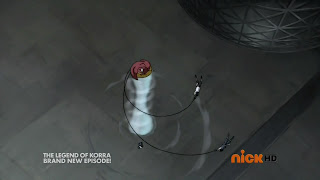 Seems to me as if Tenzin probably made the only decision he could when he fled the city with his (now four) kids and wife, and ordered Korra to do the same – though I can't imagine it's going to win them much love from the citizenry they left behind. His SOS does eventually bring the cavalry – a squadron of Fire Nation ships led by Genreal Iroh (voiced by none other then Dante Basco) – a grandson, perhaps, or a nephew or the now elderly Firelord Zuko? But not before Lin herself is captured by Amon in the act of freeing Tenzin and his family from pursuit. Amon appears to take Lin's bending away – but I'm not sold that's exactly what happened. It looked different this time, somehow.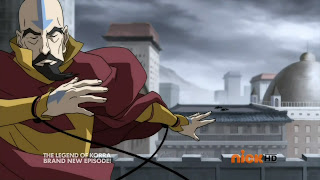 I suppose the big question now is whether next week's double-episode finale wraps up the Amon arc altogether, or leaves him in command of Republic City, and the recapture of it the focus of S2. Amon definitely has big plans that don't stop at Republic City's borders, and there remains the possibility that his energybending could be reversed, and bending powers restored. In any event one thing Korra has lacked so far is the sense of global peril the first Avatar had – after all, Aang was trying to save the world, and Korra's just trying to save a city. I hope that either Amon's Equalist rebellion expands to a global presence next season or the series moves on to a threat that does (we may get the answer next week) – but in any case, let's keep the focus squarely on the plot and not get bogged down in the high-school romantic hijinks.