"When Extremes Meet"

MeeSami is born?
Smooth Man, smooth – "You're pretty, can I have some of your hair?" is surely the perfect pickup line. Will this beautiful lady be able to resist Meelo's charms? Indeed, I thought all of the Tenzin children were quite humorous and charming this week – I'd like to see more of them in fact. Ikki, especially, made quite an impact this week by blurting out to Asami that Korra was sweet on Mako. I don't know if that came as a surprise to her or not, but Asami's defenses certainly seemed to have jumped to Defcon 2 at the very least.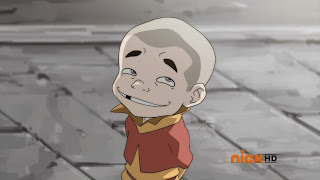 The conspiracy theories are flying fast and furious around the interwebs this week. Asami is Amon. Tarlok is Amon. Asami is Tarlok (OK, I made that one up). Personally I don't buy into any of these theories, and I definitely hope that Tarlok and Amon are different people, because I think it sets up an interesting dynamic to have two extremists at opposite ends of the political spectrum, with Korra caught in the middle. I do think there's something more to Asami than meets the eye, though – her supportive act rang a little bit false this week. I don't think she's Amon but she's almost certainly hiding something, and something important.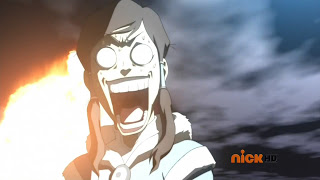 One things that's really jumping out at me is just how much faster things are happening with Korra than they did with the original Avatar. How long did Aang search for a firebending teacher before he became discouraged at his progress, for example? Korra has already reached that point and we're only eight episodes in. It goes without saying the romantic side of the equation (as dysfunctional as it is) has moved light-years faster than the original show did. I think this has led to a certain lack of subtlety and occasional bouts of plot convenience, where characters say and do things because the plot required them to do it. We have older characters, technology, shorter seasons – it's all natural, but it's quite a change.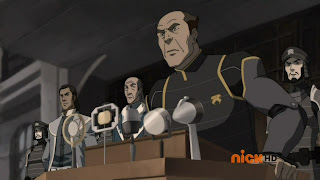 This was certainly the week the plot kicked into full-on high gear. Korra and Tarlok escalated into full-on enemy mode (her description of his task force as a "vanity project" was spot-on). Tarlok continues to run rings around Tenzin politically, to the point where he seems to effectively be the absolute ruler of Republic City. The new police chief Saikhan (Richard Epcar) is in his hip pocket. And Korra's gang officially becomes a team – although truth be told, I hope they come up with a more interesting name than the wholly unimaginative "Team Avatar". This new team is a far remove from the Aang Gaang – and you need look no further than the fact that they have their own Avatar-mobile with a police scanner to see just how much things have changed in the Avatar-verse.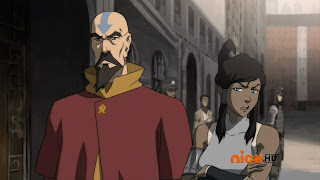 What we have now is effectively two extremist axes at either end of the power struggle – Tarlok and his indefinite detention without charges, wholesale arrests of non-benders "extremism in the defense of liberty is no vice" big brother squad, and Amon's terrorist cult of personality. The political commentary isn't subtle, but it's effective – and if the last ten real-world years have shown us anything, it's that people like Amon and Tarlok need each other in order to thrive. Kudos to Bryke for playing off that, even in as broad a manner as this. Personally I'm more than ready for the connections to the first series via the Spirit World to assert themselves, and we may finally be getting to that point. Tenzin is pushing Korra to explore the connection, and things are certainly desperate enough in the material world – Mako, Bolin and Asami are prisoners of Tarlok, and he's after revealing that he has blood-bending ability (in the absence of a full moon, no less) he's defeated Korra and is "taking her where no one will ever find here". Where have you gone, Avatar Aang – Republic City turns it's lonely eyes to you.