I think the greatest compliment I can pay to Zetman is that I'm still wrapped up in it, despite suffering from whiplash trying to keep up and keep it all straight.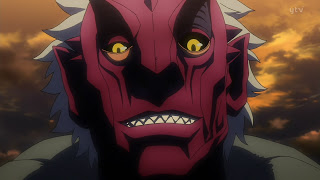 One of the fundamental tenets of superhero mythology is that being a superhero is a burden. Superpowers carry a great weight of responsibility (and usually many other burdens as well), and are a cross most superheroes wouldn't choose to bear, given the choice. That's the fundamental difference between Jin and Kouga – Jin isn't who he is by choice, and his powers have brought him mostly unhappiness and pain. For Kouga, superpowers are a toy, a perk – and something to be created by technology in unwitting imitation of what his Grandfather did in creating the Players. We see this dynamic play our fairly often in superhero comics, but rarely so classically as it does here.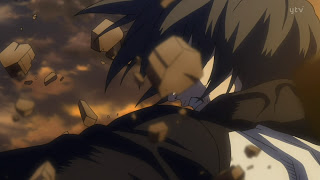 That's why it was interesting to see Kouga actually prove himself useful this week. Without having read the manga I sense that he's the character who's been most ill-served by this adaptation, coming off more as a popinjay and a buffoon than anything else. But here he arguably saved Jin's life, or at the very least made it possible to save Konoha – and even made the right decision in who to save in the end, despite the urgings of his handler Hayami. Kouga even manages to save the lives of the homeless men who'd banded together to stand up to the Players in defense of the injured Jin. I still get the impression that Kouga is a small man and a tool in the hands of others, rather than a force himself – but this is really the first time his actions have given some substance to his repeated statements of ideals.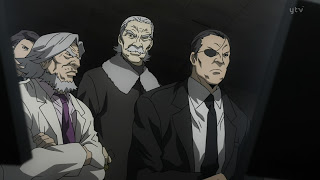 The theme of difficult choices is repeating itself over and over in Zetman, with the dilemma Jirou presented Kouga last week only a precursor to the ones both he and Jin faced this week. And one assumes that Jin has no idea that Hanako (still suffering random headaches) is under threat (and underdressed) back in his hideout. The moment where he came to rescue Konoha (so terrified she'd wet herself) was one of Jin's most emotionally transparent scenes in the series and leaves little doubt that he has real feelings for her, but nothing that was happening – no threat to Konoha, no physical pain – was enough to turn him ZET until Haitani shows up.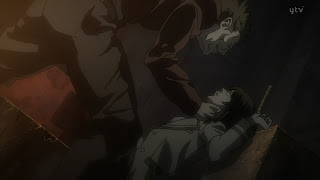 Haitani's role is an interesting one, in that he seems to be the change agent most of the time in the series despite relatively little screen time. Jirou clearly knows him (Jirou shows up again briefly, in a car with a heavily wrapped individual who appears to either be a girl or a young boy) but he seems to be operating independently of Mitsugai, despite their seemingly shared goal of pushing Jin to become fully ZET. To which, Haitani takes rather a shortcut – driving a stake into Jin's chest that turns him not just into ZET, but into the red form that we've been led to believe is ZET's final form. I have no idea if Mitsugai's goals for Jin are what he says they are, but Haitani's at least appear to be be straightforward – he'd like to see EVOL running the planet and enslaving ordinary humans, and ZET is the tool to make that possible.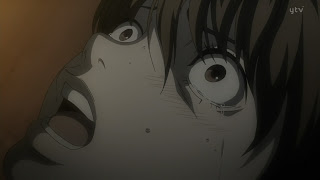 Goodness, that's a lot to keep track of, and it is confusing – but all things considered not as much as it should be. I still feel as if I have a basic grasp of the situation, and I'm mostly able to keep the characters straight even if I don't really know their M.O.s for the most part. I see many different directions that beg to be pursued with more depth, relationships that demand deeper exploration, and I know that in most cases that's simply not going to happen. That's a shame, but I think the anime staff deserves a lot of credit for making all those aspects of Zetman intriguing, even if they aren't able to flesh them out.