There's so much infectious warmth in the air, there are definitely times when I really wonder if Tsuritama could possibly be a Nakamura Kenji series.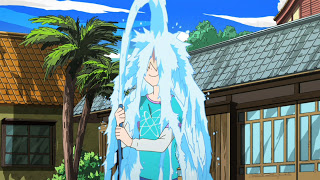 I hear this show get referred to as a "slice of life" an awful lot. Part of it is just that the term has become so ubiquitous in anime fandom that it gets tossed around constantly, whether it's appropriate or not. Maybe part of it is an expectation where any show about four high-schoolers (even boys, one of whom says he's 25) set outside Tokyo must be a slice-of-life. But at best I don't think it does the show justice and at worst it's a complete whiff. One of the things that stands out for me is just how much has happened in this show in a few episodes, both in terms of plot movement and character development. It's the skill of an elite director to do that without things seeming rushed, of course, but maybe Nakamura-sensei is doing it too well in this case.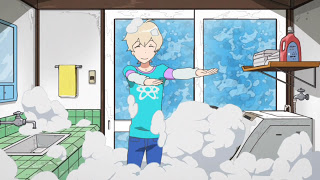 It's very clear that the one character that's dividing the viewers is Haru. I can see why, but I think that the character – as well as the performance by Miyu Irino – is designed to be divisive. Basically, Haru is the quintessential little brother – genki, innocent, well-meaning, mischievous and irritating – and Miyu-Miyu is playing that to the hilt. If you look at Haru as the baby brother of the other main cast members (except Akira, and I think we'll get there eventually) both the character and the other character's reactions make sense. Haru is creating an awful lot of trouble for Yuuki – overflowing the washer, breaking both plates and promises, never shutting up. But that's what little brothers do, and Haru is a true example of a childlike character. That's another term that gets tossed about a lot whether it fits or no, but it really does here. Haru legitimately doesn't get that breaking a promise means more than breaking a plate, and he doesn't understand that "sorry" is meaningless strictly as a linguistic device. But that's just how little kids are.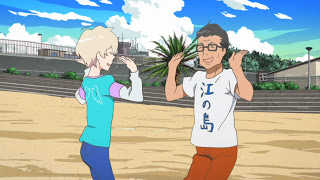 Haru's impact on the story is hard to miss. Yuuki is the character around whose arc the story revolves, but Haru is a classic catalyst, an instigator of change. Compare Natsuki in this ep to the first three – he smiles almost non-stop. He still utters his "I'm only going to say this once!" catch-phrase and still sulks around Tamotsu, but he's opened up tremendously due to Haru's involvement. In a way this is easier for him than for Yuuki because Haru is like someone else's kid brother – Natsuki gets to go home and get a break from him, Yuuki doesn't. But Haru certainly imposes himself on Natsuki too, most obviously in trying to get him to reconcile with his father. Haru sees the desired result and doesn't understand why it shouldn't simply be – so he acts on it. We're still not privy to the full back story on Natsuki's anger at Tamotsu – his relationship with Mari has a lot to do with it – but even with that interference, Natsuki is still quicker to forgive Haru than Yuuki is.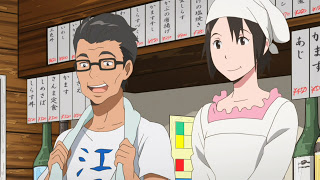 Haru indeed seems to have made friends with just about everybody – including Sakura, Mari and Tamotsu. I wonder if Yuuki's overreaction at the broken promise about the mind-control water pistol tells us something about other broken promises in his past. In any case even Natsuki notes that Yuki has become much more open himself as a result of Haru's involvement, and his panic attacks seems to have settled down as well. Indeed, his first reaction when he finally catches a fish is to take a picture to show Haru, and he overcomes his initial impulse to sulk when Haru still isn't home that evening and goes to search for him. Not only that, he jumps into the ocean when Haru appears to be drowning (still not having made the connection that "alien" probably = sea creature) despite now knowing how to swim. And apparently pays for it with the loss of his precious sumafo. Yuuki has made the jump to "big brother" feelings – which is no doubt a big part of Keito's plan.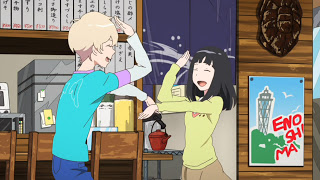 Of course for all the development we've had we still don't know a whole lot about Haru and Coco, or their true mission. Haru was wearing a jellyfish hoodie this week, and I loved the little touches Nakamura threw in – Haru licking his lips as he lustily stared at the minnow lure, and squeaking in sympathetic pain when Natsuki described a fish getting hooked (more great seiyuu work here). Akira seems to be providing the coda to frame the episodes, getting the last word in to summarize, and here he muses to Tapioca that perhaps Haru has "come to make friends". Surely it isn't that simple, but so far that seems to be the primary actual impact of Haru's presence.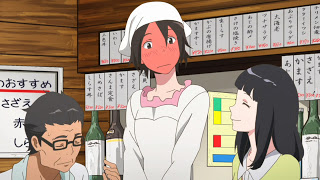 It's remarkable to think we're only a third of the way through here, with so much yet to unfold. Akira seems finally to have set his sights on fishing himself, visiting Misaki and Hemingway and potentially teaming up with a local charter captain who's sweet on Misaki. I think it's only a matter of time before Akira too is sucked in by the gravitational pull of Haru's insistent friendliness, though there's an obvious mutual distrust there. When that happens I suspect we'll start to get our answers to the big questions sill hanging over the plot, but I find myself just as interested in the personal dramas playing out in Yuuki and Natsuki's lives.