"Tilting at Windmills Wednesday" continues with another show with an, er, exclusive following…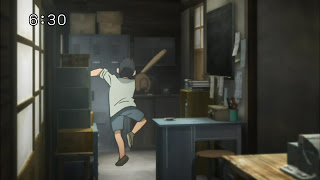 When you stop and think about it, there are very, very few anime that focus on what Shouwa Monogatari focuses on – the hard struggles of lower-middle class people to make ends meet. Not everyone in anime is rich – not by a long shot – but somehow the adolescent characters rarely display any worry about where their next meal is coming from, or whether their parents can meet the rent. When Kouhei says "The fact that I won't be getting side dishes for dinner is still a big shock to me" it's easy to skim over it as a throwaway line – but if you stop and consider it, it's quite poignant and very much cuts to the heart of what this show is all about.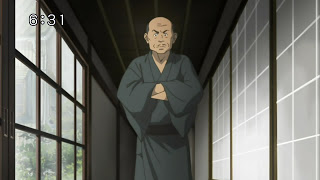 So you'd think, given that, I'd feel sympathy for what Yamazaki-san is going through, trying to run his business and still have time to terrorize his children. But I don't, because my visceral dislike for this man is too extreme. I have a hard time with anyone who hits children, to begin with, much less closed-handed to the face. I know this was a different time and different philosophies of child-rearing were in place then, but that doesn't mean I have to enjoy seeing Kouhei brutalized. Yamazaki-san is the single biggest problem I have with this series, and the fact that the rest of the family is continually making excuses for his boorish behavior makes it worse. The guy has some serious anger issues, and he needs to get some help.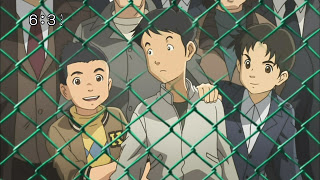 There's an awful lot that's valuable about this 2011 series, though, and I enjoy the rest of it quite a lot. It's nice to see a show that focuses on the recent past that neither romanticizes it to the point of unrecognizability or fails to note the charms of living in a simpler time. I also admire the way it captures how each family member has carved out their own little sphere of existence – for the father it's the business, for Kouhei it's baseball and manga, for Yuuko it's romance, for Taiichi it's politics and new ways of thinking about business, for Kanoko-san it's keeping the family together and the house running smoothly. While everyone is obviously right on top of each other, their focus is invariably on their own world – and this is very much how it is in a working-class family living from day to day, wrestling with the banal realities of everyday life.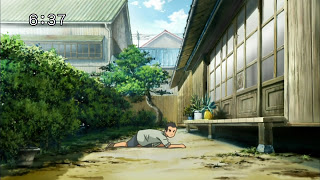 As for the specifics of the episode, this time it was a dishonest contractor, stealing Yamazaki parts instead of delivering them and putting Yamazaki-san in a pickle. And we had Kouhei, drilling the younger kids on his sandlot baseball team to get them ready for a big game against a rival district, with the theme being personal responsibility – Kouhei being the only one brave enough to apologize to the owner of the house who's window the boys kept breaking with their home runs, and finding out he's an OK guy (though what kind of man makes a kid clean up broken glass in his bare feet?). Kouhei gets a reward for his bravery – an autographed ball from one of his favorite Tokyo Giants – which is a good thing, as he predictably gets diddly squat from his parents for Children's Day. And let's not forget the Casual Stroll, which this weeks focused on the Yamazaki's neighborhood of Kamata – which looks little changed now from how it was then.