I'm beginning to have my doubts as to just who the title of this series refers to…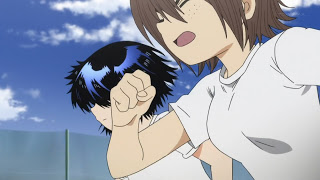 MGX continues to be strange and wonderful, quite difficult to pin down (what genre is this, for example?) but with quite a feeling of universality despite that. Ueshiba-san has clearly figured out – and Watanabe-sensei clearly understood – that it's sometime easier to be insightful about reality through the theater of the absurd than through "realism". Jormungand definitely represents this understanding as well. It's fitting with MGX in the sense that the entire magical girlfriend trope more or less came into existence as a way to metaphorically express the wish fulfillment of the teenaged boys who were the primary fans of manga and anime at the time.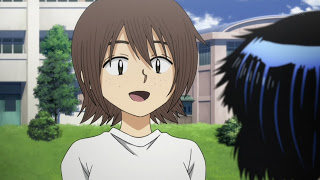 As bizarre as this show can be I've always felt that I understood it on a gut level. It's a deconstruction of the magical girlfriend model, right down to the title itself – it takes no special insight to figure that out. But to the question of what genre it is, I think this is one case where some stock should be put in the label. This is very much a seinen series, because the series isn't really aimed at guys the same age as the main character – it's aimed at readers/viewers (like me) who've put enough distance between themselves and the high school experience to understand all the traps we fell into. MGX is sweetly nostalgic about the euphoric highs of adolescent love (and sweet nostalgia isn't much of a draw to teenagers) but also cuttingly incisive about the way it drives us crazy, and the way it sets pitfalls to distract us from what really matters.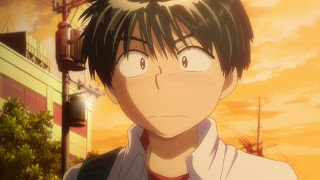 As "mysterious" as Urabe is, in some ways I think Oka is just as inscrutable. What's her game, really? I don't think there's any question that she thoroughly enjoys messing with people's heads, but there's more than that to her. In some ways I think she's the most sensual person in the cast, in that she seems very much in tune with her own desires and – to be blunt – more willing than the others to act on them. Whereas Urabe is too nervous to openly appear in front of her boyfriend in his bedroom in her bikini, Oka thinks nothing of it. She also thinks nothing of running her hand up and down Urabe's upper thigh – in fact, Urabe seems to be the person she's most physically attracted to, by far. Her interest in Ueno seems almost clinical by comparison, as if he were a science experiment. Oka is also the one person who seems to consistently knock Urabe back on her heels, because she's the one person who's "alpha" in her interactions with Urabe – she's always in control of the interaction. Given that the control a girl's feminine charms gives her over a boy is one of the major metaphorical meanings of the whole drool thing, this is a very interesting twist. When Tsubaki tastes her drool, it's because Urabe commands it. When Oka does, it's because she takes it – whether Urabe wants it or not.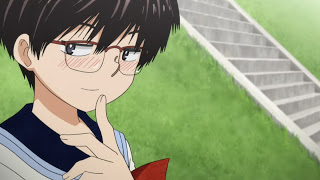 Other than the psychotropic drool, in fact, I think Urabe is proving to be a refreshingly normal girl. As I suspected she has a talent for speed and has quite a competitive streak, which displays itself much as it does with a thoroughbred racehorse – when they see a competitor next to them, they just have to run faster and harder. She's quite bashful, as witness her method of employing Oka's flu cure by hiding her bikini under her coat. In fact the notion of pretending to deliver notes to a sick classmate is as normal as it gets, the oldest trick in the book (and one Youko-nee saw through in a flash). She appears brazen, but she's actually not – Urabe is quite demure, in fact, to the point where she's actually had less physical intimacy with Tsubaki than might be typical in a relationship that had gone on for months as theirs has.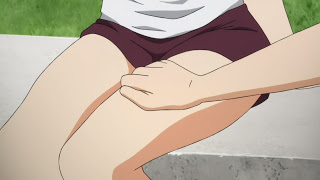 There's no doubt that this lack of physical intimacy weighs on Tsubaki, as illustrated here through the metaphor of the "flu". His needs are more straightforward than hers in some ways, though he clearly desires emotional intimacy as much as physical. This is the balance every teenaged couple struggles with assuming they're not just in it for the sex – balancing the weight of their physical desires with the demands of an emotionally supportive relationship. As a series, MGX strikes the balance between kinky (why is a girl with a shrimp's tail sticking out of her mouth so damn sexy?) and fetishistic and sweet and romantic perfectly most of the time, which is why it's so remarkable. For the couple itself this is a tough thing, though.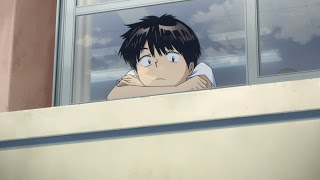 There's the matter of possessiveness too, which was a major theme this week. Tsubaki quite naturally frets at the notion of "losing" Urabe by sharing her with the world – this is ultimately why he hasn't told anyone about their relationship – though of course she's not his to lose. It's nothing malicious on his part, simply the fact that he loves her and likes the idea that he's the only one she's close to. Intellectually he knows this is wrong, even managing to bring himself to encourage her to join the track club in the end – but the drool test reveals the truth of the matter. And the fact is, Urabe was happy it did – because she didn't want Tsubaki to want to share her with the rest of the world. To that end we get one of the great visuals in a series that excels in memorably imagery – Urabe sticking Tsubaki's locker tag to her thigh. As usual, it's absurd and kinky, but brilliantly delivers the emotional message.