Jormungand rule #1: every boss must have a sexy, badass female bodyguard.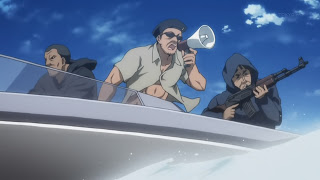 After easily its two most emotionally transparent episodes to date, Jormungand is back testing the audience again with one closer to it's earlier form. I'm hard pressed to think of a manga with a complicated plot that explains less to the audience – there are no training wheels here. With little verbal exposition and generally stone-faced characters, all of the plot and character development comes from what actually happens – which inevitably leaves it to the audience to make their own interpretations of what it all means. I'm continually surprised the manga proved as popular as it did, and the anime seems to be doing OK too. There are a lot of cool firefights and explosions, which I guess doesn't hurt…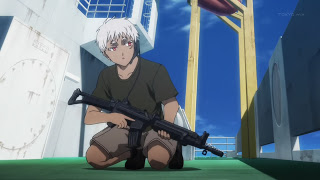 As is so often the case, this episode was a string of semi-connected events, introducing several new characters and re-introducing others, leaping around the globe and back and forth in time. Again, as is so often the case, it's in watching the characters face the crucible of the events unfolding that we learn a little bit about their nature. In the first instance, Team Koko is still about their freighter off the African Coast when they're attacked by (presumably Somali) pirates. From the ensuing carnage, we see that Koko is pretty much pitiless when it comes to pirates – hardly surprising for someone literally born on the high seas – and it's confirmed that Jonah still has mercy in his heart, as he declines to kill a young boy trying to board the freighter as his compatriots are being slaughtered. If you had any doubts, this sequence should have erased them – Team Koko is a force to be reckoned with. These people are all very, very good at the business of killing other people.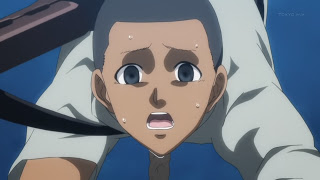 Meanwhile, seemingly unrelated events are unfolding across South Africa. The DIESA Expo – a kind of annual trade show for weapons merchants, despots smugglers and commandos – is about to begin, and among the people it's attracted are Chinese tycoon Chan Guoming (Hashi Takaya, one of my favorite seiyuu)head of Daxinghai, a powerful mining company. He's accompanied by one of those deadly beauties, Karen Lo (Kato Saori), stylish and deadly, which she proves by easily disabling and generally abusing the hired dog of our old CIA friend Scarecrow, who seems to have focused on Chan as a potential target for extortion. Also in town for the DIESA event are more old friends from British arms dealer CCAT, Curry and his bodyguards Mildo and Lu.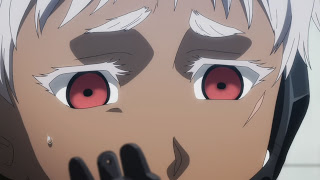 Koko is headed for DIESA too, and it's there she plans to meet the strangest and most mysterious of the new characters – Dr. Amada Minami (Toyoguchi Megumi – yes, from Black Lagoon). Minami is an old friend of Koko's, a butterfly otaku, and apparently quite flighty and unpredictable. She also has an office full of what appear to be mechanical butterflies and the attention of Chan Guoming – and when she decides to go to a snowy mountaintop and search for butterflies and blow off her meeting with Koko, Chan sends Karen and a team of heavily armed commandos after her. He also meets Koko at the DIESA site, and invites her to dinner – an invitation she accepts, alone, while sending the rest of her team to the GPS coordinates Dr. Minami's assistant gave her.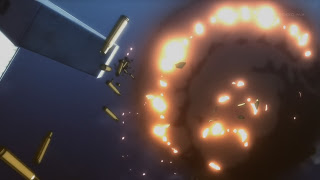 It's hard for me to judge, having read the manga, but it felt to me as if this ep revealed almost nothing of its true intentions – even by Jormungand standards. It's almost entirely a setup episode, but as to what it's setting up all we have are hints – it's clear, for starters, that Minami is more than just a lepidopterist. It's also clear that (as was hinted at last week) Valmet has a lot of bad memories when it comes to Africa, and that there are connections to the events of this episode. Mostly though, that's all this ep is – a series of hints about who the people in the cast really are, played out in events like the pirate raid, and the eventual showdown between Team Koko and Team Karen on the mountain. It's there we see just how ruthless and intolerant of failure that Karen is, and how recklessly brilliant (enough to foil Karen's ambush) Jonah is. As to how all the pieces in this jigsaw fit together, for that we'll have to wait another week.