With this episode, clearly, Jormungand has stepped up to claim its place as one of the best shows of the season.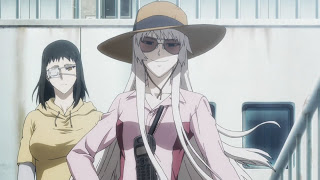 This has been an extraordinarily faithful adaptation of Takahashi Keitarou's manga so far – more so than I expected in fact, given how unconventional the first volume of the manga is. Getting into Jormungand is a little bit like trying to hop a moving train, and I was pretty sure that White Fox would add a couple of stops to make it easier for the new passengers, but to their credit they didn't – be that wise or not. I'm pleased to see that most viewers still got swept up in the many fine qualities of Takahashi's story, and they've stuck with it long enough for the story to embrace the audience, like a youngish bottle of Bordeaux that needed a couple of hours of air to open up. We saw that process start with last week's stellar episode, and continue in a big way this week.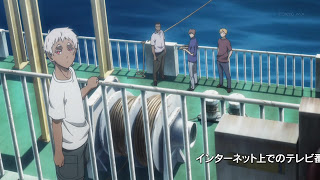 That stipulated, there was one change that I noted as significant, and that was a marked reduction in Jonah's first-person narration. Given that Jormungand is hardly a warm and cuddly story to begin with that surprised me, but now I feel like I understand why the choice was made, and that was to give this week's episode greater impact. And it did, though whether it was worth keeping Jonah such a Sphinx for four eps is a fair question. As I've said, to understand Jormungand you really need to do two things – watch Jonah and listen to Lehm. But when Jonah does say something, you damn well better pay attention – because this is not a boy who speaks unless he has something that's worth saying.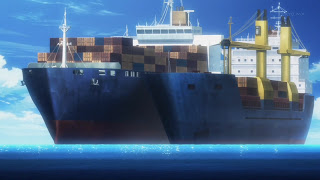 There's an almost Shakespearean quality to Jormungand that appeals to the dramatist in me. As gritty as it as and as deeply as it cuts at the deficiencies of the human animal, it does so with absurd physical situations and theatrical dialogue, not grim realism. I love the fact that so much that's said in this series carries multiple meanings, some of which only become obvious after much time and consideration have flowed under the bridge. Jonah is many things in this story (the main character being the most obvious) but he's also something of an audience stand-in, the one who seems to have a sense of how strange everything going on around him is. His conversation with Wiley (Nomura Kenji) was quite an interesting and revealing one. Jonah forgets nothing Koko tells him, despite the fact that he says he feels that Koko is "playing him for a fool" every time they have a conversation. When something catches his interest he files it away, stews on it, and asks someone about it – often Lehm, or in this case Wiley – and in this instance it was Koko's comment that "Arms dealers are the only ones allowed to question the hypocrisy of the world." The statement reveals something about Koko – and Jonah's way of processing it something about him.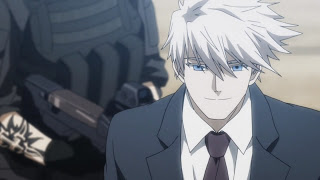 The catalyst for everything that happens in this episode is the introduction of a very important character, Kasper Hektmatyar (Matsukaze Masaya, perfect casting). He's Koko's older brother, traveling with his bodyguard Chiquita (Touma Yumi), and meets up with Team Koko on the high seas in a rendezvous of container ships (similar vessels to those on which both siblings were born, as he later reveals). The reason for Koko's panicked reaction at first appears to be sibling rivalry, but when she sends Wiley to hide Jonah below decks and teach him English, it's clear there's a connection. What's important to note here is that she wasn't hiding Jonah from Kasper – she was hiding Kasper from Jonah. That, and the fact that Jonah lamped out what was happening through his own intuition, excused himself to the toilet (a suspicious act based on past behavior) and verified what he suspected was happening. Jonah is quiet, but it's the quiet ones you have to watch out for…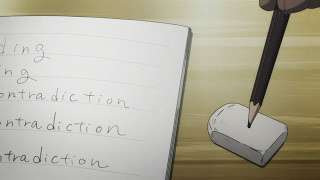 I'm not generally fond of flashbacks as a method of storytelling, but I make an exception here. This was how Jonah's backstory came out in the manga more or less, and director Motonaga-san handled it well (see this through to the finale, Sensei, and I might just forgive you for School Days). Jonah's story was pretty self-explanatory, and in reality probably not all that different than what most of the audience had imagined it might be – but for me at least, it still made a tremendous impact. It's pretty startling to see so much raw emotion – even in flashback – from a character who's been the picture of impassivity for four episodes (or about 8 chapters). Jonah's story is the one in this series that's grounded in tragic reality – child soldiers exist, and things even worse than what happened to him happen to them every day – and it didn't need to be oversold to be poignant. Motonaga stayed true to Takahashi and let events speak for themselves – let us be shocked over what happened to Marka, let us rage with Jonah as he took matters into his own hands to try and save the remaining children. The saddest element of the story for me was what Jonah was forced to do, above any of the terrible things that were done to him and the others.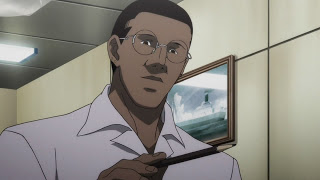 Kasper doesn't tell us all that much about himself in words, but as always with Jormungand, if you watch and listen carefully you learn a lot about what sort of man he is. What sort of man locks a traumatized child in an empty cargo container for days to test him, is the first question. I'd also note the fact that he never tried to deny his culpability for what happened to Jonah's parents, but in fact volunteered the information to Jonah himself. As Kasper says, "patriotism isn't a word in my dictionary" – and this can be taken in a much more general sense as a clue as to his character, it seems to me. His offer to Jonah can to taken in several ways, based on what we've seen so far – as a sort of tacit apology. As a means to try and assuage feelings of guilt. Or as a sign of respect for what Jonah had lived through, and his actions. For now, you decide, but rest assured we'll be seeing Kasper again as the series progresses.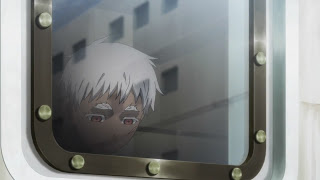 I can't really ask for anything more from an episode than what this delivered, and it feels like the true beginning of the series. Jormungand can (and did in the first four episodes) work on many different levels, but for it to really work as I think Takahashi-sensei intended it, you have to feel Jonah – because this is his journey, and we see the world through his eyes. The highs will never be as high and the lows never hit as hard if we don't have that, and that's why this is such an important chapter in the series. The lasting impression for me is the brief conversation between Jonah and Koko, where he tells her "I still love the world" and asks if she does, too. And just for a moment, in doing so, he finally manages to shut Koko up and to wipe the perpetual smile off her face before she softly offers a non-answer. And his reply? "It's okay. That was an answer." It doesn't sound like much, but this exchange comes as close as any so far to explaining what Jormungand is all about, if you're willing to stick with it till the end.