Time for a brief trip to the world of Japanese Cinema…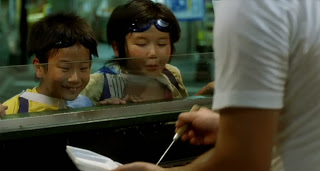 Kore-eda Hirokazu isn't a name that'll be familiar to any but the most ardent art-house cinema buffs or serious Japanese culture geeks – but it should be. He's a documentary trained director who's turned his talents to narrative films that are quite unlike anything else I've seen. The unaffected, natural performances he gets from his actors – especially children – are quite remarkable. And that's never been on better display than is his most recent work, 2011's "I Wish", which is currently in the midst of a small distribution in American theaters. Kore-eda's method for directing kids involves not using a script with them – he simply feeds them their lines as the shooting progresses, and perhaps this in part is why child actors in his films appear not to be performing at all.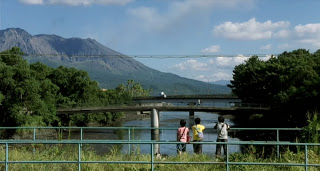 Kore-eda-sensei has been doing mostly narrative films since the mid-90's, but there are two that stand out for me – the utterly heartbreaking Nobody Knows (2004) the story of siblings forced to survive when they're abandoned by their mother, and Still Walking (2008) a ruthless deconstruction of a Japanese family spanning three generations. I Wish probably doesn't rise quite to that level, but it's still a remarkable movie nonetheless – more overtly emotional than any work Kore-eda has done before, seemingly loose in structure but actually quite intricate. It's the story of two brothers, 12 year-old Oosako Kouchi (Maeda Koki) and 10 year-old Ryonosuke (Maeda Oshiro) forced to split up when their parents separate, each living on opposite ends of Kyushu. A friend tells Kochi that magic will happen when the newly constructed Kyushu Shinkansen trains pass each other for the first time – a wish will be granted – and Kouchi sets off to meet his brother in the small town where he calculates the bullet trains will intersect.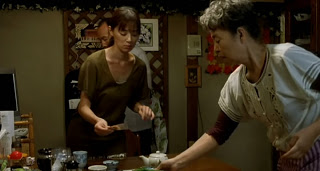 One of the most interesting elements is that the brothers in the film are played by real brothers, the Maedas – and not only that, the boys are already a well-known Manzai comic team known as "Maeda Maeda". Given that, it's hardly surprising that they have a great rapport on camera – except that in the film, the brothers are separated by hundreds of miles, and rarely appear together physically. Kouchi is a classic over-thinker, miserable with his mother in the Southern town of Kagoshima, where ash from an erupting volcano rains on the town daily – and the fact that the townsfolk seem little concerned mystifies him. Meanwhile Ryu is an adorable, happy-go-lucky ball of energy, seemingly quite happy with his struggling rocker Dad in urbane Fukuoka, on the Nortnern tip of the island. Kouchi would do anything to bring his family back together – Ryu simply wants no part of being around constantly fighting parents again.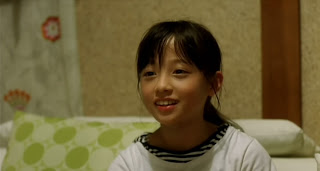 The lives of the brothers are skillfully interwoven by Maeda with a network of others – parents, grandparents, and the small circle of friends each boy gathers around himself. Each child has their own set of worries, and their own wishes – and all of them become part of the story, as do those of the adults. But the whole film is remarkably effective at communicating just how bizarre the world is to a grade-schooler – the way people behave, and the way the world itself behaves. Small things become serious, and serious things seem trivial – and throughout it all, the kids behave as if they're making their way through their daily lives, unaware of a film crew anywhere in sight. This is Kore-eda's magic – to be able to make the artifice of film disappear, and to seduce the audience into losing all sense that they're watching a film at all. It's never more effective than when the camera is on the children, but it cuts through all of his best work.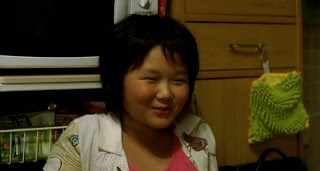 Kore-eda's films are, in general, a must-see for anyone interested in seeing the minutiae of Japanese daily life and the dynamics of the Japanese family play out in utterly believable ways – they're a crash course in modern Japanese culture. But I wish in particular stands out as some of the most free-flowing, natural filmmaking you'll see – as with so much from Japan, it's utterly unlike what we've come to expect in Western films. Spielberg can elicit great performances from children (see A.I. for the finest example) but one never loses sight of the performance. If anything, there's a bit of Francois Truffaut in Kore-eda – and perhaps just a bit of Antoine Doinel in Oosako Kouichi.