It's the small, almost unnoticed moments that make Hyouka stand apart from the crowd.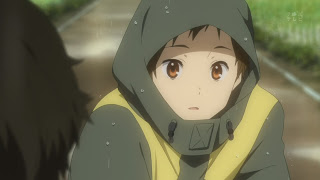 After five episodes I can't honestly say there's any single element of Hyouka that blows me away in terms of plot or character. The characters are all more or less safely within the constraints of their trope, with the possible exception of Satoshi, but none of the are unpleasant examples of it. The writing is pretty good – not too flashy and possessing a bit of subtlety and flair, nothing to get excited over but solid. A major positive is that there's nothing in the show that annoys me – it's all straightforward and well-presented, and doesn't talk down to the audience or pander too much to the otaku gene. In short – it's perfectly fine but no wheels are being radically redesigned, much less reinvented.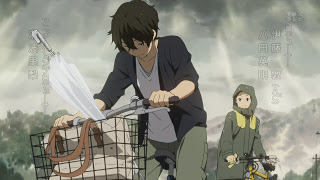 With that in mind I really shouldn't be as involved with the series as I am, but the fact that I am involved pretty solidly is a real tribute to KyoAni and the job they're doing with the production. I haven't read the novels but surely this must be a case where the anime exceeds the source material, because it's the visuals and soundtrack that give life to this interesting but hardly riveting material. Content-wise I was perfectly happy with this first major arc, and with the way it ended. I did think the "I Scream" payoff was a bit anti-climactic, but I can appreciate the message it sends about the events of 45 years ago. I was curious to see how it all wrapped up, and some of my guesses were right, others wrong, but it was strictly an intellectual curiosity.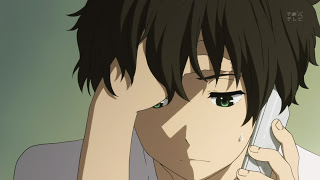 In spite of that this episode was still memorable, and it all comes down to the look of the series. It isn't simply a matter of flash – everyone knows KyoAni is going to spend whatever it takes to have peerless animation quality. No, what amazes me is how smart the animation is, and how much style it has. Take for example the character design for Itoigawa-sensei as a 16 year-old – despite the fact that this was likely the only time we'll see it, it was absolutely lovely – expressive, vulnerable, beautiful. Take for example the small, almost imperceptible movements of the characters – the way Ibara and Fukube straightened in their chairs slightly as Itoigawa-sensei was comfirming that their theories were basically correct, or the way the restless movement of Houtarou's leg was shown through the ripples in the cup of green tea on the table.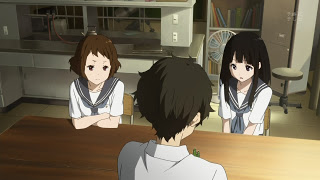 Most impressive for me, though, have been the way the flashback and mind's-eye sequences have been animated – each using a different style, no two alike, and all of them striking. The entire montage of Itoigawa-sensei's trip down memory line was breathtaking – not just the art itself, which was admirable enough, but the idea of having Itoigawa inhabiting herself as an innocent schoolgirl, eavesdropping on the scenes from those days, peeking in windows and through doors, wanting to intervene but unable to do more than observe. It was beautiful and profound – a clever and insightful way of encapsulating the experience of remembering a long ago time full of joys and regrets. The art design for Hyouka isn't just skillful, it's ingenious. There's so much creativity going into it, it's as if there's two different screenplays at work in the show, the written one and the visual one. And the second one is more creative and arresting than the first.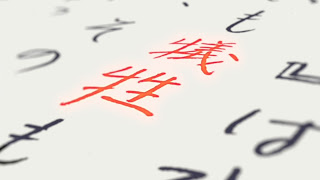 In a mystery series there's always a degree of uncertainty in guessing how the quality will hold up, because each arc is almost like a new series. There isn't enough banked with these characters to make Hyouka watertight – if a bad mystery comes along, the show will suffer for it. I'm certainly hopeful that won't happen, since the first one had a hint of the poetic to it and tied the past to the present in a fairly interesting manner. While the story will turn elsewhere for now, I'm not convinced we're done with this first mystery yet – it's tied very closely with the Classics Club, and there's still the matter of Chitanda's Uncle disappearing to settle. Of Hotarou's struggle between the slacker imperative and a growing interest in the outside world (fueled in part by hormones) I can't say it's really captured me – there's an air of self-importance to his adolescent grumbling that may be true to life, but isn't especially endearing, and Nakamura Yuuichi still seems wildly miscast in the role. But as main characters go I've certainly seen far, far worse – and in shows that didn't have nearly so much else going for them as this one does. So if that's the worst problem Hyouka has, it's in pretty good shape.