Wait a minute – a grouchy, self-involved layabout who solves mysteries with his team, usually based on the principle "everybody lies"? Hmm…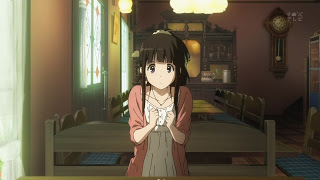 While there's still not all that much "there" there with Hyou-ka, it's kind of fun being nowhere with it. The formula could hardly be simpler, but it's undeniably one that's worked wonders for KyoAni in the past. Basically it's a show that continually amazes visually (how can a just-emptied coffee cup look so amazing?), and offers some excellent and tasteful BGM to boot (much better here than in the first two episodes). There's nothing else of much significance in the mix so far, but the pacing is so slow that it almost hypnotizes me into getting involved with what's happening. At least, it's not nearly as boring as it probably should be.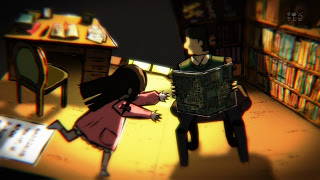 And with that said, this ep was a couple orders of magnitude more interesting that its predecessors. For the first time we're given a mystery that actually has some real-life import, and that matters, especially for a show with so little action. To call the mysteries in the first two shows trivial is an understatement (to call them "mysteries" at all probably generous) which more or less ruled out their being of more than minimal interest. Here, we have an actual mystery that relates to Chitanda's life – an Uncle missing in India, a forgotten memory of seven years ago, and a possible connection to the Classics Club.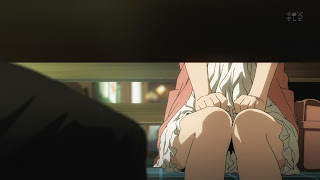 At this point I'm more or less ready to assume that there are no coincidences in Hyou-ka, and that everything is connected to the club in some way. Everyone is hiding something and the club obviously has a dark secret in its past. I can only assume that Oreki's sister knows this and pushed him into the club intentionally – and likewise, she's intentionally decided it's time for the kids to find the old anthologies. The clue in her letter leads them to the biology prep room, where third year Tougaito Masashi (Okaiyu Ryotaru) presides over the News Poster club, and where the safe holding the old issues of the anthology (where the title "Hyouka" comes from) are supposedly kept. There are some early hints that something sinister might be behind Tougaito's reluctance to allow the Classics kids in, but it's pretty mundane – a socially elite kid trying to make sure he's not caught smoking in school.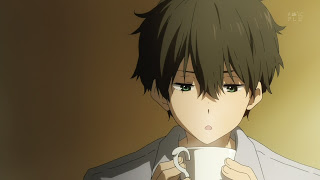 If Oreki's family connection to the Classics Club mystery is obvious, it's no more so than Chitanda's – her Uncle was in the club, and he's mentioned in the second-ever issue, the 1968 (which sets Hyou-ka in 2008) where there's a reference (written by someone with the same first name – Youko – as the librarian) to mysterious events involving the Uncle the prior year. And given that the 1967 anthology is missing, there's all the more reason to suspect someone is hiding someone – and maybe a lot of people are hiding a lot of things. It wasn't a given that this show was going to have a "serious" mystery element at all, so that's a welcome change.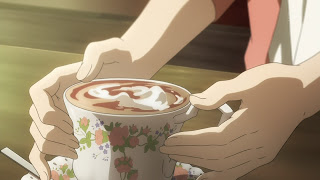 I'm still not wowed by any of the characters, or their interaction with each other. Chitanda is mesmerizing to look at, but quite ordinary to listen to, Houtaro's pursuit of the slacker ideal feels pretty played out, and the predictability of his eventual warming up due to Chitanda's influence robs that inevitable development of much dramatic impact. As with Clannad, with Hyou-ka though the best friend character is somewhat irritating, the relative blandness of the male lead makes his presence valuable – and I do think Hyou-ka missed Fukube's energy this week. Baby steps, though – this was better on the whole, and improvement is certainly better than the alternative. With all the value for the dollar Hyou-ka provides with its visuals and music, episodes like this one are more than watchable.