We've had our "Ginga", and now we finally get our "kickoff"…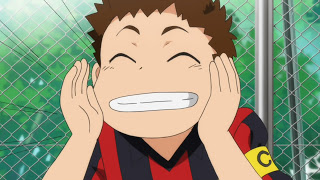 You know a sports anime is good when you're checking your watch like a soccer referee, and hoping the episode isn't about to end and leave you hanging for another week (or until the sub comes out, anyway). That was really the last major hurdle Ginga e Kickoff had to overcome as a sports series – could it deliver in-game episodes with excitement, suspense and maintain the insane fun levels of the first seven eps? It certainly answered them to the affirmative as far as I'm concerned, giving us an episode that may not have been short on surprises but was long on entertainment.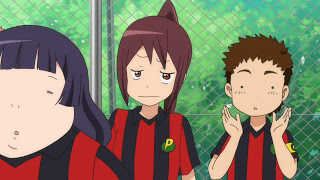 The first drama – apart from the kids doing battle with their pre-match jitters – was the question of positions. I didn't see any real surprises here for the most part – it's a standard-looking 3-5-2. I figured Shou would be the center-back with Reika on one of his wings and one of the fifth-graders on the other. And I figured Masaru would split up the triplets to get their speed and possession scattered over the field – one as a striker, one as a central attacking midfielder and one as a half-back. But the real conflict came – unsurprisingly – from Kouta. He's assigned to the playmaker role, with Ryuuji as the forward along with Uematsu, and the Triplets effectively go on strike against the rest of the team in protest – not even joining the pregame huddle.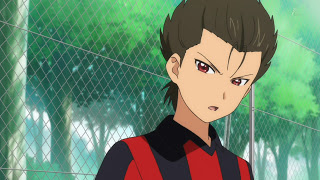 I more or less assumed that once the whistle blew the Furuyas would be a law unto themselves, and Shou would have to prove his worth as a Captain in a damn hurry. It happens that the Predators' first opponent, West Sakuragawa, isn't especially strong – and I think this fact is lost on neither Coach Hanashima or the Triplets. That in part is why Masaru declared that he'd offer no orders once the game started – it would be on Shou to lead the team. What's happening here is effectively a battle of wills between Masaru and the Furuyas, but the question is this: did he intentionally not place them at the positions they wanted to test their willingness to play as a team, or – as I suspect – does he have very football-related reasons to want Kouta in midfield? In many ways that's the position that makes the most sense for him, as he'll be drawing the most attention from the opposition and freeing up space in the attacking zone for his forwards – but he (and his brothers) don't see it that way.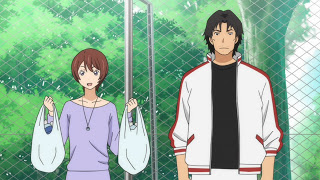 The Trips have an odd relationship – Kouta is seemingly the baby of the bunch, the most talented and temperamental, and his brothers both gently mock him and defer to his pouting wishes. It seems quite cruel for Hanashima-san to leave Shou foundering as they take the game over themselves, refusing to pass, but the lesson he seems to have taken from his earlier coaching experience is to let the kids be kids – to give them a sense of control over their own team and let them develop their strategic sense. The results aren't surprising – the game quickly devolves into "dango soccer" as West Sakuragawa realizes they just need to triple-mark all the triplets, and a giant scrum ensues. W.S. scores on a lucky counterattack as Reika-chan fails her first challenge as a defender by screening her keeper, and the Trips notch one more goal – but it's an ugly 2-1 lead at halftime, and Masaru still refuses to bail Shou out.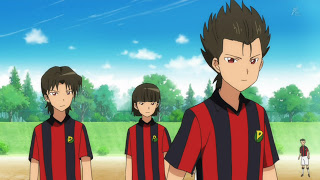 I'll be very interested to see where Shou goes with this, as I believe his coach will stand firm on not interfering. Even as he's been rightly acknowledged as the heart of the team, he still hasn't taken command of it – even Erika (rather rudely, I thought) tells him not to "trip up the team" before the match. He's letting his self-perceived lack of skill impact his confidence, and he needs to let the team know that he's the boss. The one thing he can do for sure is yell louder than anyone, but will sheer volume make the Furuyas listen? Are will they be man enough to admit on their own that their way isn't working? I don't think it'll be that simple, and that's what this hurdle really is – Shou using his superior field sense to give himself the confidence to step up and put the Furuyas in place with an argument even they can't refuse.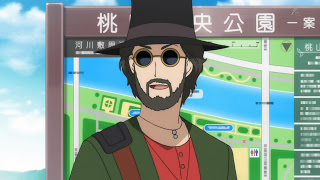 Most of the humor this week came from Shou's mom and imouto. Mom trolled her son into thinking she was crying from pride, then proceeded to rave about how cute everyone on both teams was. Imouto declared her astonishment that her "eternal bench-warmer" brother was playing in a match, and that it might never happen again. And then there was the guy with weird glasses and a beard (really nailed him there, Suzu-chan) – not to mention a green coat and fedora – whose role I'm not clear on yet. He seems to be some kind of soccer philosopher, and he's filming the match and drawing up plays on his white board – a journalist, perhaps? At a sixth-grade prelim game? Definitely the most random element in the series so far.