The soccer diet is all the rage in Japan, apparently.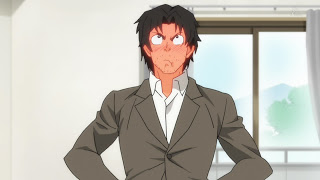 We have a new pre-open and new eyecatches this week, as Ginga e Kickoff makes the transition from team-building to competing. One of the things I really like about this series is that it doesn't ignore the small details, and while a sports anime dedicating much of an episode to the grunt work of preparing to coach a youth team and the details of practice drills might seem boring to some, It's very much true to what the show is – this isn't a Shounen Jump-styled magical reality sports shounen. Like its hero, "Ginga" is about relentless energy and the straightforward charm rather than superhuman feats of brilliance.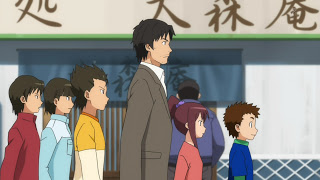 While more low-key than the insanely fun fifth ep, this one is still most entertaining, mostly splitting off into two tracks – one following Coach Haneshima as he readies himself to re-enter his life, the other as Shou (finally, with a little help from Erika) tries to find the remaining players to make the Marauders a legal team. With approval from their backer at last (the star power of a J-leaguer outweighing the concerns about having a local drunk in charge of sixth-graders) Masaru proves to be serious about the task at hand. He tries (unsuccessfully) to fit into his old suit, he goes to the Japanese Football HQ to attend a lecture on coaching kids, and he declares his dissatisfaction with an old teammate who's settled into a life of mediocrity. I was pleased to see the series make a point of showing Masaru's displeasure with the canned advice in the "Coaching U-12" pamphlet his old friend had written – ritual is very important in Japanese youth sports, and not many manga are willing to take on the sometimes joyless nature of orthodox coaching methods.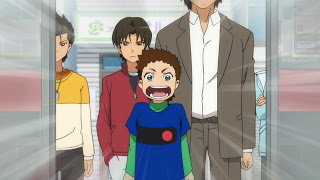 Meanwhile, one of the stipulations for Marauders existence is that they have to submit a list of 11 players for the district tournament within 48 hours. Once again the Triplets leave it to Shou to do all the work, which proves to be a challenge even for a tireless terrier such as he. As expected 3-U – Uematsu Tarou (Kousaka Atsushi), Uchimura Katsura (Oura Fuyuka) and Ukishima Yuuto (Inoue Suguru) agree to join, bringing the total to eight – and Masaru is able to borrow a couple of promising 5th-graders for the tournament, but the well runs dry for the final member. That is, until Reika-chan finally musters the courage to tell Erika that she wants to join the team.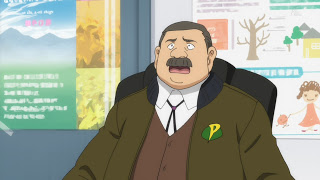 Now, this was a development that's been telegraphed for a while, but I still enjoyed the way it was handled. There's some natural skepticism from the Furuyas, especially Kouta – he's proving to be the most interesting of the bunch – but one of 3-U (I honestly have no idea which) points out that the Furuyas are doing nothing but complaining, not helping find players. Shou proves once again why he's the right choice to be Captain – he swallows his surprise almost immediately, declares "If Erika says it's OK, it's OK!" and welcomes Reika with a smile. Kids like that are pretty rare in real life, of course, but that doesn't make Shou-kun any less likeable as an anime lead.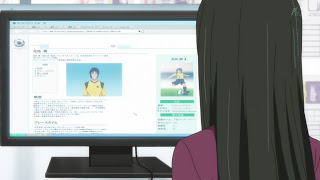 So with that, Marauders are 11 – but not the final 11, as we know Ten-chan Takuma will be joining at some point. In fact he shows up after the drawing for the district tournament, with Kageura (Maeno Tomoaki) the giant sixth-grader we saw briefly at Tokyo Roses' training center – though just why, we're not certain. Looks like we'll have game action next week, along with the drama of Reika trying to lose weight Araki-style in time for the tournament. Let's hope (and I expect) Ginga will deal with the weight loss issue a little more realistically than Area no Kishi did.