I think in order to enjoy F/Z to its fullest, you need to be either a major sadist or a major masochist. Happily though, either would probably work.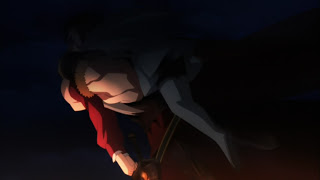 It's not like he ever makes it easy to forget, but Urobuchi-san certainly likes to remind you with brute force just who's writing what you're watching. There's an undeniable genius to the man and what he does, but I do sort of wonder if there's a point of diminishing returns for some viewers – myself, anyway – in watching him torture his characters existentially. If you enjoy watching people suffer, great – and if you enjoy torturing yourself by watching others suffer, great. But if neither of those things is true, I find myself turning half of myself off watching his stuff as a kind of self-defense mechanism, and just enjoying him on an intellectual level.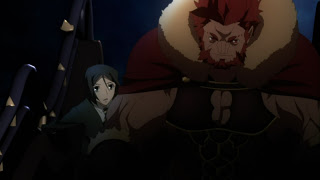 There's no denying that Fate/Zero knows what buttons to push, and pushes them well. The whole business with giving Saber a motorcycle is flat-out pandering, but it's such good pandering – it's hard not to get wrapped up in the cool factor of a moe-fied King of Knights surging into battle on a supercharged rice rocket, Excalibur at the ready. Saber is really Fate/Zero at its most free and elemental, with most of the higher thought-processes turned off and pure adrenaline and righteousness kicked in. I've certainly long-since realized that I was fooled when I thought she was the main character at first in S1, but she's undeniably the show horse.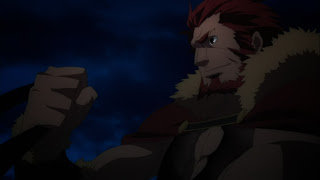 Thing is, though, when you dig a little deeper Saber is fundamentally king of boring. Her righteousness and sense of honor certainly makes her stand out in this rogues' gallery – especially with Lancer destroyed by Kiritsugu – but her world view is (as quite correctly pointed out by The Magus Killer) simplistic and rigid. It's interesting as a counterpoint to Kiritsugu's consequentialism but once you've got the handle on it, you pretty much know what Saber is going to do in any given situation. That's why Rider and Waver are so essential. Rider, in addition to being the most entertaining character in the cast, actually has a rather sophisticated and well-considered philosophy – a blend of ruthless ambition, a kind of optimistic self-realization, and even some idealism. And Waver is quite unlike anyone in the cast – fragile and naïve, but also possessed of a sort of resourcefulness that his weakness has forced on him, and that his more powerful rivals lack.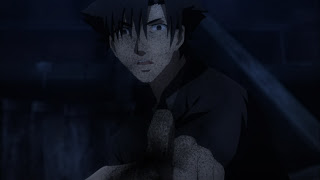 The chase scene with Rider and Saber was certainly one of the more glamorous action sequences of any anime this year. I'm more of a hand-drawn fan as a general rule but if you love your CGI, this is about as sterling as it gets – other studios could take lessons from ufotable, who know that reliance on CGI doesn't mean you don't have to think about stuff like choreography and scene composition. The interesting element for me is: at what point did Saber figure out that Rider hadn't taken Irisviel after all? She obviously knew it by the end, but I suspect she knew it as soon as she got a good look at the chariot – I think deep down she suspected that kidnapping wasn't Rider's style anyway. From Rider's perspective he's almost as obsessed with Saber as Berserker is, though obviously for very different reasons. I know he loves the heat of battle, but to think he could defeat Excalibur without the use of Ionioi Hetairoi was the height of arrogance – but he seems resolute on saving that final usage for the Servant he considers the real threat. What would he have done had Saber not chosen to break off her attack, leaving he and Rider with no worse problem than having to walk back to town?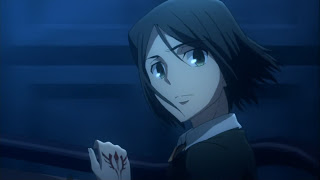 The sadist/masochist conundrum is in full force when it comes to Kariya. His main purpose in the story seems to be to suffer – at the hands of his vile and evil father, at the hands of Tokiomi, now at the hands of Kirei. Gilgamesh has clearly fully awakened the sadist gene in his new disciple, who's finally found his purpose in life – to make others suffer (and oh, don't the wine taste sweeter). I can't take any pleasure in watching Kariya suffer – he's not a well-developed character in the anime, but his motives for joining the Grail War were arguably the most selfless of the bunch, and no one could deny he's paid the price in suffering. It's as if Urobuchi couldn't abide the notion of Kariya being truly selfless though, and that torturing him wasn't enough – he had to plant the notion that his love for Aoi wasn't real love, but greed – he wanted to possess her, plain and simple. That's the inescapable conclusion from the symbolism of the scene in the Church, one of the most depressing and bleak in Urobuchi's impressive catalogue. One of Aoi's daughters is still being tortured by Zouken, and the other is now an orphan. Suck on that, Kariya, and taste true suffering.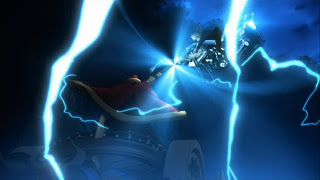 It's hard to decide who to hate most here, but Zouken would certainly be making a run if he had a little more screen time. Kirei has gone full Sith mode, with Archer gleefully pulling his strings. Archer is the puppet master of mischief here, making everyone dance to his tune – surely with the grander victory in mind, but also because he just really enjoys it. Meanwhile I still get the sense that Kiritsugu is in a very uncomfortable place – the master of control watching things begin to spiral out of control. I can count more surprised and dismayed facial expressions by the adult Kiritsugu in the last two eps than the first 17 combined, perhaps reflecting the growing panic on his part that as the endgame heats up, things are behaving for more unpredictably than he'd hoped. His security blanket is dead, Iris' time in her current form seems close to ending, and he's in a state of full opposition with his servant – it's hard to imagine Saber doing anything of consequence he asks unless Kiritsugu uses a precious command seal. I suppose it's time to find out how good Kiritsugu is at improvising, and I suspect that's not his preferred modus operandi.