I'm beginning to wonder if my luck with Fate/Zero is starting to run out.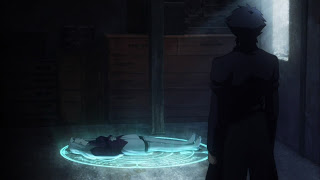 I knew going in that I was in the minority with this series in having never read the LNs, and not having managed to stay with through F/SN to the finish. But for a season and a half, that didn't seem to matter so much – Urobuchi was spinning a fascinating tale and the production values from ufotable were outstanding, making this a sort of impeccable example of anime royalty – even if it didn't always emotionally connect, the show as a complete whole was unassailably outstanding. And to be honest, connecting emotionally has never been one of Urobuchi's strengths as a writer, though I know others will disagree – he rarely fails to fascinate me, but doesn't move me too often.
Now, though, we're at the point in the series where emotional buy-in is going to be critical to make the finale satisfying, and this is where those factors really start to work against me. I'm increasingly thinking that either it was a major error in planning the story to leave so many of the characters as ciphers for so long, or else there was never really any thought given to the new viewer in the first place, and that everything else was so good it kind of glossed over that fact. I can't speak to the latter because I don't know what Urobuchi and director Ei Oaki intended, and I can only discuss the show from the perspective I bring to it – that of someone who brings relatively little Type-Moon background generally and "Fate" specifically to the table. And the last few episodes have exposed some cracks in F/Z's seemingly unblemished façade.
I don't think I need to re-hash my issues with the two-part flashback sequence we just finished, because I've wasted enough electronic ink on that already – it was a mistake from a narrative standpoint to diverge from the main plot for so long so late in my view, plain and simple. But this episode – perhaps in part because of that long diversion – failed to deliver much of an emotional punch for me. The dialogue at the kura – Iris, Saber, Miaya, Kiritsugu – seemed very overwrought and ill-suited to the tone of the series so far. It was, to be blunt, sappy – and the omnipresent and intrusive BGM that was practically begging for tears didn't help. It just felt off, somehow, like it was from a different show. Is that an issue with the writing, or simply a matter of not having the context to understand why that was supposed to be so powerful? I can't completely discount the latter, but objectively speaking I do think that dialogue was very broad and not up to Urobuchi's usual standard.
Now it must be said, Urobuchi sometimes gets in trouble when he tries to go for the heartstrings – his default style is intellectual and ruthless, and when he goes for the poignant he has a tendency to be a little over-the-top and throw subtlety out the window (Madoka Magica had some issues with this, too, as one example). I don't know how much of this ep's screenplay is transcribed exactly from the LNs – perhaps there was some unwise changes to the dialogue. I also know that in the LNs we're given much more insight into the minds and hearts of characters like Kiritsugu, Kirei and even Kariya (or so I've been told). But the problem is, in the anime these characters (with Kariya general lack of screen time as something besides a karmic punching bag) is as much as issue) are almost totally interior people – there's been very little emotional connection drawn with them so far and flashback eps this late in the story are really closing the barn door after the horses have escaped. It's no wonder that characters like Rider (especially), Saber, Lancer and Iris – hell, even Waver – come off as richer and more sympathetic in the anime, because they express much of what they're feeling openly. I can only say that, based on where things stand now, the anime hasn't done an especially good job of portraying Kirei, Kariya and especially Kiritsugu – who is, after all, the main character but wasn't remotely treated as such for 17 episodes.
So where does that leave this episode, and the rest of the series? If you're a LN reader, probably someplace quite different than if you're a new viewer. I find it pretty hard to root against Rider and Waver, to be honest, because they actually say what they're thinking once in a while and have a recognizably human relationship with each other. Iris' death has been openly telegraphed since the premiere so that doesn't pack much punch, and as for Maiya's death (interesting that we never saw Rider's face there), well – she's a killer, so she can have no cause for complaint at having the tables turned on her. I was especially interested in her statement earlier in the episode where she stated that she was "dead inside, only going through the motions of a human being". That was the best dialogue of the ep, and it made me think that this is exactly what Kiritsugu is, too – and he's done it to himself, convincing himself that this (like all the other things he's done) is a necessary evil for a greater good, because he would never be able to do those things if he'd allowed himself to be human.
That alone in this episode achieved something of the profundity and subtlety I've come to expect of Fate/Zero, because it was emotionally honest and loaded with subtext. The irony runs deep, here – this was exactly the element in Kiritsugu's nature that Natasha feared and warned him about. Further irony rests in Maiya telling him earlier in the day that he was finally looking "like himself" – the self he's forced himself to become – and in the end, Kiritsugu shedding tears over her death and revealing that no matter how he tries, he cannot turn off the human being inside him completely. There's no denying that the world Urobuchi Gen sees is a dark, cruel place where justice doesn't exist and honor holds no meaning – we've seen the theme over and over in his work. In his way, perhaps Kiritsugu represents a sort of personification of the Urobuchi ideal – that only by completely embracing this nihilistic view can one hope to actually do good. One way or another, this writer's mind isn't a terribly pleasant place to me – and I expect the final six episodes to be a very dark ride.