So this is your plan eh, Urobuchi-san – turn Kiritsugu into a cute shota voiced by Miyu Irino to make me like him? Devious, indeed…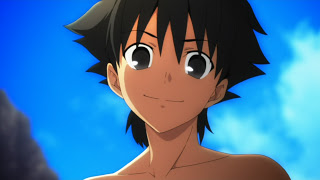 It seems odd for F/Z to take an unannounced two-episode break from a very involving storyline to delve into Kiritsugu's past, but that's exactly what's happening. I'm not all that wild about to be honest – perhaps I'd feel differently if I'd made it through F/SN and had some affection for Kiritsugu as a character, but as it stands there was really nothing that would fundamentally change my view of the character – 17 episodes worth of Fate/Zero have indelibly stamped him as the man he is. I don't find him especially charismatic either as a full-grown extremist in the cause of consequentialism, nor as a 12 year-old – especially given that there are so many compelling characters in the cast. Doing this as a device to frame Kiritsugu's character now seems a little bit like closing the barn door after the horses have escaped.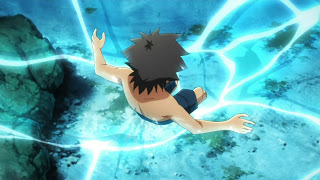 Be that as it may, that's what ufotable has done and I know this is covered in the LN too, so the episode (and next week's) must stand or fall on their own merits. What we have a the young Kiritsugu (Irino Miyu) who lives on a tropical island (somewhere in the Okinawan chain, maybe?) with his magus father Noritaka (Isshin Chiba). He's been nicknamed "Kerry" by Noritaka's assistant Shirley (Takagaki Ayahi) – could there by any name that sounds more odd in Japanese pronunciation? – a cheerful girl in her late teens who's much closer to the boy Kiritsugu than his father is. Noritaka is involved in some research to freeze flowers in bloom forever – the effectively stop their time – and he's had some success, though of course the eventual goal is to use this device on more than flowers. If Kerrey has any idea that what his father is doing is unnatural and dangerous, we see no signs of it.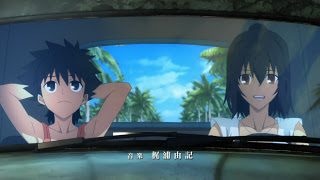 This really isn't a typical F/Z episode in any way, shape of form – it's more of a zombie apocalypse in terms of plot, and the pacing is quite uneven by Urobuchi's lofty standard. There are a lot of call-outs to the TYPE-MOON mythology that haven't been directly referenced in F/Z before (even cameos apparently) and the whole problem stems from the fact that Noritaka's research actually involves an elite class of vampires called the "Dead Apostles" (who we're later told "drink blood to reproduce") , and when Shirley samples Noritaka's research in an attempt to prove it works on humans, all hell quite literally breaks loose. A non TYPE-MOON expert isn't going to get all the nuance here but the gist seems obvious enough – drinking the potion turned Shirley into a monster who's bite turns others into a monster zombie-style – thus spreading the "disease" across the island in a flash.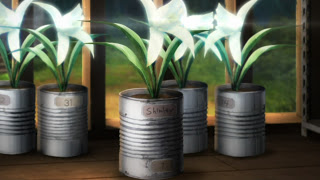 None of that is really the point anyway, which is to show us how Kiritsugu ended up the hard and pitiless uber-relativist willing to do anything to anyone to create the universe he sees fit to create. The message seems clear enough – the key moment was when Shirley, still possessed of a semblance of herself, begged Kerrey to kill her before she could spread the sickness around the island. He didn't, and his hesitation basically condemns the entire island to destruction. Two TYPE-MOON "plumbers" arrive to clean up – the church "Executors" and the Magus Association, who also place a priority on making sure word about all this ugliness doesn't leak out to the public. One of them, Natalia Kaminski (Watanabe Akeno) saves Kerrey, and then allows him to put an end to the story by killing his own father rather than flee with him to start the cycle again elsewhere, as the island is cleansed by fire.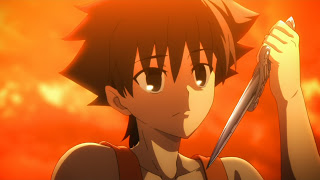 Really, this episode was preaching to the choir in every way that matters. It was aimed at hard-core TYPE-MOON fans, and those for whom Kiritsugu is already a sympathetic character, and that's perfectly fine. I'd be lying if I said it didn't leave me a little cold, though – I'm perfectly capable of feeling sympathy for the child (and indeed I did) but that doesn't fundamentally change who the man is. It's interesting in a detached way, and I certainly feel bad that the kind-hearted boy turned into the self-loathing, tragic figure we see later on. And I can't help but feel that Natalia is a first-order hypocrite for sending Kerrey to kill Noritaka when she could easily have done so herself, and then later philosophizing that his reasons for doing so were "a terrible reason for a kid to kill his father". The point is made – Kerrey had it rough, and he had balls of steel and the sentiment burned out of him young. It's worth knowing, but I don't know if it was worth an entire episode – never mind two, as it appears we're going to be following up on this flashback next week.