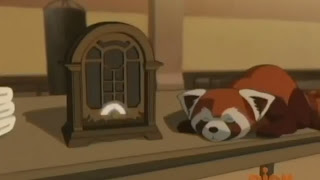 My apologies for the LQ caps this week, but the weekend is going to be a crazy one and time was of the essence in getting this post up. It was certainly an interesting episode, a little slow in the first half when dealing with the relatively less interesting world of pro bending, but as always spiking considerably when things turned to Amon and his holy war. There wasn't much news on the relationship side of things this week (unless Bolin's ability to speak fire ferret proves irresistible to Korra), at least as regards the younger generation – but we did get some interesting tidbits about their elders.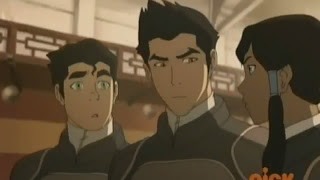 As speculated last week, it was indeed Lin Beifong that was Pema's rival in love. It makes sense, but knowing it certainly adds an interesting dimension to the relationship dynamics. I imagine Tenzin and Lin were a pretty volatile couple, lots of passion of both the good and not-so-good variety, and they most likely burned themselves out. Given that they're likely to be two of the adults most influential in Korra's development, that shared history is certainly going to make their interactions complicated, and it's obvious that Lin still harbors a lot of anger about the whole business. I have cause to wonder about Tarlok, too – perhaps it isn't so simple as him wanting the glory of defeating Amon to help his career, because there were some hints than Amon has a mole on the Council (he certainly heard of their decision quickly enough) and he was awfully quick to change his position when Lin shared her plan (how'd that work out?).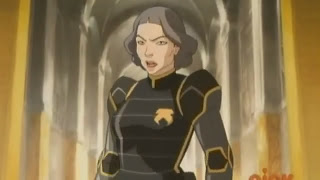 Before things got really interesting there was the matter of the pro bending finals, which was altogether pretty predictable stuff. Of course the fact that the refs had clearly been paid off begs the question of whether this was simply Tahno ensuring his continued success, or someone higher up wanting to make sure the Avatar didn't win the tournament. Mostly, though, the finals served as the perfect launching pad for Amon's declaration of war – what better place for en Equalist to begin the revolution than at the celebration of bending prowess (and its use for material purposes)? Amon has won every skirmish so far, and this one was no exception. He got the exact decision that he wanted from the Council – hold the event as scheduled – and then was able to easily circumvent Lin Beifong's flawless security plan. He's either a lot smarter than his enemies, or he's getting a lot of help – or both.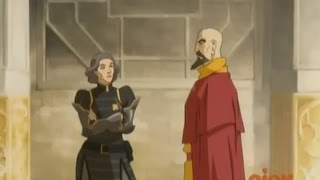 Of course, the fascinating thing about Amon is that despite being a terrorist, there's an essential core of truth in his arguments that nags at you. He's not right, but some of the things he says have real merit – benders having advantages over others based simply on birth, for example – and he's completely right about the finals, too. What a disgusting display at the Shrine of Bending – a bunch of bullies cheating their way to the title, a perfect metaphor for Amon to use to illustrate what benders do to non-benders everyday. It couldn't have worked out better if he'd scripted it (hmmm) right down to his easily defeating Tahno and the Wolf Bats and taking their bending. The aftermath with Korra and Lin teaming up to try and capture Amon (but mostly just to survive) was cool – a bit too much slow-mo for my tastes – but my favorite part was when Amon's man broke into the radio booth – "I am currently wetting my pants."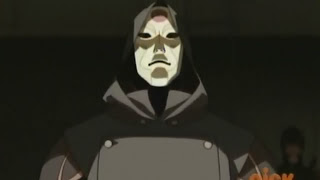 Surely, then, "Korra" is moving into a different phase now – instead of fighting an underground movement, Republic City is fighting an all-out war against an army of chi blockers. It feels as if Bryke have intentionally given us a heavy dose of shipping news and competitive bending early on to world-build and ease us into the series, with the plan of scaling those elements back as the story moves into life-and-death mode (which the original Avatar was in right from the opening episode). It marks an interesting change in style for them, but one that probably fits with the older cast and more modern setting. I think the next major transition will be when Korra finally makes contract with the Spirit World, and probably Aang – she had another vision of the past today, and I think that moment is surely coming soon.