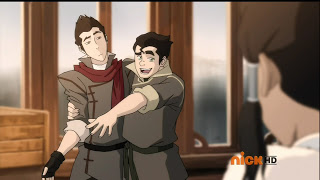 Bryke have always been able to mine their own mythology for humor with considerable skill, but "No – not my Cabbage Corp!" was probably my biggest laugh line of "Korra" so far. You had to figure the Cabbage Merchant was going to make his appearance sooner or later, but this was a pretty cool way to tie him in – not only is he actually part of the main storyline, but he gets his own heroic pose cabbage statue. Good on ya, C.M..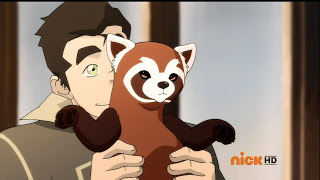 In terms of the episode, like most of them this season it had its strong points and weak points, while presenting an overall satisfying if not overwhelming package. I'm still not quite feeling the passion with Korra, as much admirable stuff as there is in it – this is a show I'm enjoying more on an intellectual level than an emotional one, while the first series eventually became one that satisfied both requirements. I still like the overarching plot and setting quite a bit here, but the details and the character dynamics haven't measured up to them, at least so far.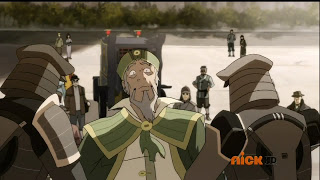 It's certainly interesting to see this much CGI in an "Avatar" ep, not to mention actual mechs. I think the notion of Sato-san being a secret supporter of Amon is a good one, though once again I have some issued with the way the big reveal was handled here. It was way too convenient to have Korra simply overhear him blabbing about it on the phone while on a trip to the bathroom – that's lazy writing, really. I also didn't think much of the way Chief Beifong handled the information once she had it – barging into his office and asking blunt questions, with Korra in tow? I would have though Korra would be nowhere near that operation, and wouldn't it have made sense to do a little investigating and try and uncover something first, rather than tipping your hand and letting Sato know exactly how weak the case against him was? I like the notion of a political war going on between Beifong and Tarlok, but frankly I'm not convinced he's wrong about her being incompetent in her job.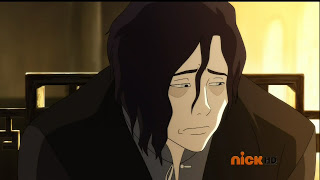 On the plus side, as expected the show put on its big-boy pants this week and jumped straight to the meaty main story – pro bending and romance (mostly) were set aside and we finally got some life-and-death drama. I very much enjoyed the brief scene with the broken and beaten Tahno, who managed to conjure up just a hint of his former spitfire personality in the end. If I'm to quibble, it seems as if all these years later Firebenders are still to blame for the ills of the world – they killed MaBo's parents, they killed Hiroshi's wife, they killed Amon's family – really, it makes me sad for Zuko's memory and it makes me wish Bryke had come up with something a little different this time around. There may be a deeper reason as to why they've chosen to make Firebenders the heavy in so many cases, and they have at least made the main baddie a non-bender. And once again, we have a firebender in the main cast, this time an ally from the beginning. Still, based on current evidence it feels a little bit lazy.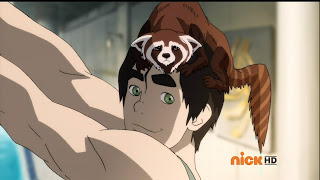 The battle beneath Hiroshi's mansion was the most interesting part of the episode. Lin pulled out her metalbending, and we finally got to see Tenzin jump into action and bust some serious airbending moves. Also very cool were Hiroshi's steampunk mecha, looking something like a cross between a medieval suit of armor and something from an Otomo anime. Still, in the end, the two of them and Korra were bested yet again by Amon's lackeys – albeit this time sporting those brand-new mechs – and it was Mako, Bolin and ultimately Asami who had to save the day. While the notion of luring them into the lab with a phony informer seems to follow classic Amon strategy, I'd be very interested in knowing whether or not Amon himself knew what Hiroshi was planning – it felt as if it might have been a rogue act by Sato-san, hungry for revenge.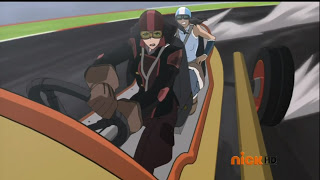 The climax of the episode – Hiroshi urging Asami to "Join me!" in crushing the benders and creating a new world, was certainly a liberal tribute to Star Wars but I suppose that scene is so iconic that it's all fair game now. Asami's decision felt quite rushed – I would have liked to have seen a little more buildup to that moment to give it a little more emotional potency – but so far Korra is all about fast and to the point. Presumably Hiroshi is going to do some serious jail time, and the situation in Republic City is certainly going to be lively – we have MaBo living with Korra (and Asami, too) and we have Lin Beifong going rogue cop and trying to go Dirty Harry on Amon's ass. Wasn't there supposed to be something about Avatar training in there somewhere?