Korra is certainly fundamentally different than the original Avatar on every level when it comes to the romantic side of the equation.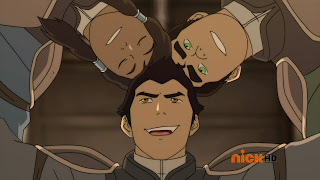 Bryke just aren't messing about here, are they? "The only guy she had eyes for" – right in the recap? LOL – talk about getting to the point! We've had more overt grist for the shipping mill thrown at us in five eps of Korra than we did in three seasons the first go-around. That makes some sense in the context that the characters here are older, and not in a constant state of fighting for their lives. But I also wonder if it isn't a conscious decision on the part of Mike and Bryan to confront this issue head-on this time, rather than dancing around it (and to tweak the hell out of the shipper community, just for the fun of it).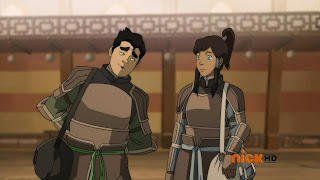 There's no getting around the fact that I like Bolin better than Mako, but that's not really a problem for me as a viewer because I find the global plot of much more interest than the romantic subplot anyway, and if that weren't enough Bolin was eliminated as a potential partner for Korra so early that there was never time to get my hopes up. What I'm really hoping for, though, is that the series delivers something more than what looks to be a supremely predictable triangle – the dark, brooding hunk is naturally the "serious" love interest, and the nice-guy goofball just someone to have fun with (as if that were a poor basis for a relationship). What I'm hoping we don't see is Bolin relegated to that kind of cage – the other guy, the comic relief, the likable loser who always screws up. As the most engaging character in the cast so far (apart perhaps from Amon himself) he deserves a much better fate than that.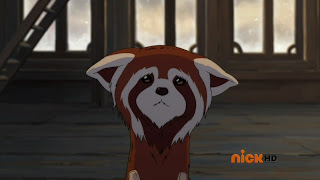 Given the overall strength of the canon plot as compared to the characters so far, you might have thought that an ep dedicated completely to shipping would be a weak one – but thankfully, it was quite good. The dialogue was definitely a step up this time, with some very solid laugh lines, though the overall dynamic of the main quadrangle is still quite simplistic. Korra loves Mako, Bolin loves Korra, and Mako isn't sure who he loves. He seems happy enough to be with Asami, but can't stop thinking about Korra – and when she goes on her "date" with Bo, he's insanely jealous. Worse, he has the nerve to pretend he's displeased because he's trying to "protect his kid brother" – not Mako's finest moment by a long stretch. There's too much ego involved in both he and Korra for me to have too much sympathy for either of them at this point – they deserve to be in this mess, based on the way they've behaved.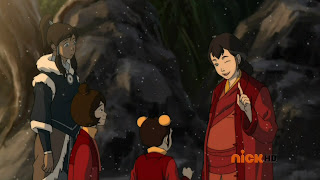 It is funny to see just how clueless Korra is about romance, despite her years – actually taking advice from Tenzin's pre-teen daughters (definitely go with the volcano, Kiddo). So she has an excuse for her insensitive behavior towards Bolin, at least – and she did get some advice from someone who's actually been with a guy, Pema, to make her play for Mako because that's what Pema did when she was competing for Tenzin (Lin Beifong, anyone?). Free advice is worth what you pay for it, they say, and that's about how well Pema's worked out for the Fire Ferrets – but hey, at least it's all out on the table. Now what are we going to talk about for the next season and a half?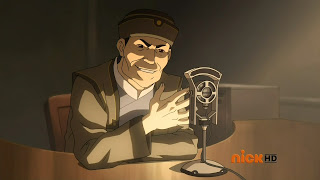 The tournament action was fun – as usual very nicely animated. The notion of the tiebreaker round was a clever one, with the side winning the coin-flip choosing the bending discipline – and it was nice to see Bolin actually not made out to be useless for once (though this was corrected by the end of the ep, alas). I wasn't wild about the addition of Tahno (Rami Malek) to the cast – he seems like a stock cartoon villain if we've ever seen one. And my hope is that the Fire Ferrets don't win the tournament, because frankly that seems a little outrageous for their first go-around – though I can hardly imagine them losing to a stock enemy like Tahno and his team. I'd assume the final match is going to comprise the bulk of the next episode, after which things will probably re-focus on Amon and the Equalists.