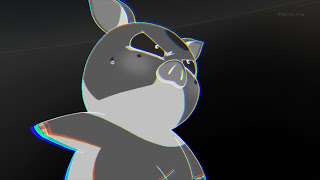 Only time for a brief check-in with the craziness this weekend. As you know AW was sort of on the chopping block for me after the last couple of episodes – I just wasn't finding myself very involved in the story anymore. But I have to confess I liked this episode quite a lot better. It was funnier, livelier and altogether more interesting than the last couple have been – even if we skipped over the part where Haru suddenly advanced to 4th Level. I'm still not convinced Accel World is going to escape the gravitational pull of who its screenwriter is, but I was quite interested in it for a while and maybe I will be again.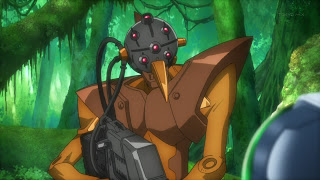 This ep, of course, was all about Kouzuki Yuniko (Hidaka Rina, fast emerging as a real favorite). She's a girl of many names – she tries to pass herself off as Saito Tomoko, Haru's second cousin, but she's really the second Red King, Scarlet Rain. As if three weren't enough, they also call her "The Immovable Fortress" for her mega-robot avatar which allows her to fight and win with little movement. Quite a lot of accomplishment for a fifth-grader – and her introduction posting as Tomoko was pretty hilarious. I also enjoy the little details like the way Haru used the net to try and track down information on her after he became suspicious. Alas, Scarlet actually became pretty annoying after she adopted her Red Queen persona – but I'll be interested to see why she's so intent on meeting Snow Black. Red doesn't seem to be Kuoryukihime's favorite color – there's obviously some history with the first Red King that goes beyond killing him.
I'm interested again – that's progress, anyway. Let's see how next week goes.