Let there be no mistake – while Space Brothers is an all-ages show, the series (especially the humor) is aimed at those old enough to see the humorous side to life's challenges.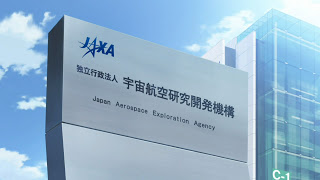 I'm quite fascinated by the fact that Watanabe Ayumu is directing both this series and Nazo no Kanojo X. These two series could hardly be more different, yet both are excellent – sensitive, funny, and extremely incisive about the human condition (especially that of the male). Of course I'm sure Watanabe-sensei would be the first to give credit to the source manga in both cases, and indeed both are very well-regarded works. But a good manga does not always make a good anime, and what impresses me is the depth of understanding Watanabe shows for his subjects and what makes them tick. In MGX he's shedding light on adolescence, sex and love – perhaps remembering his own youth – and here, on a still young man already beginning to see the ominous silhouette of middle age appearing on the distant horizon.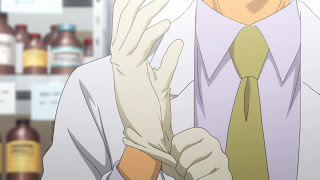 I mean, come on – who was the entire opening montage aimed at, if not such men? The medical exam with its incumbent indignities, the image of Serika popping into his head at the most inopportune moment, prompting Mutta to think "I'll save it for later". I'm impressed that Uchuu Kyoudai, like "The Right Stuff" (which the mangaka clearly admires a great deal) isn't shying away from showing us the mundane and embarrassing details of the astronaut selection process to focus on the glamorous. It's those elements that give the story depth and texture, and without them the realism factor would be out the window.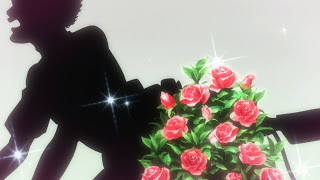 It's still a bid odd for me to hear Sawashiro Miyuki voice Serika, and then have a flashback scene immediately following where she voices young Mutta. That's not a choice I would have made, because Sawashiro's voice doesn't really change that much when she's voicing boys, and it's a bit weird seeing the adult Mutta crushing on a woman who sounds exactly like he did as a child. That's a small quibble though, as I quite liked the scenes involving the two of them this week. My favorite was when she walked in on him trying to see himself in the reflection on the faceplate of the space suit in JAXA's lobby, and the way he kept the swashbuckling smile on his face even as he was dying of embarrassment inside. Of course, as with the loose screw on the chair Mutta has actually done a good thing when he thought he was screwing up, because Serika remembers her own father doing exactly the same thing when she was a child. He walks in on her doing it the next morning, and this embarrassing but very human connection between them is appealing.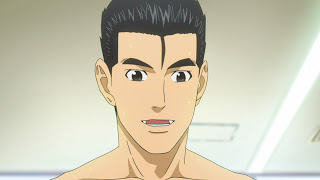 I find Serika appealing generally, because so far she's quite unlike the usual anime heroine. She's obviously smart (she's a doctor) and in great shape, but she's no supermodel – she has a friendly and open face but her looks could fairly be described as "plain". That's something you rarely see in female leads, anime or otherwise, and it reminded me of the way the series treated Aunt Sharon's apparent lesbian relationship with Tamura-san in the previous ep – it wasn't a big deal, just two people who happened to be together. No fuss, no jokes, just dignity – it's unusual for an anime to allow people to just be ordinary, and I appreciate it.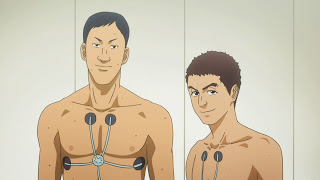 The deeper we get into Space Brothers the harder it is to see anyone besides Hirata-san playing Mutta. There's so much of Kotestu in Mutta, who's a man of great depth who can't see himself as anything special, and feels the passage of time and the weight of each life decision in a way young people simply don't. Though Mutta's a young man still, he's not so young that he (and Kenji) can't see the difference between the young studs in their 20s who seem as if they can run forever and themselves. He's bearing the weight of being Hibito's brother, as most of his rivals assume he's milking it for all he's worth – when in fact he's done nothing to try and use it to his advantage and, I suspect, has doubts himself about whether he'd have gotten this far with a different family name. I'm always struck in the flashbacks that even though Mutta is three years older than Hibito (which feels like a million at that age) even then he was always trying to keep up with his younger brother – the younger brother who was taller, faster and blonder than Mutta. Hibito likely never knew the impact this had on his brother, and seemed to adore and admire him – but that experience seems to follow Mutta to this day, and Hibito being so successful only confirms the doubts Mutta has about himself. It's no wonder he cut Hibito out of the pictures on their JAXA field trip. The adult Mutta's dream about their relationship, though – "Hibito, don't take off my pants!" – was certainly the comedic highlight of the episode (I don't know why Hibito was doing that, but I hope he didn't have a doll tied to his head).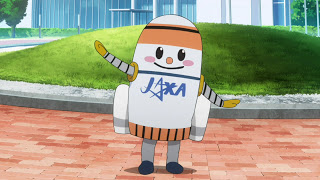 Mutta did prove himself exceptional in one area – the lung capacity test, a scene that was almost a frame-by-frame homage to the one in "The Right Stuff". He trounced all the younger and healthier candidates, thought whether it was his trumpet playing that built his capacity or his capacity that made him a natural for the trumpet I don't know. One one candidate beat him – and that was Serika, and it was admiring her that distracted Mutta long enough to make him lose. I look forward to seeing the two of them grow closer, though if he starts tasting her drool that will feel a lot out of context here.