Boy, I've really fallen behind on this one, haven't I?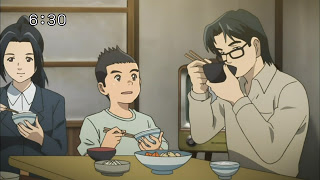 I haven't gone back and checked, but I'm almost positive that this is the longest gap between blogging episodes of a regular weekly series at LiA – about 10 months, in fact. Thus are the vagaries of not speaking Japanese well enough (yet) to blog raws, but thanks to the hard work of sub groups (yes, a few still exist in this age of streaming) obscure pleasures like Shouwa Monogatari and Hyouge Mono still find their way to our screens, even if the wait is sometimes longer than we'd like. And in both of those cases, it's well worth it.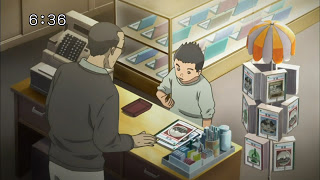 I won't say this series is as good as Hyouge Mono, but I still enjoy it very much. For one thing, I appreciate the fact that it's so totally different from anything else in anime. Shouwa Monogatari is at heart a very, very simple show – the story of a very typical working-class family in Tokyo 1964, the year of excitement (the Olympics were in town) but also a time when Japan was still recovering from WW II, and was not yet the economic titan it would become by the 1980's. There's not a trace of irony to this series – there's humor, but it's rooted in the family dynamic – and the narrative is totally straightforward and unabashedly sentimental without sparing the viewer from the harshness of blue-collar life. It was a very different time – a time when parents sent 11 year-olds to buy cigarettes and did this to them for stealing pocket change.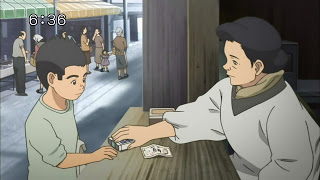 Much of the drama in Shouwa Monogatari comes from the struggle between the work-first ideals of the family patriarch and the more modern worldview of eldest son Taiichi, a college student. As for Kouhei, the main character, he's a pretty typical 11 year-old in that he's mostly interested in having fun and getting into innocent trouble. Kouhei doesn't get much in the way of affection of his father (in fact, Dad has been known to slap the boy around when he loses his temper) but his elder siblings try and make up for it, especially Taiichi. Just entering sixth-grade, Kouhei feels like he should get a bigger allowance as his friends do, but Dad has just borrowed heavily to buy a new lathe for his workshop (which Taiichi opposed) so it's a no-go – and that leads to the trouble this episode as Kouhei spends some of the money his mother gave him for notebooks renting manga. The horror!
The subplot surrounds a youngster from Akita, Ken-chan, a boy just graduated from middle school who came to Tokyo to work at one of the Yamazaki's neighbor's to support his family back home. This was a common occurrence, Ueno Station overflowing with Japanese from the countryside desperate for work (to some extent this is still the case even today, as Tokyo dominates the Japanese economy to a huge degree). Ken-chan befriends Kouhei when Taiichi nudges them together gently, and the younger boy gets a lesson in "the grass is always greener" when he hears that Ken had to quit school – and baseball – and sends most of his earnings home to his family. Kouhei approaches the newspaper man about becoming a delivery boy, but his parents take a step back at the example of Ken-chan, too, and realize how good they have it – and raise the allowance of their two younger kids. Dad even shows a rare kernel of humanity, actually offering to play catch with Kouhei on a Sunday. No worries though – judging from the preview, he'll be back to being an abusive dickhead in the next ep.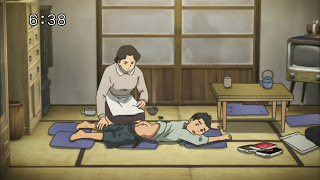 The lessons of Shouwa Monogatari can be unsubtle, but there's something about it I find oddly touching. Perhaps it's the simplicity I mentioned earlier, as the fundamental aspirations of the characters are so elemental and straightforward – it's just about getting along with your family and trying to get by on humble means. That touching aspect extends to the "Casual Stroll" segments that sometimes end the show, guided video tours around the neighborhoods and sights used in the series. It's a fascinating and captivating look at Tokyo as the locals see it – both in 1964 and today – and so is the OP sequence, one of my favorites of 2011. All in all I really enjoy this series, and I'm happy to be able to blog about it again.