I know you're probably getting as tired of me saying the same thing over and over as I am of writing it, but it's inescapable – this season (especially Thursday) is incredible so far.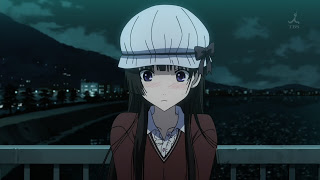 It's only now, I suppose, that the so-called "real" story in Sankarea begins. But damn, that was a hell of a prologue – intense, dark, funny and profoundly disturbing. Whatever he wants to call himself, director Hatakeyama Mamoru (or Omata Shinichi) is a man to watch out for. He's taken the SHAFT style and co-opted it, turned it into something subtler and more interesting. No one else has been able to distill the essence of SHAFT's appeal and leave behind the annoying parts like he's doing with Sankarea – Shinbou himself came close a couple of times, but that's about it. The fact that he's doing it with DEEN, a studio not renowned for their production quality, is all the more remarkable.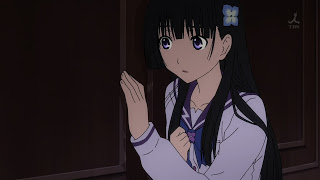 It would probably be a stretch to say I "enjoyed" this third episode, but I certainly appreciated it. This is a series that's shown an innate ability to provoke a gut reaction, and that was never more true than this week. I almost felt violated watching the episode, like Alex from "A Clockwork Orange" – as if I were seeing things no one should have to see. This story is treading in some extraordinarily dark waters with its study of paternal abuse, suicide and tragedy. There's also the question of Chihiro's zombie obsession, and whether it constitutes a harmless boyish fetish or that ugly and grotesque obsession, necrophilia. The way it was played in the premiere could lull you into complacency, but this show isn't letting anyone off the hook that easily – based on the events of this week he (and we) must confront that question head-on. And it's not being played up for absurdity's sake, either – the treatment by the director indicates that this is going to be taken quite seriously.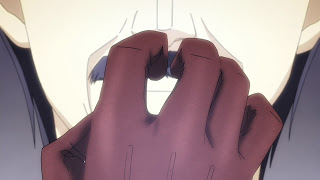 I presume most of the credit for the spiritual brutality of this story goes to the mangaka, Hattori Mitsuru, but it's the director's craft to use it to attack the audience's sensibilities and leave them (or at least me) profoundly unsettled. I'm struck by the shocking contrast in tone even within this ep – the scenes involving Chihiro, Wanko, Mero and Babu (Fukuen Misato finally getting to strut her stuff) are played as if they were comedy, right down to the background music. We have conspicuous panty-shots, Mero verbally mugging for the camera and bantering with zany Grandpa, Wanko getting stuck in a drainpipe (which with a storm coming, had me at least quite worried for her). All the while we're watching poor Rea being subjected to horrible existential torment by her father – waking up and lamenting that she's "not even allowed to die", just for starters. This is as weighty as subject matter gets – a teenager so miserable that they wish to take their own life, an alcoholic step-mother so embittered and resentful that she can't be bothered to do more than sneer, and an abusive father so controlling he threatens to cut off Chihiro's manhood for daring to see his daughter without permission.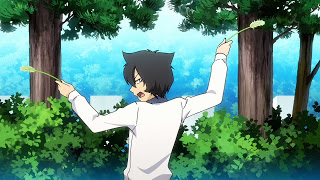 I can't overstate how uncomfortable the scenes with Rea are to watch, especially this episode. That's a good thing critically speaking, but that doesn't make them any easier to swallow. Even if she's given up hope for herself she hasn't for Chihiro, and risks her father's wrath even further by sneaking off to his school to warn him. He's skived off school to chase after the reanimated Babu, but this leads to another very odd and discordant scene where the distraught Rea meets Yasutaka and Mogi – themselves fresh off a very weird moment where Yasutaka tickles the girlish mogi to slow-mo close-ups of his laughing face, then jokes about his own sexuality – and the two of them behave as if they're in a screwball romantic comedy as she inquires after Chihiro, and limps away. This disconnect is quite intentional I'm sure, but it adds to the overall squirrely feeling of the episode and the series as a whole.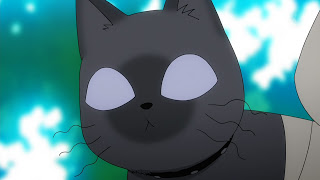 I don't think I need say much about Rea's death scene, except that if there's any poetic justice to it I suppose it's that her father (the brilliant Ishizuka Unshou is once again delivering a great performance here) must now live with the fact that it was he that killed her. The way he recoiled in horror at the sight – admittedly disturbing – of Babu suggests something deeper to the Sanka family dysfunction. This was a scene even non-manga readers like me knew must be coming so the surprise factor was minimal, but the staging was elegant: Chihiro walking through a graveyard watching the drama unfold on the path, Babu's arrival on the scene, the grisly nature of Rea's death (censored though it was). I haven't seen DEEN animation like this since Samurai X, I suspect.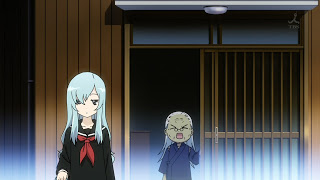 What happens from here, I suppose, is where the rubber meets the road story-wise. I'm not sure whether Rea was killed and reanimated already from having drunk the potion the night before, or whether she simply stood with the last of her strength to embrace Chihiro – she certainly reminded him of his promise to resurrect her. Babu's behavior indicated that eating the poisonous hydrangea leaves might be a necessity for Zombies, but he also licked Rea's blood (yet more unsettling vibes there). More important than the mechanics of zombie-hood, what of her father? The butler has certainly seen Rea rise and walk, so Dan'ichiro is hardly likely to simply let her be – but would he even want her back, knowing the truth? What could be "filthier", in his own twisted words, than being undead? What a strange and grim set of questions Sankarea forces us to ask ourselves – yet I can hardly wait for next week to start finding out the answers.