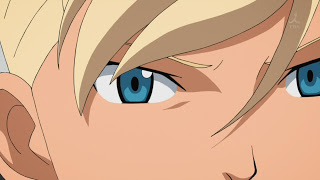 Why do you insist on torturing me, Japan? On the other hand, at least the good people at Sunrise had the courtesy to kill Leo quickly, so it wasn't a total loss. I think this was something of a regression episode after the series had been on a very solid run for the last month or so. The romance subplot surrounding Ruth and the Lieutenant feels very tacked-on and random, there was no mention of Grodek's death whatsoever, and things generally lacked the imperative they've had in recent episodes.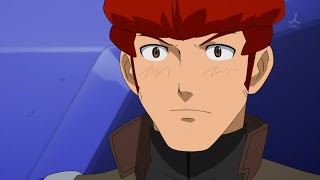 The plot driver this time is the decision by the Magicians Eight Six – some of them, anyway – to avenge their colleagues' deaths and go off on a random attack of the Diva against the orders of their commander. Military discipline seems to be pretty much non-existent on both sides of this war, which makes me wonder how they can fight at all (more on that shortly). Joining them on their misadventure is Desil, motivated solely by the desire to mix it up with Flit again. Meanwhile, Asemu seems hell-bent on what was increasingly a path of self-destruction, this time disobeying orders to don the viagra X-rounder helmet, to help him compete with Zaeheart in performance. I understand that Asemu is humiliated by his seeming inability to measure up to his father as a fighter and to Zaeheart in Romary's eyes, but his increasing petulance and self-pity is starting to undo some of the good character-building that's been done in his arc.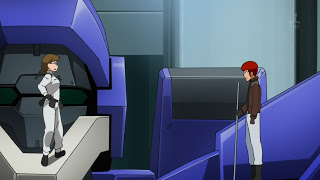 The result of all this is that the Magicians Eight Three is decimated and Desil ends up fleeing back home in humiliation. Dique was unable to save Asemu from his own stupidity (boy, that was some security for that helmet) and the lad uses it in battle despite knowing that it causes brain damage. What really nettles me is that Asemu is continually disobeying direct commands and endangering his comrades in the process – Desil too, of course – and getting away with nothing more than a slap on the wrist. And his redemption at the hands of Woolf at the end – the resolution to stop chasing the X-rounder dream (and Flit) and focus on becoming a "Super Pilot" like Woolf seemed far too abrupt and convenient. I still like the overall theme of peacemakers vs. warriors, and the moral ambiguity about which side is in the wrong (right now I'd say both) but this was not a strong ep when it came to character dynamics.