It's not among the things I'm most proud of, but I can never hear "No Ayumu – you musn't get any cuter!" and not find it funny.

OP: "***Passionate" by Iori Nomizu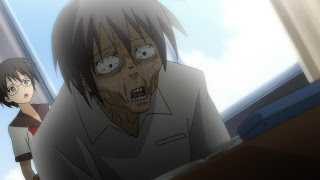 I enjoyed parts of the first season of Kore wa Zombie very much. I called it a tragedy posing as a comedy, and I meant it as a compliment, and it reflects the fact that many of the best moments in the series had more than their fair share of heartbreak. For the most part these are unhappy characters who've been dealt a pretty crappy hand by fate. That's not to say that the series didn't get by primarily on humor, because it certainly did – but as outlandish as that was there was an undercurrent of pathos that I found quite appealing.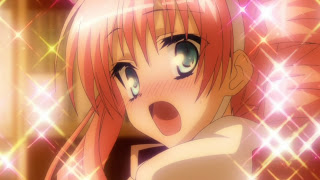 I enjoyed this premiere quite a bit, in the sense that it seemed as if it was much in line with the show we left a year ago. That concerns me a little, though, because one of the reasons the show seriously went downhill in the second half of last season was because the humor became very repetitive. Despite my opening line (I really do love that joke) I grew tired of the same jokes being repeated over and over again, which happened far too often. Perhaps the reason I enjoyed the first episode is because it all feels fresh again, with the benefit of a year's break. But it is what it is, and if I get tired of the series later I'll worry about it later. For now, it's fun again.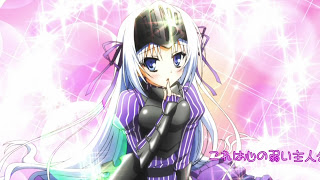 The same cast of characters is back, including the main character, the Dyson Air Mover. Back too is cross-dressing zombie and his harem featuring girls of varying degrees of appeal. A new face this year is Chris (Nabatame Hitomi) who looks like a loli but drinks like a fish, and shows up in the nurse's office looking fro alcohol. Since Ayumu is only one who's seen her so far I'm not sure what her status is, but judging by the tentacle she left behind she doesn't appear to be an hallucination. Nabatame-san is very funny here (as usual) and she's a nice addition. The cast of muggles at the school seem as if they might play a larger role this season (especially Taeko) if the premiere is to be believes, and then there's Sarasvati (played by Gouda Aya, who was so great as Taketo in R-15) who may be a bigger player, as she declares her love for Ayumu after getting a good look at his ass.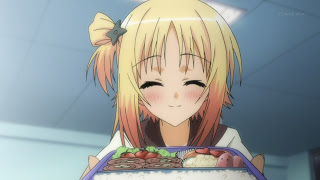 Plot-wise this was very much out of the mold of S1, which feeds my unease about whether the season might wear well. There's some nudity (Haruna's ass makes an appearance too) Ayumu cross-dresses to do battle with a megalo giant squid whose tentacles swing both ways, Sera verbally abuses Ayumu (though mercifully not all that much) and the entire school gets a good look at Ayumu both inside and out of his masou shoujo getup (and this time doesn't get their memories wiped. In fact apart from Chris' presence I can't think of anything of consequence that we hadn't already seen in season one. We'll see if the material has enough surprises to keep things interesting for another season.
ED: "Koi no Beginner Nan Desu (T_T)" ("I Am a Love Beginner") by Rie Yamaguchi