No anime in recent memory has made me wish I still had my "Deities & Demigods (Cthulhu Edition) Handbook" like this one has.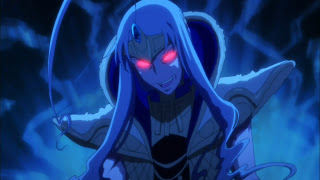 There's not a whole lot to say about Haiyore! that hasn't been said, really. It throws more self-referential humor around then any ten other series this year and pushes all the right buttons, which is why it's so unsurprising that stalker points indicate it's going to be the monster hit of the season. That bothers me a little when there are so many truly excellent series out there, none of which will sell nearly so many Blu-rays, but it doesn't bother me all that much because this show is very funny. It's not groundbreaking or brilliant, but it's completely lacking in pretense and gives you more bad jokes per 22 minutes than anything on the air.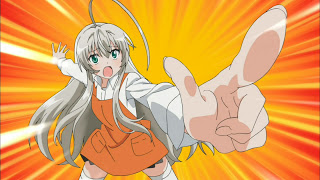 My favorite references this week were the Ishikawa Goemon "Once again I've cut something worthless" chainsaw bit, and Nyaruko's exchange with Mahiro where she offers to call him "Nii-nii" (seiyuu Asumi Kana also voices little sister Miya fron Amagami SS). Nyaruko is definitely what makes this show tick – her machine-gun delivery and absolute cluelessness are the source of most of the best comedy, and she never lets up. Of Kuko your opinion will probably depend on what you think of the trope. For me, we've seen this stalker lesbian act a thousand times before, and it feels pretty stale (albeit incredibly popular). Kuko has one joke – she lusts after Nyaruko endlessly and talks dirty about her fantasies. When the focus shifts to her for too long, the pacing feels off and the energy levels drops unpleasantly. I'd rather she be in a supporting mode.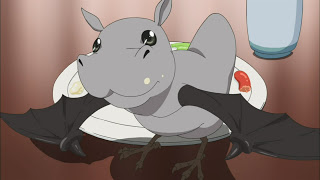 The exchanges between Nyaruko and Mahiro are much more entertaining – the aforementioned little sister conversation, and a funny riff of tsun and dere and perversion and masochism standing out this week. We also met Nyaruko's seemingly even crazier big brother Nyaruo (Kusao Takeshi), who harbors an Old Gods-sized inferiority complex, and again meet Shanta-kun (Arai Satomi), the cutest little shantak Cthulhu bird-bat thing you'll ever see (until he recovers, anyway). Gender being somewhat differently defined in the Chulhu realm he can also lay eggs, in addition to a useful transformational skill. Next week brings the arrival of the one whose name (and apparently gender) must not be spoken, and also Mahiro's Mom (Hisakawa Aya, a true seiyuu legend) – who I have every expectation will be just as nuts as the rest of the cast.