A new GAINAX series is always a landmark for me.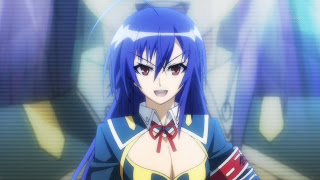 This series is definitely a case of an irresistible force meeting an immovable object for me. The force is my dislike for the writing style of Nisio Isin, whose other works range from unwatchable to very unwatchable to my taste. And the object is my high regard for GAINAX, the first anime studio I ever loved – and especially Medaka Box director Saeki Shouji, one of the last of the old lions left and a guy who was a vital part (2nd Director, Storyboarder) of FLCL – probably my #3 anime of all time. Something had to give – and while I tried to clear my mind of both extremes of prejudice, I think my final reaction to the episode was something close to indifference.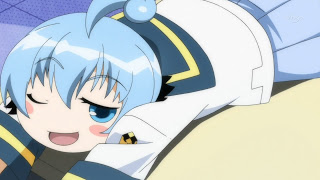 In the first place, I mourn the loss of a signature GAINAX style – visually, musically, thematically. GAINAX has made their reputation on original works, with a very spotty record when it comes to adaptations. While their last effort, Dantalian no Shoka, had its GAINAX moments and was generally pretty good, the last series that really felt indisputably GAINAX to me was Hanamaru Kindergarten. And Medaka Box, if I hadn't known, isn't a series I would have pegged as GAINAX based on the premiere apart from a few moments of combat in the kendo club. The character designs and animation are fine, but not especially distinctive or spectacular. The BGM and both the OP and ED are eminently forgettable (I've already forgotten them, in fact). I just don't see much style and panache here – and that's what GAINAX has always stood for above all else, along with insane amounts of creativity and intellectual content.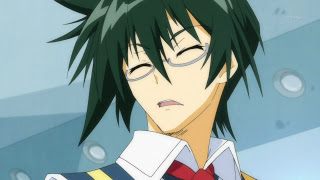 I guess the positive for me is that I don't dislike the series the way I do Nisio's other works, but while the dialogue isn't as mannered and self-aware as his best-known adaptations I still find that both it and the characters ring false. I know it's early days, but Medaka (Toyasaki Aki) is way too perfect to be interesting so far – perfect body, perfect morals, perfectly talented – she's a bit of a Medaka-Sue. The childhood friend scenario with Zenkichi (Ono Yuuki) is about as clichéd as you can get, and while sidekick genki girl Shiranui (Katou Emiri) offers some amusing moments, there's nothing there we haven't seen a thousand times before too. Likewise the scenario – seitokai, suggestion box – is stock anime goods. Part of me wonders if this isn't intended as a satire of these tropes, and I'm just not seeing it – or it just hasn't become clear as of yet.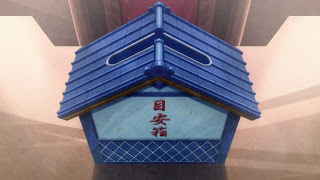 The odd thing about Nisio's writing is that it never, ever rings true with me – whether relatively straightforward or absurdly theatrical, it's never natural. I never lose the sense that the characters are performing for my benefit. I never felt any tug of connection to what was happening here – it was as if I was simply supposed to take it for granted that these goings-on were important enough to care about. I know this manga has an odd reputation with Nisio's fans, and I know it supposedly changes quite a bit over the course of its run so far – so maybe there's some element of this that we haven't seen yet that will make it all fall into place. For now, I was pretty much just bored – and with the season looking as stacked as it is, I'll need to see a lot more very soon if this is going to find a spot in my lineup. GAINAX loyalty can only go so far – and the sad truth is, GAINAX isn't really GAINAX anymore.