That was altogether different from any other premiere this season, that's for sure.


OP: "New Wuthering Heights" by Naruyoshi Kikuchi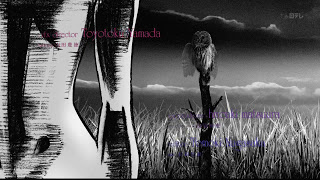 I don't have a lot of baggage with the "Lupin" franchise one way or the other, so I think I go into this updating with a pretty open mind. I've nothing against the character and enjoy his persona, but I'm not a fan or an expert. Perhaps the most interesting element going in was the fact that Okada Mari is writing (with Satou Dai assisting), and Michiko to Hatchin director Yamamoto Sayo is in the big chair – the first woman ever to direct a Lupin series. So this figured to to oversexed and somewhat more female-centered than earlier incarnations – and it doesn't disappoint there. But happily, based on the premiere it seems as if Okada's very particular writing style was a good match for the premise.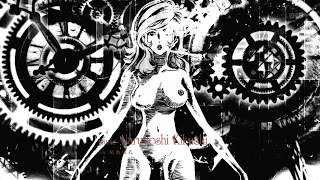 Indeed, based on that premiere and on the OP and ED, it looks as if it's Fujiko Mine (Sawashiro Miyuki, a long, long way from Tegami Bachi here) is the main character. She's a thief who has her sights set on the secret formula being used by the leader of the Fraulein Hoyle cult (Cho) to keep his followers hypnotized and happy. Her plan – as indeed all her plans seem to – revolves around seduction, and she differs from Lupin in her easy way with killing and her disdain for this signature "calling cards". The cult leader is a little cleverer than Mine expects, and the arrival of Lupin (Kurita Kanichi, a Lupin veteran) on the scene in search for the same prize complicates her life further. Having been tipped off in advance (as usual) by Lupin, Inspector Zenigata (Yamadera Kouichi) and his assistant Oscar (yes, Kaji Yuuki) arrive on the scene to clean up the mess the thieves leave behind.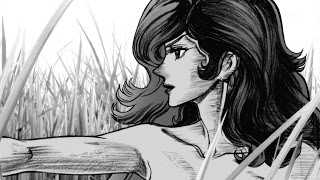 Given that the premise behind the first episode is outlandish to the point of parody (it's Lupin) the success or failure of the ep was always going to come down to style and execution. Fortunately, it's a big hit in that respect. This is about as sharp and stylish as I remember any Lupin – with it's abundance of T & A, double entendes and jazzy soundtrack, it reminds me more than anything of a British caper comedy-thriller from the 60's (I was half-expecting Peter Sellers to turn up any time). Make no mistake, this is sexy with a capital "S" – Mine is a shameless seductress and not afraid of flashing what she has and using her assets in whatever means necessary to win, and the hilarious antics of the ecchi cult leader are over the top goodness. It's too funny to be really racy, but there's an undeniable sensuality to it – a credit to Yamamoto-sensei's direction.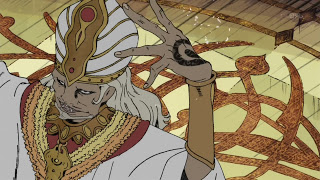 I have to give credit to Okada – whose writing I have a love-hate relationship with – for a lot of the success of the premiere. She has a good feel for the verbal tennis match between Mine and Lupin, and does a good job of capturing that indefinable something that makes Lupin himself a memorable character. He's a supporting player here but clearly one step ahead of Mine, determining to steal her – and even leaving a calling card on her thigh – in order to relieve his boredom (the point of all he does). They're a fun pair to watch (and not the only one in the ep). The series looks great, too – suddenly very busy TMS Entertainment has hit two visual home runs with Lupin and Zetman. In this case it's an almost Hirschfeld-style series of connected sketch work, obviously hand-drawn, loyal to the roots of the franchise but pleasingly updated. The OP and ED animations are simple but elegant, modern and retro at the same time. In short, this is good stuff – whether the combustible mix of talent involved will be able to maintain it, we'll have to wait and see.
ED: "Duty Friend" By NIKIIE