What's last shall be first – when it comes to Spring premières and animation quality, anyway.

OP: "Yasashisa no Riyuu (優しさの理由)" by Chouchou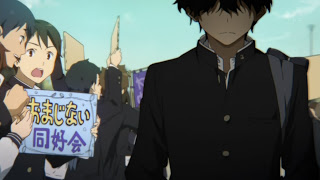 We finally come to the last of the Spring series debuts -the ones I'm concerned with anyway – a field that has offered both quality and quantity at impressive levels. While this show wasn't in the elite group of series at the very top of my list going in, it was certainly high in the second tier. But to be honest there was a little part of me that was really hoping to hate Hyou-ka, because my calendar is hopelessly packed already – and Sundays and Thursdays are probably the worst (best) of the bunch. Maybe Saturdays. Well, in any case, let's just say I was conflicted going in, and not quite sure how I was going to feel about this effort.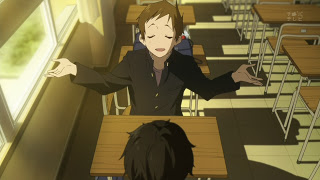 There was never a doubt that at least once during this ep I'd gaze at the screen and gasp "Oooh – pretty!" This is KyoAni after all, and they do what they do better than anybody. I expected great animation here, but I really wonder if they've even topped themselves in terms of their TV work. Hyou-ka is, in a word, gorgeous, right from the stylish and stunning OP sequence. What's really striking is that there's no aspect of the visuals that's even average – character detail, background detail, background quality (this is art), fluidity of motion – it's as if KyoAni decided to see how much awesome they could crank into 22 minutes worth of animation, then doubled it.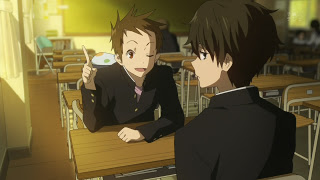 But there are very few anime I could enjoy for an entire cour – never mind two in this case (well, 1.75 more like) – based strictly on visuals. Guilty Crown was incredibly visually, but the flaws of the writing became nearly fatal. And to be honest, my track record with KyoAni isn't a great one. I loved Kanon, I liked Clannad, and since then it's a complete miss. I'm in the minority that thinks Haruhi is somewhat overrated, and as for their fascination with the "four girls" formula – K-ON, Lucky Star, etc. – all of it was a complete whiff for me. It really felt as if they weren't even trying, but they knew they had a printing press that could spit out money all day and they were damn well sticking with it.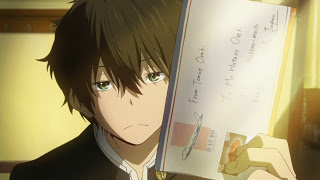 Taking the easy path is a problem for KyoAni, and there are symptoms of it with Hyou-ka. Sometimes I wonder if KyoAni is like a royal family that's had a little too much inbreeding, and would do well to have an infusion of robust, commoner DNA into their gene pool. Take the casting – there's been no effort whatsoever made to match the characters to the seiyuu. No casting director would have looked at Oreki Houtarou and Fukube Satoshi and thought "Nakamura Yuichi and Sakaguchi Daisuke". No, it's simple – it's Tomoya and Sunohara, it's what we know, it's easy. KyoAni and character designer Nishiya Futoshi have gone for their usual hyper-cute character designs here, and the voices simply don't work. Nakamura is a pretty good actor when he's in his sweet spot, but his deep rumble sounds ludicrous coming from this character – and Sakaguchi is forever the goofball best friend, the strain of trying to sound fifteen getting worse with each performance. The female lead is Chitanda Eru (Satou Satomi) and she's an ultra-safe KyoAni choice, too, and takes no chances with her performance – though at least in her case the dissonance isn't distracting.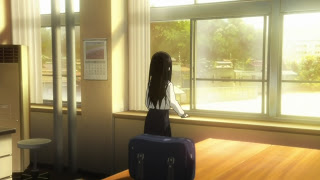 Of course, in spite of that it must be denied that the characters here are really beautiful in that forever young KyoAni style, with unforgettable penetrating eyes – girls and boys alike – and Chitanda is especially stunning with her soft purple irises. What of the story? It's based on a novel (not LN) series by Yonezawa Honobu, to which the overall reaction seems somewhat mixed. It's a school mystery setup, with a full-on slacker in Houtarou (his motto is "If I don't have to do it, I won't. If I have to do it, make it quick.") forced into joining the Classics Club by his older sister. When he arrives at what he expects to be an empty clubroom, Chitanda is already there – and the ever-inquisitive Satoshi shows up a moment later. There's a small mystery surrounding how the door was locked when Chitanda was inside without a key, and it becomes clear quickly that the Classics Club is going to be a mystery club – and that Houtarou has feelings for Chitanda that may rouse him from his torpor.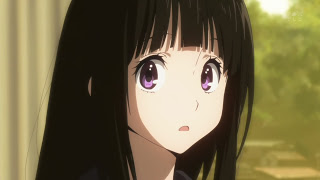 Honestly, that's a pretty thin premise to build around, but this is KyoAni and kids doing nothing of importance has become their trademark – and at least it's a mixed-gender cast. And we have the Full Metal Panic team of director Takemoto Yasuhiro and writer Gatoh Shoji on-board to offer at least the hope that the material might be handled with a little spark (though Takemoto also did L*S*, of course). And in truth, the first ep isn't bad in a lazy, ambling sort of way – the sense being that this is going to be more about adolescent time-wasting than real mysteries. The BGM itself is forgettable, though there's a nice usage of Bach's Air on G-String set to some pencil sketch animation that offers a combination almost too beautiful for TV.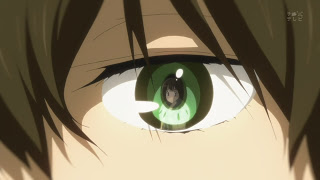 In the final analysis, Hyou-ka feels very safe. There's no evidence that the story is going to have the creative flair that marks so many shows this season, or that the writing is going to take any chances. I do wonder if KyoAni might find themselves caught between hard-core fans of their more recent catalogue reluctant to accept a premise like this with a mixed cast, and fans of their earlier work looking for something with a bit more edge. On the other hand, since there is a source material to consider things could still take a surprising turn here and there, and the overall mood of the premiere is certainly pleasant and occasionally quite entertaining. As good – no, great – as the animation is, it's not as though Hyou-ka has to re-invent the wheel to hold your attention – it just has to be decent, and the lush and detailed visuals will carry it across the finish line. I'd like to think KyoAni is going to aim even higher than that, but based on recent evidence it doesn't seem like their style.