Considering what my expectations were going in, Haiyore! Nyaruko-san was just about as good as I dared hope it might be.

OP: オープニングテーマ「太陽曰く燃えよカオス」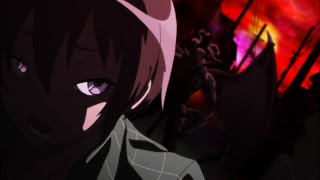 An anime based on a flash-anime about a moe Chtulhu God, played for laughs? This was one of those premises that was so bad it had the potential to be pretty good, if the staff played it just right – and they did. Sure it's every bit as stupid as you think it will be, but that's exactly the point. There's absolutely nothing in here that's taken seriously, nor should there be. Director Nagasawa Tsuyoshi is responsible for the charming Kyou no go no ni, and writer Kimura Noboru did Amagami SS+, so there's some respectable talent behind the scenes – and it shows.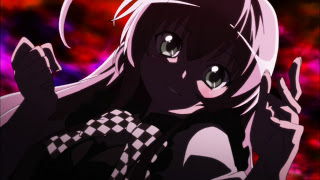 The story is ludicrous and rather simple – high-schooler Yasaka Mahiro (Kitamura Eri in a rare male role) is saved from a grisly death at the hands of some sort of demon by a lovely girl in a school uniform (Asumi Kana). Turns out she's Nyarlathothep – you can call her Nyaruko – one of the Great Gods of Chtulhu. If you've read Lovecraft (and Mahiro has) that name will sound familiar, except in this incarnation the Cthulhu are actually space aliens and she works for a sort of intergalactic police department, sent to Earth to protect Mahiro and stop criminal activity (human trafficking, etc) by other, more nefarious deities.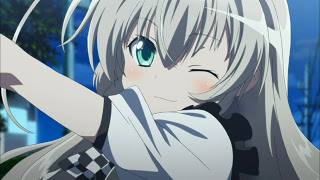 The fun comes from the total lack of seriousness in the way this is handled and the cleverness of the conceit. Turns out the Cthulhu are so interested in Earth because they're hooked on doujins and erogames – and a quick trip to Toranoana in Akihabara shows Nyaruko is, too ("It's not a crime if nobody knows."). Nyaruko breaks the fourth wall frequently, throws in random and fairly good Engrish, and her attacks consist of kicking in the nuts, whacking with a tire iron or calling out hopelessly ineffective parodies of Pokemon. I find her very cute and very funny – and it doesn't hurt that she's almost a dead-ringer for Sena from Haganai, who I found one of the sweetest and sexiest characters of 2011. In fact, all the character designs here from Xebec and Takeyama Shintetsu very much have the look of low-rent Buriki, which I suppose isn't a bad thing.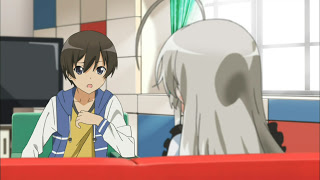 Make no mistake, this is pretty low-brow stuff – besides stocking up on otaku goods the other reason Nyaruko wanted the assignment was to get into Mahiro's shorts – but as with the best dumb humor, it's kind of sly and smart, too. There's going to be a lot of meta-humor, I suspect, and otaku parody to spare, but the main attraction is going to be Nyaruko making a sexy and adorable spectacle of herself. As for Mahiro, for now he's pretty much a stock tight-assed male lead – but in the context of the story he pretty much has to be to make Nyaruko's character work. The animation and BGM are nothing special – bright, simple and bouncy – but that suits the material. As always with comedy, first you have to be funny – then you can worry about other stuff. And Haiyore! Nyaruko-san seems to have that covered pretty well.
ED: "Zutto Be with You" by RAMM