It's fair to say that the first two episodes of Accel World exceeded my expectations in every way.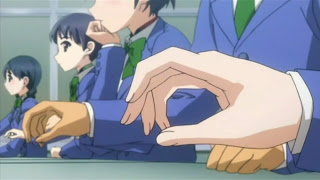 You may want to check out your window for flying pigs (appropriate with this show) because I've actually found a role where I don't hate Kaji Yuki. In fact, it's (shudder) possible that I might even like him. Even more so than with Kouichi from Hanasaku Iroha – the role where I found him most tolerable – Kaji seems to have found the ideal part in chubby, self-loathing put-upon loser Arita Haruyuki. His nasal whine fits the look and personality of the character, and there's just enough but not too much seriousness in the story to suit an actor who doesn't fare well with outright comedy or drama, but respectably with slightly ironic fantasy.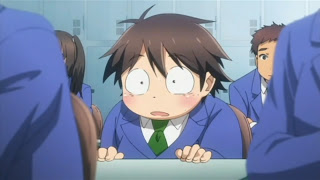 Above and beyond that, I thought this double-episode premiere was really excellent on all fronts. I have to give credit to Sunrise, because of all the major studios they seem the most able to bend and twist their visual style to the point where you'd never be able to identify some of their shows. They're best known for their mecha and hard sci-fi series of course, and those do tend to share a common visual style, but this futuristic school story is something quite different than what I'm used to from them. I would have guessed Silver Link or even SHAFT, probably, and I never would have pegged Obara Masakazu (Mai Hime) as the director. He does a fine job here with both the school scenes (familiar in any time) and the VR ones.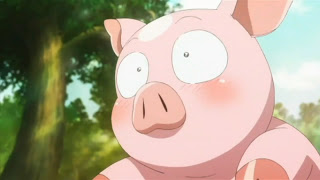 There's a lot of imagination in this project, based on the light novels by Reki Kawahara and HiMA. It's sometime in the not too distant future, and the students at Haru's middle school regularly slag off their real-world classes and venture into a global net that's something of a cross between Dennou Coil and Summer Wars. The latter is more prominent in the Brain Burst world introduced to Haru by glamorous second-year Kuroyukihime (Misawa Sachika) who invites the bullied boy to the upperclassmen-only lounge and downloads the program to Haru via a (gasp) wired connection via the ports each student has in their neck. I love the way all of this is presented, with an almost balletic miming of their online behaviors in empty space, and highly entertaining and creative sound effects. The VR worlds themselves are a marvel of eye-catching sights and arresting sounds. In the world of Brain Burst, consciousness is accelerated to 1000 times the real world – it's a select club – and Haru has a shiny alter ego called Silver Crow, crafted from his own subconscious self-loathing and fear.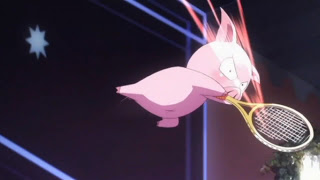 There plenty of drama in Haru's real life too, even setting aside the bully Kuroyukihime saves him from. There's his osananajimi Chiyuri (Toyosaki Aki), who tried to watch out for Haru but only humiliates him in the process, and their athletic and handsome friend Taku (Asanuma Shintaro). Taku is an elite athlete and seems to have a more than friends relationship with Chiyu, and Haru strives desperately to keep him from finding out about the humiliations he's suffering. The whole bullying angle is certainly nothing original in anime, but it feels fresh here – and at least Haru seems fairly bright and sensible when he's not being tortured by wolves. There's a conversation in the second episode where Haru tries to make Kuroyukihime understand why he feels so unworthy to be with her that reaches very close to profundity. She tells him – quite rightly – that he's the one that's putting the distance between them with his horrible self-image – that in reality (or virtual reality) they're only two metres apart. But what she can't understand is how hard it is for someone who's been stepped on and abused his whole life to see himself as anything other than a doormat, unworthy of speaking with a Goddess like her. Of course what she later gently tries to tell him is that she has very dark issues herself but that's a matter for another episode.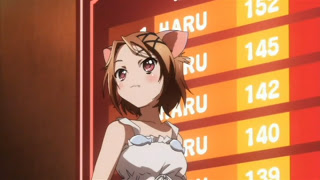 I did struggle at first with Haru's appearance, I admit. He's a dead-ringer for Eric Cartman for "South Park", and his super-deformed form looks totally out of place, and then there's the matter of his global network avatar – a pig. Why, of all things for a bullied fat boy, choose a pig? But if you can get past that, the look of the series is fabulous, and the animation in the premiere is smooth and texturally complex. The soundtrack is a great mix of guitar and orchestral pieces, and really contributes to the mood. Yes, the adaptation is written by Hiroyuki Yoshino, and that worries me – I don't think I have to explain why. But this is an adaptation, not an original work, so I'll hope for the best. There's no denying that he and Obara-sensei have delivered up a stylish and captivating premiere.