Can't say this was a hard one to see coming…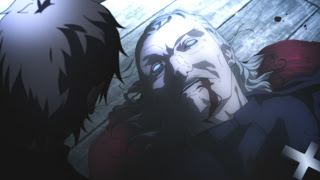 Where's Freddie Mercury when you need him? Two things mentioned here last week, a "death of the week" scenario and Tokiomi being the next Master to face the axe, are certainly looking good so far. I don't know whether we'll see this exact pattern every week, but there are about as many surviving Masters and Servants combined as there are remaining episodes, so it will likely be a regular occurrence. As for Tohsaka, that's one's past tense already, courtesy of the parting gift he have his student (though I suspect the specific means of execution were largely incidental).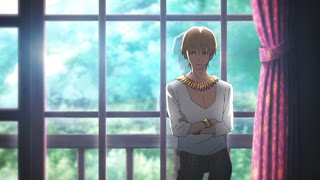 It's certainly no surprise that this ep was a significantly less powerful one than last week's blockbuster, about as intense as any anime episode this year (just look at the comment count here). As a new viewer, I'd say that this week's F/Z felt like an odd mix of slow pacing and rapidly occurring events. An awful lot happened, and it seemed as if for 16 episodes worth of build-up everything came to a head in the Tokiomi/Kirei/Gilgamesh drama very suddenly. But at the same time the episode itself was about as talky as any in the series so far. I certainly don't have a problem with listening to Urobuchi dialogue for 22 minutes, so that's fine with me, but the result of this contrast is an episode that felt a bit jerky at times, and it wasn't helped by the fact that the ending was telegraphed pretty much from before the episode even started.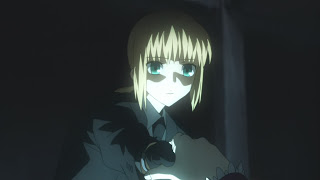 Possibly as much as with any of these characters, it's with Kirei that anime-only viewers are at a disadvantage to the novel readers. I commented more than once during S1 that Kirei was a cipher – impossible to read and frankly, boring. Of course that's largely intentional, as he's a man adrift and seemingly apathetic, contenting himself with being part of another Master's scheme rather than seek the Grail himself. We know he's obsessed with Kiritsugu – but not why, not really. We get a sense of his cold relationship with his father (certainly confirmed by his reaction to his death), but again, no real sense as to why. This really is Kirei at this stage of his life, but it doesn't make him an especially compelling character. It was only when Gilgamesh started to lure him to indulge his darker impulses that Kirei started to show a little fire. And it's been obvious since those conversations began that Archer was drawing Kirei towards this point (indeed Kirei clearly never had any intention of leaving the field) – which makes the anime-only viewer ask, what did Archer see in Kirei that made him so much more interesting as a potential Master than Tokiomi?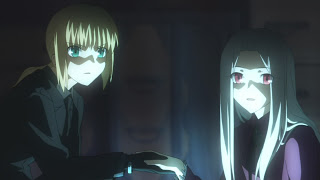 Likewise with Tokiomi, it's hard to feel too much one way or the other. He's been the consummate cold fish for most of the series – arrogant, genteel, entitled – as if he believed winning the Grail War were his right and the inevitable result. His occasional flashes of affection for his daughter are about the only color we've seen from him – apart from torturing Kariya – but when the time came for Tokiomi to die at Kirei's hand I didn't feel much, perhaps just a shade of pity that he was dying at the hands of a disciple that he genuinely seemed to like on some detached level. Hoist with his own petard, almost literally – a fitting end for this grandiose but foolish popinjay of a Magus.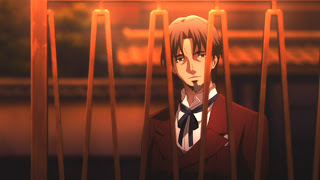 It's interesting that the two most arrogant and entitled Mages – Tokiomi and Kayneth – have been eliminated early, both by treachery. If this ep was more very good than gripping, it seems to have done some real heavy lifting in terms of setup, and left us with a very interesting situation. While Tokiomi was obviously the big loser, as a handicapper I think this was a very bad week for Kiritsugu. I get the feeling that a motivated Kirei is going to be something of a beast, and he has arguably the strongest (certainly the most cunning) Servant in his corner. It's telling that Kiritsugu's demand (via his mouthpiece Iris) for even a temporary truce with Tokiomi was that Kirei be cut off, and this isn't the first time in the series we've seen indications that Kirei is the one man Kiritsugu fears. For the ultimate schemer and practitioner of dirty pool, Tokiomi was a very safe opponent to have in the game – predictable and manageable. Kiritsugu has always been one step ahead of everyone else with his tactical cunning, unscrupulous nature and the Iris gambit, but now the game has spiraled in a direction I don't think he will have expected – and Kirei has the location of his hideout too. To top that off Irisviel seems to be running down at last, which may force the rat to finally crawl out of his hole and face the enemy head-on – the last thing in the world he wants to do.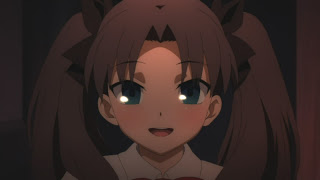 What of the others – Rider/Waver and Berserker/Kariya? Rider and his master are certainly an interesting pair, but they've had "side character" stamped on them from the beginning and I see no chance they win this game – I'll be satisfied if Waver merely survives. He's probably the closest thing to an idealist among the Masters – for his youth if nothing else – but I don't see that as a helpful trait here. And Rider may be the one who's philosophy actually makes the most real-world sense, but he seems destined to go out with a heroic bang sooner or later. Berserker and Kariya are the true wild-cards here, quite literally. Either of them is capable of doing anything, especially now that the object of Kariya's loathing is already dead. It would certainly be ironic if Kariya and/or his Servant popped up out of nowhere and killed Kirei at the end, after Kariya was saved by him – and that seems one distinct possibility. One thing seems obvious – Kariya, Kirei and their servants are probably the opponents Kiritsugu would least have wanted to be left standing because they're by far the hardest for him to control and manipulate, and the least likely to be taken in by his outsider tactics.