Alas, poor Caster – we hardly…
Eh, screw it – good riddance, you crazy bastard.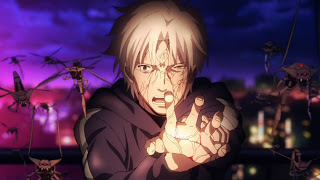 Before I delve into this episode on its own terms, what struck me first while watching it is how interesting it was to do so after watching the first ep of Eureka Seven: Astral Ocean. What you have here are two very well-animated, big budget action series – yet they take a radically different approach to how they animate their action sequences. ufotable is all 2012, state-of-the-art, and their big set pieces are almost entirely CGI. You won't see CGI done much better (GONZO is still able to deliver great-looking CGI of another flavor, about the only saving grace of Last Exile: Fam). BONES, by contrast, is all old-school – their E7: AO project relies on well-known mecha designers and animators and they do their epic stuff almost entirely hand-drawn. It's a fascinating contrast – neither is right and neither wrong, but they do illustrate two different ways to approach sci-fi fantasy anime in 2012.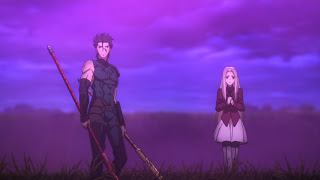 I can't help but think of this series in non-anime terms for some reason. In some ways it seems to be the anime version of Game of Thrones – a big, beautiful, sprawling epic where events with global consequences sweep people up in their wake, and those who seek power willfully subject themselves to the ultimate danger. Treachery is rampant, alliances are formed, and morals and ethics are cloudy – although unabashed evil is certainly present. I also tend to want to group the servants (and masters to some extent) by their alignment RPG style, as they tend to strongly influence the events of the series. And when the alignments of the servant and their master don't match up (see Saber – certainly lawful good, and Kiritsugu – probably true neutral) things get complicated. When they do align – Caster and Uryuu were certainly both chaotic evil – you have a powerful but ultimately predictable combination.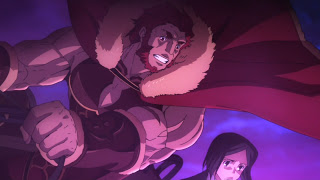 It's the lawful good servants that team up to take out Caster, whether their masters care to or not – the honor brigade at work. Perhaps Rider could be argued to be lawful neutral but he's definitely honorable, and he uses his reality bubble to temporarily imprison Caster and buy some time for the others to figure something out. Of course, it falls to Saber and Lancer (those two really need to just get a room already) to do so, and Lancer sacrifices one of his spears to release Saber's left arm, and with it her "Anti-Fortress" Noble Phantasm, Excalibur (Soul Eater flashbacks anyone?). These two lawful goodies are the ultimate in chivalry, with Lancer taking the big picture than his honor code can't allow him to let Caster proceed unimpeded and only Saber can stop him. With Sola apparently uninterested one way or the other, he's free to do what he wants – and Rider manages to buy enough time with his Ionian Brigades for Saber to escape Berserker and finish off Caster at last.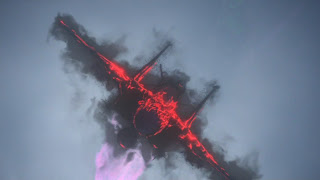 I'm not sorry to see Gilles de Rais or his master go, because I think their absence frees up the story to go to subtler and more interesting places (and I don't get off on seeing children graphically tortured over and over). He got his vision of Jeanne, and he's gone – don't let the door hit you in the ass on the way out, Bluebeard. What was interesting was that once Saber unleashed Excalibur, Berserker (probably chaotic neutral, though a case can be made for chaotic evil) lost interest in Gilgamesh and went after her. That had to be quite a blow to the King of Lawful Neutral's ego, but it was (naturally) Lancer that came to Saber's rescue and broke the link between Berserker and the F-15 (wonder what happened to the pilot), allowing her to dice up Caster. It was a bad day for Gil – he was dissed by Berserker, and his UFO was destroyed too, apparently.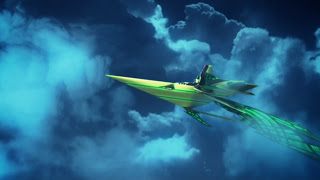 As all this was playing out, the masters were having their fun, too. While Kiritsugu finally saw enough self-interest to get involved in destroying Caster, Tokiomi was thoroughly dominating poor chaotic neutral Kariya – I was surprised, frankly, that the matchup was so apparently one-sided. After terribly burning Kariya he leaves him as a "present" for Kirei, but the latter decides not to finish him off – and indeed, apparently casts some sort of healing spell on Kariya (though I won't swear to that). This is a fascinating subplot here, because we have Archer clearly trying to drive a wedge between Kirei and Tokiomi, and apparently succeeding. I still get the sense that Gil is playing with Kirei mostly for his own entertainment, but he may have a larger goal in mind.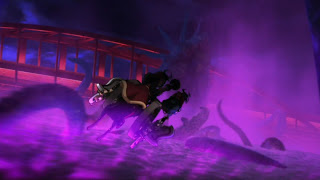 Ultimately, it seems that Archer, Saber and Rider must be the "Three Kings" who battle it out for supremacy in the end. Lancer is surely fated to battle Saber (maybe next week), and the laws of dramatics dictate that he'll surely lose. I certainly can't see Berserker making it to the end (or Kariya for that matter) and that leaves the big three who held their "summit meeting" last season, an event which more and more seems to foreshadow the ending of the series. Rider clearly sees himself battling Archer in the end – of Saber he has a grudging admiration, but ultimately pity for what he sees as her pointless selflessness and lack of perspective. Gilgamesh seems more interested in Saber, and there might perhaps be something a bit more than interest there on his part – in his conversation with Rider he gives us the memorable "Ephemeral and brilliant one, fall to my embrace!" The subtext flies fast and furious whenever Rider and Archer speak, that's for certain. With the big battle won, perhaps the series will return to subtler machinations in this ultimate game of thrones.