I believe NOAA has issued a shipping forecast calling for choppy seas ahead…

This post is full of spoilers about this week's Korra episode, so beware before reading.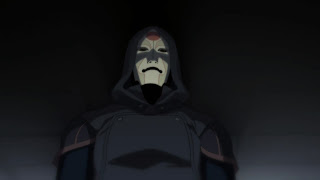 Well, the last three minutes of that episode were certainly the most interesting – especially this 10-second stretch – but the rest of it was pretty good too, so we'll work out way up to that. On balance I think this was the best episode of Korra so far, with our cast growing quite a bit larger and the nature of the political situation in Republic City clarifying itself quite a bit. There was a good deal of movement on the personal side of things too, though where that leaves us is still very much open to debate.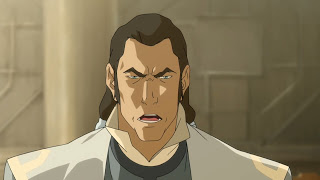 In very general terms, Korra is dealing with a crisis of confidence (and rightfully so) after her frightening encounter with Amon. I can't blame her – for an Avatar, somebody who can take away bending permanently has to be about the scariest guy in the universe. This kind of thing hasn't been the strength of the series so far, as the emotional crises of the characters have been painted with a very broad brush (perhaps with the timeslot in mind) but this at least feels natural, even if Janet Varney's performance still doesn't. Stepping in to make things worse is Councilman Tarrlok (animation vet Dee Bradley Baker) the Waterbending representative (with the Romulan name) on the council and a sleazy guy who sees Amon as his ticket to political stardom, and Korra as his ticket to taking out Amon in a way the press will love. He strong-arms the council into forming task force to take out The Equalists, and eventually goads Korra into joining by having his dogs in the media call her out as a coward publicly – all of this happening much to the displeasure of Tenzin.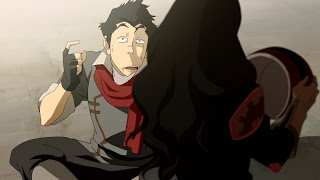 Things are also looking complicated on the personal side of things, thanks to the introduction of Asami Sato (Seychelle Gabriel) the rich and seductive beauty who almost runs over Mako with her moped. She's the daughter of the most successful businessman in town, barrel-chested Hiroshi Sato (Daniel Dae Kim) inventor of the "Satomobile" (which is a cool car and a cute name). Both seem nice enough, but Asami definitely sets her claws into Mako straight away – spinning her near manslaughter into an invitation to Mako to join her at the snooty Kwong's Cuisine, and getting her Pops to sponsor the Fire Ferrets in the pro bending tournament.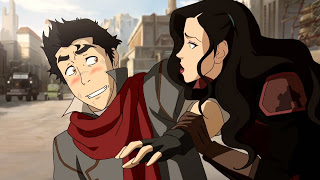 I suppose it was never likely that the relationship paradigm would be as obvious and effortless as it looked early on, but Asemi feels to me like an obstacle to Korra and Mako's pairing, not a threat. In any case he's certainly interested, and why not – she's rich and beautiful. Korra makes it very clear by her jealous pique that she has strong feelings for Mako, and Bolin by his hilariously inept courtship that he has them for Korra. Alas, it looks as if Mako has two girls who like him and Bolin has none – not so much a love quadrangle as a love triangle and an irrelevant bystander – though I wouldn't be surprised if Bryke end up pairing Asami with Bolin eventually despite early appearances. Given that the cast is several years older than in the first series, I would expect the romance side of things to play out more overtly this time around.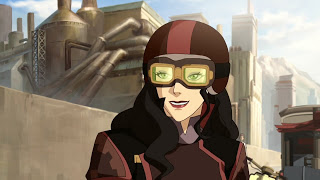 As for Korra, she foolishly challenges Amon to a one-on-one throwdown on "Avatar Aang Memorial Island", and while he doesn't exactly honor the "one-on-one" part, he certainly shows her that she's nowhere near ready to take him on. But he doesn't take her bending, reasoning that by doing so he'd only maker her a martyr of her (and let's face it, we wouldn't have much of a show), and telling her he'll destroy her, but not until his plan is in its final phase. Instead he humiliates her and knocks her out with a blow to the neck, which if I'm not mistaken, gives Korra her first taste of the Spirit World. At the very least, she has visions of the past – an adult Toph for sure, what I think is the adult Sokka, and either an adult Aang or a younger Tenzin (given that Korra initially thinks it's Aang who's come to rescue her but it's actually Tenzin, either would seem possible).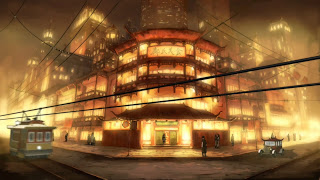 The Amon/Equalists angle is still the part of the series I'm finding the most interesting, though the character stuff was definitely better this week. I saw speculation somewhere (I apologize for forgetting who mentioned it) that Amon might have contracted with Koh, the face stealer from the Spirit World, for the power to nullify bending in exchange for his face. That sounds a bit too simple to me, but I wouldn't be the least surprised if Amon's ability has some sort of Spirit World connection – that's the only logical way in this mythos I can see where he would have such a power. Even if he were a bender himself, I've never heard of one that can steal the bending of others – except the Avatar, and we already have one of those. In any case I suspect it's about time for the links between Korra and the original series to be solidified on screen – possibly via a visit to the Spirit World by Korra.