I'd have to check the archives carefully, but this may be the first ever case of an indirect kiss using an alien mask. Smart thinking, Nana!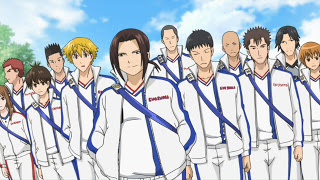 I'm enjoying Area no Kishi for the most part, but it feels as if the series has stagnated somewhat in dramatic terms. I'm still not sure how long the series is going to run – we can assume at least two cours, obviously – but while most of the elements work well enough, nothing really stands out. The on-field action is entertaining but lacks either the gritty realism of a Giant Killing or a truly outlandish fantastical edge, and seems stagnated somewhere in the middle. Likewise the two strains of the character drama – Kakeru's relationship with Nana and his struggle to come to terms with what happened to Suguru and what it means for him – still feel as if they're being held at arms length.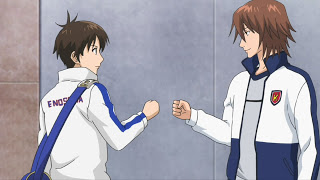 Where do we things stand? Well, the show is about where it has been – it's generally entertaining, with neither the on-field action or personal relationships standing out as exceptional. The team itself seems to be in pretty good shape, having clawed their way to a 4-1 win over favored Shonan High (I can't imagine the pink uniforms helped), a match in which Kakeru came off the bench to score his first goal (as did basketballer Takase) and Araki managed to wheeze his way through the entire ninety minutes. It was also a match in which Enoshima employed the 2-5-3 alignment I speculated about last time, with the wrinkle of making it a sort of amoeba alignment, collapsing the entire formation to trap the ball when it was entered into their supposedly undermanned defensive area.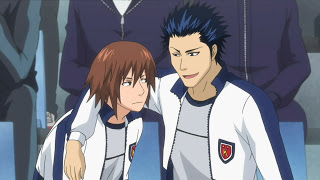 On the personal side, progress is glacial for Kakeru and Nana – though there is in fact that indirect kiss. Their relationship is the most interesting part of the series for me, and I'll be watching to see if there's meaningful movement in that direction. They're good together, far more comfortable with each other and less caught up in anime clichés that most couples, but maybe that's because they're not really a couple yet. There's also the matter of Nana's efforts for the Nadeshiko, of course, which have been both the least realistic and most interesting soccer story so far. As for Kakeru's progress, that mask seems to have done more than given him a hormone spike, as the limited vision sparked a flash of inspiration and he may have finally conquered his ball control issues – could this be the "mythical feint" of next week's episode title?