All aboard the exposition train…

OP: "Chase the world" by May'n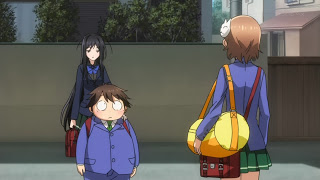 I'm certainly glad that Sunrise didn't start off the series with this episode, because it's very likely I would have dropped it. But they were smart – they opened Accel World with a two-parter that cut right to the chase, giving us a healthy dose of world-building and action without worrying too much about explanations. That hooked me in enough that this week's follow-up was very nearly interesting, but at least tolerable. I'm certainly all in favor of not keeping the audience in the dark, but this was a very, very talky episode. I guess that's the price to be paid for flying blind before now.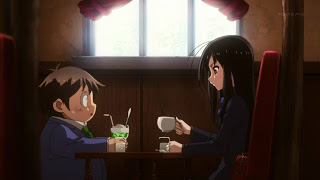 I confess that online VR worlds are a subject of almost endless fascination for me. Tad Williams' "Otherland" series and Hosoda Mamoru's Summer Wars are two of the finest examples, but there are many others both within anime and without. I think the challenge for a writer is two-fold – the first is to create a world that's interesting and internally consistent (and in anime, visually compelling) and the second is to find some new ground to tread on this well-worn ground. On the first part I think Obara-sensei has done quite well in his work with Kawahara Reki's LN series, as the Accelerated World was engaging right from the beginning and the show looks great. As to whether there's anything new here of substance, I'll withhold judgment – as of now it appears more of a pastiche of other works than anything really original.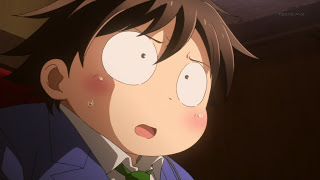 The third and more general challenge is the one any writer faces, and that's to create interesting characters. I still struggle with Haru's super-deformed character design – maybe that's shallow of me, but I can't help my reaction. Setting aside how distracting that is, there does seem to be some genuine potential here if the writing casts some genuine light on bullying and social ostracizing in schools. Setting aside the question of whether Chiyuri has ulterior motives as relates to the Accel World (I'll get there in a minute) there's an interesting dynamic between she, Haru and Taku. When you're in Haru's shoes you can't be choosy and welcome kindness wherever you find it (beggars can't be choosers), but there's a very paternalistic tone to their relations with Haru. The sense I get is that they're nice to him because that makes them feel good about themselves. Mind you, that's certainly better than being cruel to a bullied boy, and he brings a great deal of it on himself by his relentless self-loathing. He may tell Chiyuri he wants the beautiful couple to see him as an equal, but he doesn't give them the chance. That, and the fact that he's now old enough to be frustrated at seeing the two of them together, is probably enough to lead to the eventual dissolution of their friendship.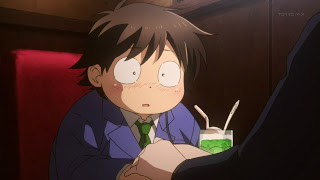 Of course, all that assumes that Chiyuri isn't secretly one of the Brain Burst users secretly targeting Kuroyukihime, seeking revenge for her betrayal of the other "Kings", the 9th-Level Bursters who rule the game in a stare of mutually-assured mediocrity. The context of Chiyuri's anger at her for "using" Haru is impossible to interpret until we know whether she the "Cyan Pyle" targeting Kuro. If not, it's awfully conceited of her to have a boyfriend of her own yet rail at Haru for hanging out with another girl – or perhaps she has feelings for Haru after all. Or she might legitimately worry for Haru, thinking that no one like Kuroyukihime could possibly want to be with Haru without an ulterior motive. That in itself is a pretty condescending attitude, but who's to say experience hasn't told her to think that way? Her reactions during their linking scene were hard to read, but it was quite telling that she felt so comfortable in choosing not just her bedroom but her bed to "do the deed" – proving just how thoroughly she dismisses Haru as a male, and thus a threat.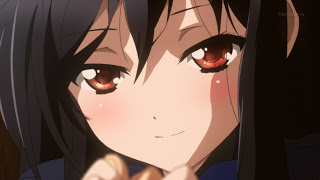 It's a pretty complicated square developing between these four, and the huge variable of whether Chiyuri (or Taku – I get skeevy vibes from him) are Bursters makes it impossible to figure out where it stands. In a sense Kuroyukihime is using Haru, but at least she's open about it – I would hate to think that all of her kindness towards him is a complete act (and I don't think it is). I fully endorse her view that the other Kings are wrong to intentionally circumvent the whole point of the game by staying at Level 9 forever, and her reasons for recruiting Haru to help her do make perfect sense. But I can't help but think that there's more to her interest in him than what we've seen so far, whether that be personal or connected to her goals in the game. If she's going to end up falling for him, I hope Haru makes himself someone worthy of being fallen for – starting with dropping the self-loathing and standing up for himself without Kuro or Chiyuri there to have his back.
ED: "→unfinished→" by KOTOKO