Never a dull moment with this show, that's for sure.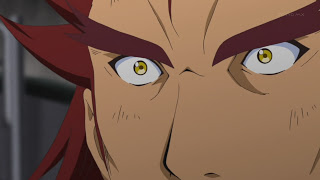 You know there are definitely times when Senshogear lays the cheese on pretty think, even for a fan of the show like me. That whole business with Yumi prattling on about what would happen if there were an anime, and how pathetic she'd be if she couldn't even do what an anime character would do and help Bikkie out… And then the girls getting together and singing the school song over the repaired PA system, which not only restored Hibiki from her berserker state but (as far as I can tell) manages to bring Kurisu and Tsubasa back from the dead? Sokath, his eyes uncovered!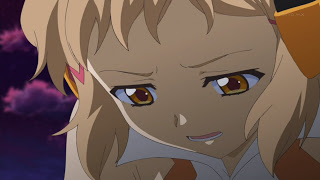 So basically, what this show strikes me as at the moment is the product of, say, a college anime club – a bunch of hard-core fans get together and put together an anime, and they have to do it on the cheap (and given what we know about the inexperience of most of the staff and the budget at small studio Encourage, that may not be far from the reality). The writing is totally unsophisticated, as subtle as a sledgehammer, and the story is an obvious pastiche of elements from all the shows the kids in the club loved growing up. It's like a garage band doing Pillows and Nirvana covers. But oddly enough that's the charm of it, for me anyway – the very reason why I find it so appealing. Symphogear isn't trying to do anything original or fool anybody – it's just trying to be fun and cool and for the most part, succeeding.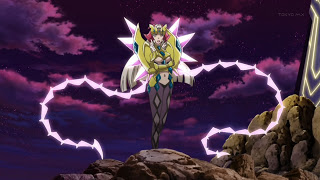 I don't know why Kurisu and Tsubasa aren't dead, to be honest. I also don't know why Kanade's spirit was somehow able to power-up Tsubasa enough to destroy Kadignir, and to do it while still surviving her swan song. And I'm still not completely sure I follow all of Fine's reasons for doing what she did, and I certainly don't know why the tides aren't already going crazy with a giant chunk blown out of the corner of the moon. How come that isn't considered destructive enough for Fine to break the curse so she can tell her old flame she loves him? I suppose it really doesn't matter, because everyone has new armor (and I don't know how they got that, either) and they're set up for a showdown with Fine in the final episode.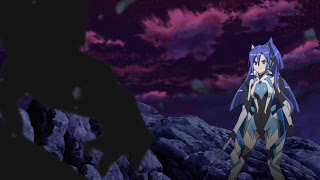 There was certainly plenty for everyone to cheer, here – nods to Gundam and Ultraman and the still obvious Madoka vibes I'm picking up, and I'm sure a whole lot more that the true hard-core fans of the genres will pick up that I didn't. The action was pretty much as thick as the corn, again bypassing subtlety in favor of GAR that calls to mind (again) TTGL for me (SYMPHOGEEEEEEEEEEEAR!). It's almost all enough to make one believe we might be in for a happy ending, but then you flash back to that prologue, and wonder what it all means. Is it really possible Hibiki is going to be the one to die, after all that's happened? I suppose which ending we get will largely depend on which of the many anime Symphogear owed its inspiration to that it decides to pay homage with the ending/