What a strange trip watching Inu X Boku SS turned out to be.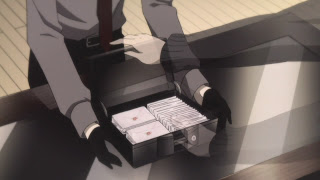 An interesting thing happened this week: the sales figures for the first volume of Inu X Boku came out – and they were good. Very, very good in fact – about 11K in the first week. But while that's indeed interesting, the most fascinating element is that they were split almost 50-50 between Blu-rays and DVDs, which is almost unheard of. What that tells us, if history is to be believed, is that they were purchased almost equally by male otaku (who traditionally buy Blu-rays) and fujoshi (who usually prefer DVDs). And that fits in with my strong feeling that this was a series with no single target audience. It has a cast full of bishounen, yet tons of loli fanservice. Is has a fiercely yuri character, and frequent scenes of males cross-dressing. My assumption was that the show would commercially flop for this reason, as shows are rarely able to succeed without targeting a specific demographic. Instead, this one seems to have pulled an inside straight and managed to score by appealing to a little of every group.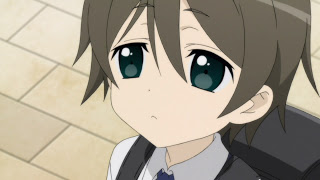 I wonder if the guys at David Productions were somewhat surprised to see the series take off as much as it did, because it appears that they tried very hard to make a finale that was a true ending, as if this were to be last we'd see of the anime. It's hard to imagine we won't see a sequel based on these numbers, but the writers will have to do a bit of wiggling to make sense of that now – not that it's an insurmountable problem. One supposes that a studio wouldn't adapt a manga unless they had some small hope that it would be a hit in addition to helping sell manga – but it sure doesn't feel like it here.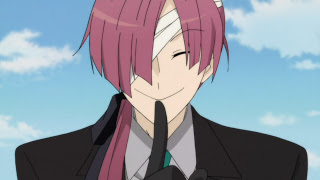 The finale was very much in line with the series as a whole – utterly unconcerned with conventional dramatic structure, almost perversely so. Most of the first half of the episode was given over to the story of a character we've barely seen, Kotarou – the little son of the Ayakashi-Kan cook, . He's recently found out that supernatural creatures sometimes carry the same memories and personalities as their ancestors – a sort of reincarnation – and this has Kotarou worried that his father Joutarou will exist in another life feeling love for a woman other thank Kotarou's mother, perhaps even having another child. Naturally this has the little boy feeling anxious and depressed, and Renshou and Natsume are the ones who end up helping out.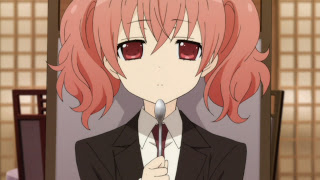 That conundrum, like so much in this generally light series, has a sort of existential depth to it, and it's an interesting topic to explore. It's also interesting to see Renshou in the spotlight again for a while. I love this character, and I love Hosoya Yoshimasa's deadpan performance (not to mention the cool factor of hearing Hosoya-san and Mamoru Miyano interacting in roles so different than Arata and Taichi). It was also interesting as it cast Natsume in a slightly new light. Renshou was initially concerned that Natsume would (seemingly in character) toy with the boy's very real feelings for his own amusement – but Natsume derives a solution with seemingly genuine kind intent, the creation of a time capsule. Natsume remains an enigma, of course (he still treats Watanuki rather cruelly) but this plays into the notion that there's more to him that the razor-wire prankster.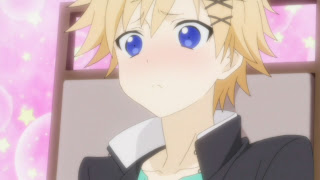 The time capsule's main purpose in the episode, of course – Kotarou and Joutarou's arc is wrapped-up fairly early on – is to be a catalyst to drive the main romantic relationship (and to a lesser extent, the secondary one) forward. When Karuta speculates that she might not be friends with Watanuki in their next life, he's enraged by the notion. But the main event occurs when Ririchiyo mixes up her time capsule letter – a florid and heartfelt confession of love for Soushi – with the apology letter she'd intended to give him for dropping his melon. It's a clever device, and well-used both for comedy and drama, and it certainly accomplishes the task of advancing their relationship in a big way.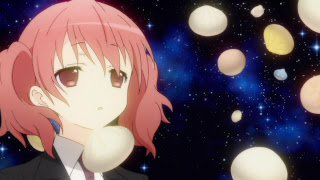 This being a rather perversely weird series, it doesn't try to make anything too easy for us, and I'm not sure what to think of that main relationship. The fact is that Soushi is a 22 year-old man with a pronounced history of moral ambiguity, and Ririchiyo is a 15 year-old girl. Not only that, but we're given a rather startling view of Soushi's bathroom wall. It's certainly played romantically, but this episode does have an "ick" factor for me – I have major concerns about these two being together, and for all the fantastical and whimsical elements Inu X Boku definitely plays the interpersonal side of things in a way that asks to be taken seriously. I don't know whether the author wants this to be ambiguous, or he's endorsing the pairing wholeheartedly – I suppose we'd find out the answer in season 2 – but the ending, where the two are lying on Soushi's couch together and he tells her that he wants to have a baby with her, certainly has shock value. While I don' deny that Soushi's troubles were mostly not of his own making and he's basically a victim, does that make the man he's become any safer? And if you had a 15 year-old daughter or younger sister, would you be comfortable with her engaging in a physical relationship with a 22 year-old former gigolo?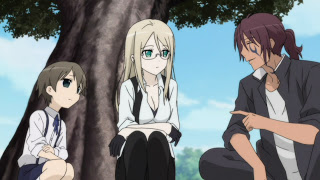 I guess in the end I like the fact that this series forces me to ask myself difficult questions, and appears not to spell out any easy answers. It's been an interesting journey, right from the start – the notion of a hard-core tsundere entering a sort of self-imposed rehab to try and get better is an interesting one in the context of today's anime landscape. But the impact of Inu X Boku has definitely been cumulative, as witness the fact that I didn't blog it until the sixth episode. It wormed its way inside my consciousness, slowly but surely, with its odd humor and glacial pacing. Episode after episode went by where no real plot was involved – it was mostly a series of indulging various fetishes for comedic effect (usually effectively). But all the while, there was a slow movement in Ririchiyo's self-awareness and a buildup towards the much more dramatic final two episodes (especially the penultimate one).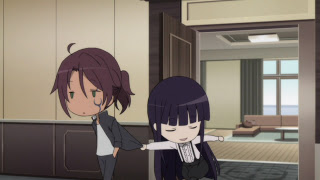 I said during the course of the series that I found the scenes between the grossly obsequious Soushi and Ririchiyo by far the least entertaining in the series, and that's still true. It can't be denied that seeing Soushi that way for ten episodes made the events of the last two far more dramatic, so in that sense it was surely effective. But is it really worth making ten episodes less entertaining so the final two will have a greater impact? It's certainly an interesting question – but then, this series is full of those. Though the concluding drama was very effective, for my money the greatest joys of the show were still the moments of bizarre comedy, and the scenes involving Watanuki and Karuta. Those two were one of my favorite anime couples in a long time, with their straightforward adoration and their irresistible cuteness.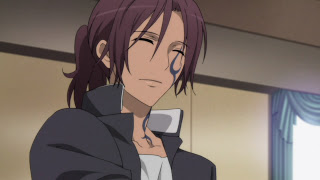 If the past is any judge, we'll most likely be seeing a second season of Inu X Boku – and maybe quite soon, too, as there should be enough manga material to support it. While I would have been pretty ambivalent about that a couple of months ago I find myself quite looking forward to it now – both in anticipation of more delightfully off-center and weird humor and KaruTanuki goodness, and semi-morbid curiosity about where the uncomfortable yet compelling and complicated relationship between Ririchiyo and Soushi will go from here.