Wow, that sure got serious all of a sudden.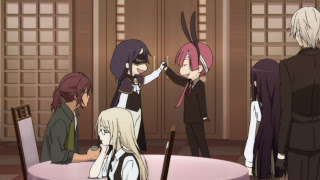 While there were lots of hints that some sort of major disclosure about Soushi was coming from Kage, the abrupt change in tone for this week's episode was still a bit jarring. The big hint, of course, was when Kage said that Nine-tails was an "S" pretending to be an "M", but then Kage did what he usually does – disappeared in a lot of noise and ceremony, and the subject was more or less forgotten for a few weeks. Kage seems to be the engine that drives the plot for this series, and since he's been only an occasional character in the anime, there's only occasionally been much of a plot.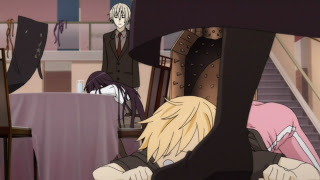 While Kage never seems to do much more than prance around making silly statements about sadism and masochism, he brings an air of threat with him that this serious otherwise lacks – it's very clear how he puts all of the other characters (aside from Zange, of course) of their ease, and makes them edgy. I'm not sure I like it, but it's an undeniable fact. There's the matter of him being Ririchiyo's fiancée too, and he spent a whole lot of this episode leading Karuta around by a collar and chain and generally making Watanuki feel defeated. The upshot of all this is the "something important" he has to discuss with Ririchiyo, but never quite gets around to actually discussing.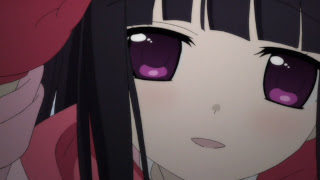 While the confrontation between Soushi and Kage was certainly tense, as verbal swordsmanship ("I've been on my knees many times in your service") gave way to the literal kind, I thought the most interesting moment of the ep was when Ririchiyo surprised Soushi in his room at 10:30 PM, dressed in civilian clothes and glasses, and he behaved quite menacingly towards her. It was especially unsettling to see him accuse her of being "quite good at unintentionally sending men the wrong signals". That was an ugly statement and an ugly moment – though I'm not convinced he's wrong when he suggests she might actually like Kage.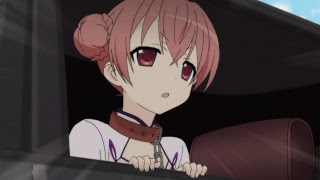 I've bemoaned how boring Soushi's obsequious behavior is so I have no complaints to see him show some teeth, but let the record show I never complained about the plotless, random and silly nature of the show generally – so this tonal change isn't a huge hit with me. It's probably necessary though, as we've gone through ten episodes with nothing really happening, and it looks certain that when Soushi is forced to reveal his ugly secrets to Ririchiyo, it'll be a game-changer. I haven't decided yet if Kage is actually evil or just a relatively harmless pervert, but it's obvious that there's a lot of water under the bridge between he and Soushi, and some of it smells pretty foul.